TechLatest is supported by readers. We may earn a commission for purchases using our links. Learn more.
Are you wondering how your face would look on someone else's head? You can see how you would look using face swap apps for iOS and android. One must excel at Photoshop or other editing software to face swap.
But now you face swap your face with a few taps on your smartphone. However, face swap apps are also available if you want to face swap manually.
But before we proceed, it is crucial to acknowledge that the result you will get depends upon the face swap app's accuracy. To increase accuracy, better image quality and recognizable images can help you.
Face swapping is for entertainment and humorous purposes. Do not misuse them for impersonation. We have listed the best face swap apps available for iOS and Android.
Best Face Swap Apps for Android and iOS
You would often confuse Face Swap apps with deep fake apps. Here, we have handpicked the best Face swap apps available for iOS and Android. So without any further ado, let's begin.
1. Face Swap Live Lite
Face Swap Live allows you to use your existing images on your smartphone to create Faceswaps. But if you want to take a selfie to make a face swap, Face Swap Live helps you with that too.
Face Swap Live offers a plethora of features. If unsatisfied with the built-in features, you can search for any specific image in which you want to swap your face.
Face Swap Live provides both video and image face swapping. However, the accuracy is on the lower side. Before capturing the image, you can preview your face swap in real time with Face Swap Live.
All of this is possible because of AR technology. You can also face swap with celebrities. What makes Face Swap live to shine out from the plethora of other face swap software is video face swapping.
If you ignore the minute technical errors, Face Swap Live generates satisfactory face swap images. You can download the app for free on the Apple app store.
---
2. Face Swap Booth
Face Swap Booth offers several distinctive features that you can use to enhance your face swap image with accuracy. However, it does not provide any automatic face swap. You will have to face swap to generate your face swap image manually.
The particular facial characteristics feature comes in handy if you want to swap specific characteristics rather than the whole face. You can manually adjust if you change someone's eye or nose on another's face. You can also use the built-in celebrity templates to face-swap your image.
Being a free app, it does not have any annoying photo limit. The app stores facial data of your generated face swaps, which are used for future face swapping. This feature saves you time. Face Swap Booth also showcases the photo of the week. You can download this app for free on both android and iOS.
---
3. Reface
If you are searching for a professional face-swapping app that allows photo and video support, Reface might be the one for you. It mainly targets video face swaps. Imagine how you would look giving Oscar's speech on stage. Sounds fun, right? Reface excels in it.
The app showcases trending videos and GIFs that can be used for face-swapping. These videos are categorized into several groups: memes, trending web series, actors, and many more.
Reface uses AI to enhance face swaps. But all of these face-swapped videos come with a Reface watermark. If you don't like the watermark, you remove them by purchasing the premium version. 
---
4. Snapchat
Snapchat was the first app to introduce the face swap feature. The face-swapping effect became viral just after a few weeks after its release. Undoubtedly, over time, Snapchat has mastered the face-swapping impact on photos and videos.
Unlike other apps, you don't have to download additional apps just for the face swap feature. You can search for this filter in the Snapchat filter gallery and start face-swapping.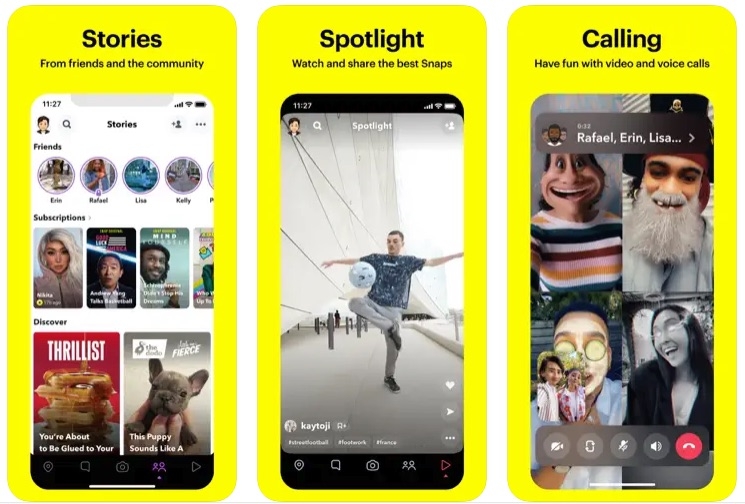 To use the filter, place yourself and the other person in the frame to face swap. You can also use existing images from your gallery to face exchange.
Moreover, you can record yourself with swapped faces by holding down the center button. These face swap images can be shared across Snapchat users and outside the app with the help of the export feature. Snapchat is free to use and is one of the best-optimized apps for face swapping.
---
5. Instagram
Several people prefer Instagram filters for capturing images. One of the most used filters is Face Swap. Like Snapchat, you don't have to download any new application to use the face swap feature. Instagram's face swap filter provides plenty of editing provisions.
Launch Instagram and proceed to the camera to use the face swap filter. Open the effects gallery and search for face swap. Lastly, Tap on the filter to start using it. However, some apps provide a better face swap than Instagram as it lacks accuracy and finishing.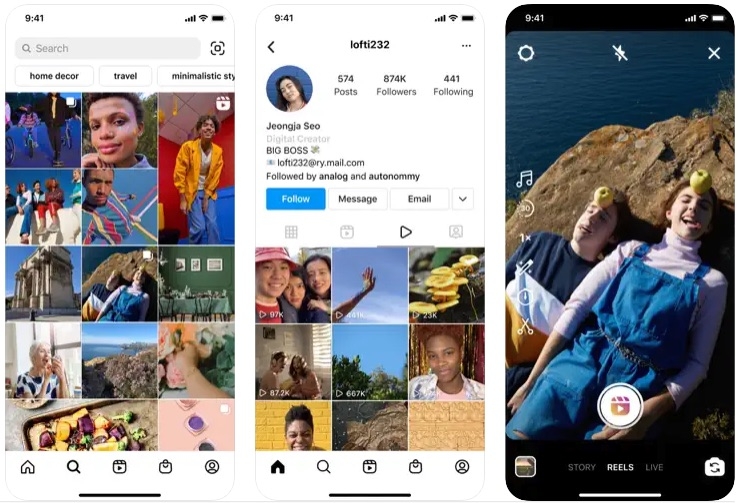 You can also create face swap videos with Instagram and post them directly to your social media or share them with friends. Instagram is also a completely free application with no in-app purchases. Plus, it's reliable, which makes Instagram the first preference of many users.
Download Now: Android | iOS
---
6. Faceover
Faceover focuses more on photo editing rather than face swapping. This doesn't make Faceover any less. It means that you can crop faces from one body to another.
Unlike other face-swapping apps, Faceover generates high-quality images. You can resize your face swaps to enhance image quality. Faceover allows you to swap faces on numerous photos at a   single time.
Some users may find it difficult to edit images in Faceover due to its user interface. To help you out, Faceover provides a well-guided tutorial that covers each aspect of the app. You can choose an existing image or capture an image to create exciting face swaps. Faceover is a free-to-use app.
Download Now: iOS
---
7. Funveo
Funevo is an editing app that offers a plethora of distinctive filters. Funevo focuses on face swapping and provides hundreds of facial filters and masks.
We have listed Funveo in the top 8 face-swapping apps mainly because of its accuracy. It generates face swaps with almost 100% accuracy. You can generate multiple face swaps altogether with Funveo. 
To create a face swap, you can use an existing image or capture a live one. This app has an interface similar to Snapchat, which makes it easy to use. If you are looking for a social media app but are annoyed with constant notifications, try out Funveo.
It provides almost all the features of a typical social media app but in a more organized manner. You can share the generated face swaps directly through your contacts. Funveo is also free to use.
Download Now: iOS
---
8. Cupace
Cupace is an easy-to-use photo editor that comes with plenty of valuable features. One of them is Paste Face. It allows you to crop anyone's face and paste it over the other person's face with a single tap.

Cupace can extract faces with the help of AI, but if you want higher accuracy, you can extract them manually. You can use these extracted faces to create face swaps and add over any object.
Cupace also offers the crop feature to resize the image's selection area, which will be face swapped. The app can auto-detect faces and extract them with high accuracy.
Once the face is extracted, it is stored in the app and available for future use. Cupace is a free application with one of the best filters available in this genre.
Download Now: Android
---
The Conclusion
Face swapping is a fun activity, be it your pets, friends, colleagues, actors, memes, etc. Face swapping is now easier than ever. You don't have to download any heavy software just for swapping faces. However, these face-swapping apps are inaccurate as they are not for professional purposes.
But you must remember the negative consequences of these face-swapping apps. One of its examples is Deepfake. Thus, we have only listed the top-rated and trusted face swap applications. All of these apps are safe to use and free.
Before downloading any of the above-listed apps, acknowledge the following points: app usage, filter availability, accuracy, and file sharing. Do let us know in the comment section below which face-swapping software you find the most valuable and fun to use.
Leave a Comment