TechLatest is supported by readers. We may earn a commission for purchases using our links. Learn more.
In the era of Tiktok and Instagram reels, and not to forget everything that is going on on Twitter, it's common for an average user to use about 10 to 20 GB of cellular data each month.
The urge to scroll down is never-ending, but only a few people have a supply of unlimited Wi-Fi. People tend to have access to limited data on their mobile phones due to sheer bad luck or other reasons. If you are trying to cut off data to watch educational study material or have the reasons we have listed, hang in here.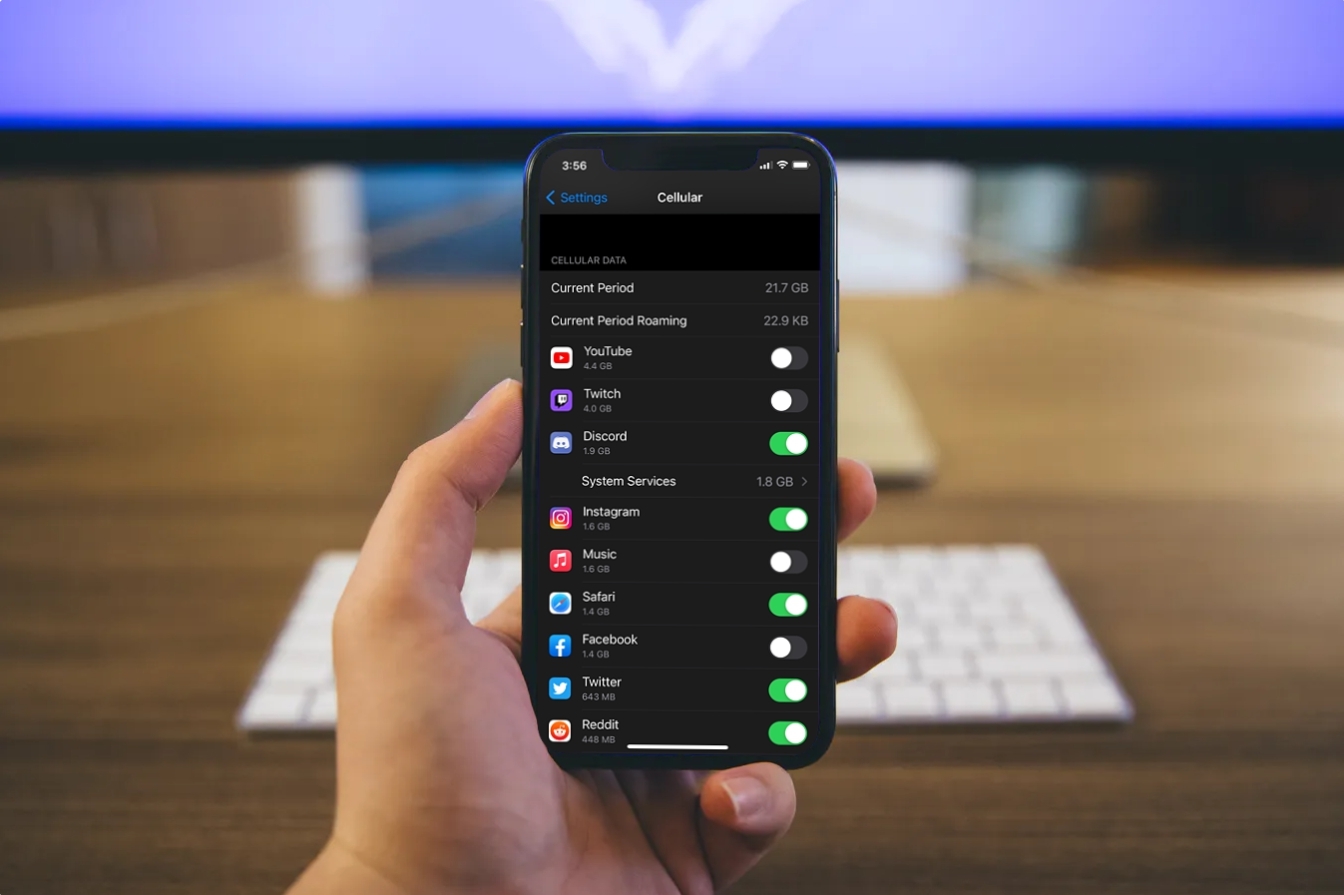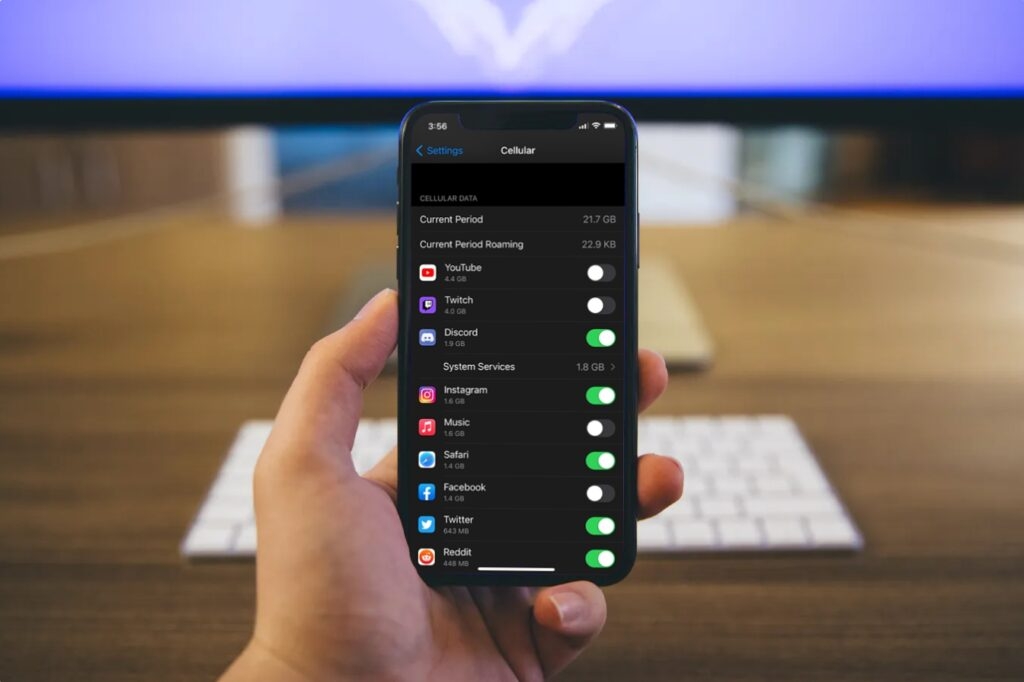 Suppose you are an iPhone user with a data limit each month. In that case, you might have considered controlling your internet use so that you don't exceed the data limit yourself, especially when you have the habit of reading an argument of two people randomly fighting on the Internet.
As an iPhone user, you can quickly check your iPhone's data usage to say within the monthly limit that you are set for yourself.
By looking over the apps that use most of your cellular data, you can closely track your internet use activity at the end of every month.
How to check the Usage of your Cellular Data on an iPhone
First, open settings on your iPhone and type the section that says 'Cellular.'
You will find a section on the screen that displays the 'Current Period.'
The number on the right of the current period displays an account of the data you have used. Following this, you will find all the apps you have used in the past.
You can turn it on and off if you wish to prevent an app from using any further cellular data. The green button is located on the next feature app next to each app.
If you want to know your current period, tap to scroll until you reach the bottom of the screen that was currently opened.
You will find the term 'Last Reset' with the date given. Your present data usage number starts with this date.
If you want to synchronize your data usage about your cellular billing cycle, tap on 'Reset Statistics,' which will automatically reset the current period of your data usage
Tap to click on  'reset statistics' once again as it shows up, and then you are all done. 
---
Have you ever shared your hotspot with someone?
Also, check how much data your hotspot has consumed on your iPhone over time.
Launch the Settings app on your iPhone and find cellular/mobile data.
Just scroll down, and then you'll find the mobile data section. 
Next, your hotspot can find your total data usage.
Suppose you want to know which devices were connected to your cellular data. Then click on personal hotspot.
In the end, you will be able to appreciate which device used a certain amount of data.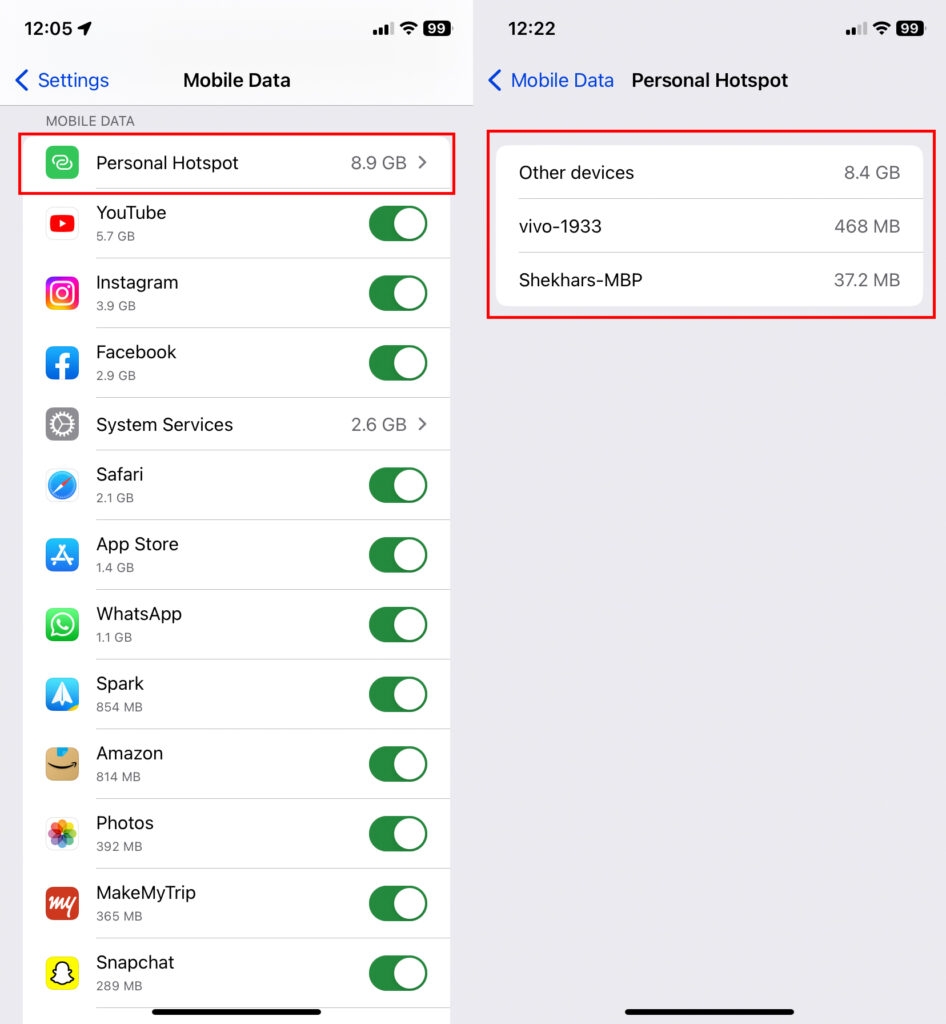 If the built-in data tracker cannot give you your desired results and you need more details, You can download the best cellular data tracker apps for your iPhone to monitor your data use.
Surely these third-party data apps can give you the required results in no time.
Data Tracker Lite is a simple application that helps you track down your phone's cellular and Wi-Fi data usage.
It's relatable, effortless to install and run, and even flexible to the data cycle you have set. It manually customizes your billing cycle. It also allows data use provision for all time limits, such as hourly, daily, weekly or monthly.
Some exciting graphs and pie charts make the app more appealing and more convenient for your eyes to track the data used and the leftover data balance. You will be able to note the data remaining for each day and the entire month.
Moreover, it also has the option for you to check the Bytes that you uploaded or downloaded per day.
The app comes in a free version and has some paid features.
The data Meter is a storage-efficient cellular data tracker specially meant for iOS. It lets you along with customization of your monthly billing cycle.
Track your data usage in real-time has a particular today widget, which lets you Track your data usage in real-time from the lock screen of your iPhone itself.
It is free but has some ads if you want to install it. You will have to spend 1.99 dollars if you want an ad-free version.
---
Extra Ways to Significantly Reduce Cellular Data Usage on iPhone
Suppose your cellular data gets rapidly exhausted, and you are worried about this excessive data consumption. In that case, there are some extra compelling ways by which you can limit data usage on your iPhone very significantly.
The step is to allow only some specific apps to use your cellular data.
This one is the best way out there. Limiting your data access to certain apps can set a barrier preventing apps from unnecessarily eating away at your data.
If you disallow an app; as a result, it cannot use your cellular data anymore and has to function on Wi-Fi.
To do this, go to your settings and tap on cellular data/ mobile data.
Browse true and define a list of apps that accepts cellular data.
You can turn off or on the toggle next to each app as per your requirement. 
---
Moreover, you can enable low Data Mode.
Download Data Mode is a Function Man that saves cellular data like a battery saver for low-power mode. When enabled, a massive amount of data is held in the low Data Mode.
It blocks every unwanted background task from your system. It stops auto synchronization on your phone and prevents automatic downloads on WhatsApp.
To allow this feature go to the settings apps on your iPhone and then to the mobile -> channel data; now you'll find a few options to turn into.
Turn on the toggle that presents after the load Data Mode to get started.
Note that the latest iPhone model, such as iPhone 12 or later models, which will come with 5G, has an additional setting option. 
Navigate to the setting apps and, eventually, to the cellular mobile data and Data Mode.
When you enter the Data Mode, you will also be given the option to choose the 'Standard mode.'
If you go by the standard way, iOS will allow updates and other kinds of background tasks on cellular data but will limit the quality of videos and FaceTime.
To do this, go to the same settings and the Data Mode and then click on the standard.
Deal with Wi-Fi Assist
Your phone automatically starts using a cellular connection to provide better internet connectivity. This is done by the Wi-Fi assist feature. While the Wi-Fi assist function generally enhances your internet experience, It will use your mobile data unnecessarily and without your knowledge.
 To prevent this, disable Wi-Fi access and save a lot on unwanted data consumption.
---
Allow refreshing background apps by Wi-Fi only
If you do not keep clearing out background apps running on your iPhone, they will eat a large chunk of data on your iPhone.
Fortunately, iOS has the option to prevent this thing from happening, so if you want to disable this and allow only the apps you want to refresh themselves in the background, click on general settings and find the background research refresh app.
You can manage this setting as per your needs. Also, you can even choose to refresh apps by Wi-Fi only.
Interestingly some apps can be modified to use less data on your iPhone. For example, a data saver option on Spotify lets the app consume less data while streaming music.
You can even manipulate WhatsApp to use fewer data during video and audio calls by going into the settings and making the desired changes.
---
Conclusion – Check Data Usage On iPhone
That's it, guys; by using any option from the ways we have told above, you can quickly keep track of cellular data on your iPhone.
The in-built cellular data tracker app for iPhone is quite extraordinary. It just lacks the option to view data consumption in real-time, but by using third-party data trackers that wave listed, you can easily from this function.
You can share your feedback and comment on your favorite method of regulating data on iOS.
Leave a Comment