TechLatest is supported by readers. We may earn a commission for purchases using our links. Learn more.
Want to play Fortnite on your mobile device, but is it not compatible? Don't worry. We have good news for you!
Fortnite's Xbox Cloud Gaming feature allows players to stream the game via browser in many regions. And the interesting part is that you need not even download or install the game to start playing it on your mobile device.
In this article, we are going to discuss in detail how to play Fortnite on Xbox Cloud Gaming. Let's dive in quickly!
What is Xbox Cloud Gaming?
Xbox Cloud Gaming, also known as XCloud, is a gaming service from Microsoft. It allows the players to stream games on other devices through an internet connection.
Since the games are already stored in the cloud, players will not face any issues accessing the game through other devices.
How does Xbox Cloud Gaming work?
Microsoft's Azure cloud computing platform, which offers the required infrastructure to stream games over the internet, powers Xbox Cloud Gaming.
Games are streamed to players' devices from Microsoft data centers using Xbox One S technology. Players may now access games without downloading them or owning an Xbox system, thanks to this.
Xbox Game Pass Ultimate, which offers access to more than 100 titles from the Xbox Game Pass catalog and an Xbox Live Gold membership, enables users to access Xbox Cloud Gaming.
The monthly membership is $14.99 and is accessible on Android phones, Windows PCs, and Xbox platforms.
Players require a Bluetooth controller, a suitable device, and a steady internet connection of at least 10Mbps to use Xbox Cloud Gaming.
The service works with a broad variety of platforms, including iOS devices through a web browser, Windows 10 PCs, Android phones and tablets, and Android tablets.
Read: What is Xbox Cloud Gaming? Everything You Need to Know
---
How to Play Fortnite on Xbox Cloud Gaming (For Both iOS and Android)?
You can now play the Fortnite game on your mobile device, even if the version is outdated. For example, even if you have an iPhone XR or a 4-year-old Android OS, this game still supports your device.
Here is how you can play Fortnite on Xbox Cloud gaming on Android and iOS devices:
Firstly, create a Microsoft account.
Now, navigate to the Xbox Cloud Gaming website.
Here, you can find the Fortnite game. Tap on it.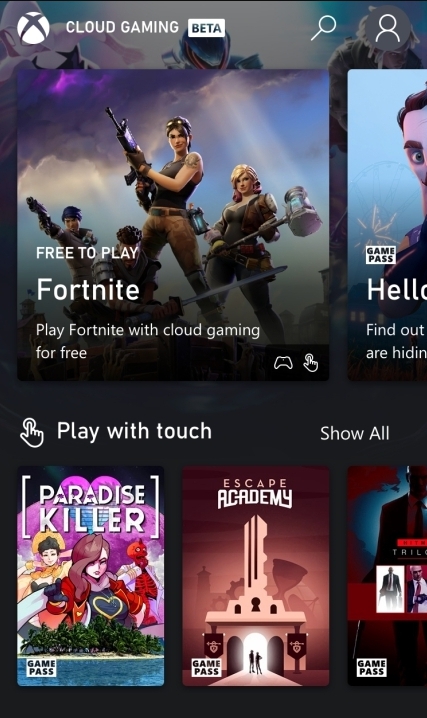 Now, you will be asked to sign in to the Microsoft account. Sign in.
Now, you will be asked to link the Fortnite account. Link it.
Note: Instead of creating a new account, if you can sign in with your existing Microsoft account, you will be able to carry all the skins and progress made in the game.
Once the integration is done, you can start playing the game.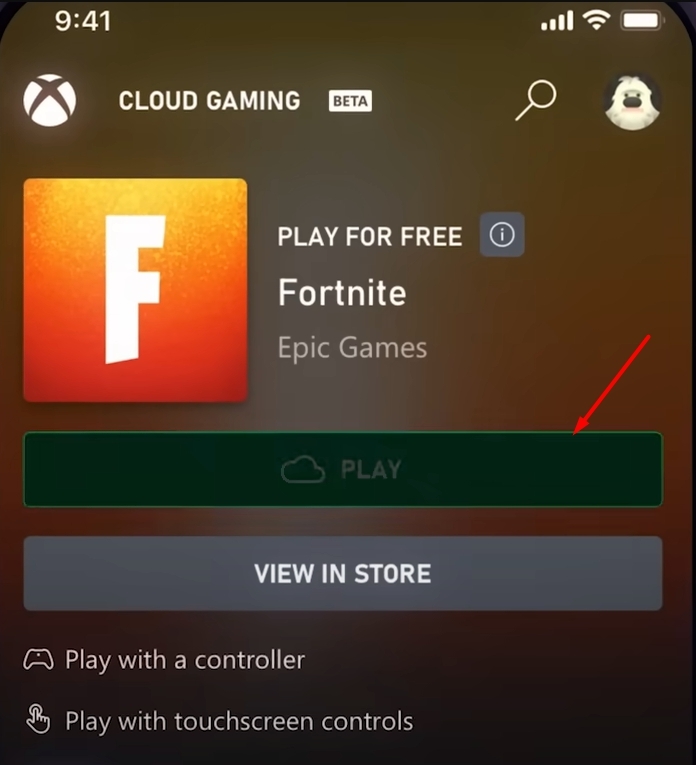 If you want to make your next login faster, bookmark the website and add the game to your browser's home screen.
Advantages of Playing Fortnite on Xbox Cloud Gaming
Here are a few reasons why most players love playing the Fortnite game on Xbox Cloud Gaming:
Accessibility: Not everyone can afford a high-end gaming console to play games like Fortnite. That is where Xbox Cloud Gaming comes in handy. It is supported on almost all devices.
Performance: Players can get a similar experience as playing over the Xbox. Hence, there won't be any major difference while playing Fortnite on Xbox or on iOS.
Convenience: Since the game is accessible on any device, it is easy for the players to play on the go on either a mobile or a tablet.
---
Frequently Asked Questions
Here are a few questions that the majority of the players have regarding the Xbox Cloud Gaming for Fortnite:
How Can I Access Fortnite on Xbox Cloud Gaming?
You can access the Fortnite game on Xbox Cloud Gaming by navigating to the URL: Xbox.com/play on your mobile browser. Log in with your Microsoft account to launch the game.
Will My Progress Transfer From One Device To Another If I Start Playing The Game On Xbox Cloud Gaming?
Yes, the progress transfers across the device, as the entire game progress is stored over the cloud. However, for this to happen, you need to link the Epic account to your Microsoft account.
---
Conclusion
Fortnite no more requires a high-end gaming console or PC to experience the game. You can now follow the above-outlined steps and start playing Fortnite on Xbox Gaming Console.
Further Reading:
Leave a Comment