TechLatest is supported by readers. We may earn a commission for purchases using our links. Learn more.
When recording travel vlogs on adventurous rides or outdoors, your voice also plays a crucial role apart from visuals.
Do you like watching videos with too many background noises, low volume, and distorted sounds? Well, the answer is a sure-short no. If you don't like it, why would your viewers like it?
Here's where you need suitable action camera microphone attachments. If you are searching for the top 5, then we have covered you all!
Best Action Camera Microphone Attachments
Apart from recording clear and crisp audio, there are certain factors to consider for an action camera attachment. These include whether it shouldn't be bulkier to carry.
Further, you should ensure that moving around your camera doesn't shake the attachment resulting in operational noises.
We have handpicked and selected the top 5 products under the category by carefully weighing the factors to consider. 
Below mentioned is a list of the same:
Movo VXR10 Universal Video Microphone
Moukey MCM-1 Video Microphone
Rode VideoMic Pro R Camera
Sennheiser Professional MKE 200 Directional On-Camera Microphone
PowerDeWise Professional Grade Lavalier Clip-On Microphone
Let's put a sneak peek at each of them!
1. Movo VXR10 Universal Video Microphone
Pros
Reduces wind sounds

Records audio with clarity

Easy to use for beginners
How about an Action Camera Microphone Attachment from the bestseller brand of Professional Video Microphones?
If yes, then you should check out Movo VXR10 Universal Video Microphone!
The best part is tahr apart from the action camera; it also works with other devices making a great choice. So, if you know a DSLR or often shoot with your smartphone, that's further ado!
Speaking in front of this mic records it effectively without any distraction. This is because it has a Cardioid Condenser, which focuses on it.
You can record with it on the go without worrying about charging. With no external power source to run the mic, it's also battery-free. Thanks to its pocket size, you can carry it easily and be portable without a hassle. 
As an attachment for an action camera, it has an easy cold shoe mount that enables you to mount it on cameras.
Do you bother about handling the mic attachment while recording? Or does your old one vibrates too much leading to trembling hands while recording?
If that's the case, the Movo product is legitimately a rescue, as it's equipped with a Shock mount that prevents such issues. You don't need to buy an additional adapter, as this piece includes a 3.5mm TRRS. It doesn't record different sounds like wind or plosives, as the Furry Windscreen protects against all.
Amidst your other belongings in the hand or shoulder bags, its different accessories get randomly scattered. Hence, with an included carry bag, things become easier for you. Besides, you don't need to worry about its durability as the product has a 1-year-warranty.
---
2. Moukey MCM-1 Video Microphone
Pros
Excellent ambient noise filtration

Durable

Value for Money
Do you find it troublesome when background noise interferes with your action videos? How would it be if your action camera video microphone attachments cancel it?
If yes, the Moukey MCM-1 Video Microphone is all that you need!
It reduces uncensored background noise after its sensor detects them. Apart from the action camera, it's suitable with most devices, from cameras to MacBooks.
It has a 3.5 mm Microphone jack to connect with all the devices available. When you expect a Microphone attachment, you would expect a superior-quality sound recording.
Thus, it has a cardioid condenser focusing on sounds near the interface. Besides, it has transmission cables from a top-notch quality manufacturer that ensures incredible audio recording. 
The classic aluminium body protects the Microphone recorded from other high-frequency RF sounds. Increased weight won't be an issue as you can conveniently carry this compact shotgun mic anywhere.
Additionally, its mounts protect you from shocks as they are shock-absorbent. On the same side, it minimizes vibrations and can manage noises that come across its way. 
With many cool accessories, like a 3.5 mm TRS o/p Cable, Mic Windscreen, foam cover, and a carry bag, you don't need to spend unnecessarily on accessories. 
---
3. Rode VideoMic Pro R Camera
Pros
Crisp sound

Decent noise cancellation

Long-lasting battery life
Cons
~10 dB setting adds a hissing sound
How about a microphone attachment apt for action videos, vlogging, and even fill-making?
If you need one that matches that level of professional perfection, then Rode VideoMic Pro R Camera is the best! It's effective in audio recording and balances well on your camera.
Manufacturers have equipped it with a custom 1/2″ condenser capsule. You would be wondering how it helps you.
It also records all the sounds clearly and crisply with minimized distortion and noises. Unlike others, it has a super-cardioid polar condenser which is more advanced than the conventional cardioid. Thus, it specializes in the sounds recorded near the front of its interface.
A further ado would be if you could tailor the recorded sounds with a professional touch. It has a 2-stage high-pass filter and a 3-stage gain control, making it possible. 
The Rode VideoMic is a wired attachment with a shoe mount with a 3/8 Inch thread. 
---
4. Sennheiser Professional MKE 200 Directional On-Camera Microphone
Pros
Clean sound

Pro noise cancellation

Records sound ideal even at a distance
Cons
Poor quality internal shock mount
Would you like a Microphone attachment with a stylish, sleek body that is compact to handle?
If yes, then the Sennheiser Professional MKE 200 Directional On-Camera Microphone is something you can't miss!
You get the most stunning looks with an ultra-rich black color and rugged exteriors. Consequently, it also ensures protection against the winds.
Further, its mount is Shock absorbent. It enhances the recording quality so poor sounds won't disrupt the quality of your vlogs.
You don't need to spend an extra penny to buy a connector cable as you get 3.5 mm TRS and TRRS coiled cables which are interchangeable. These are not only compatible with DSLRs but also with mirrorless cameras. Thus, it has universal device compatibility.  
Unlike most others, it has a directional body that helps focus more on sounds in whichever direction is desired.
Besides, it doesn't make any noise while attached or when in a particular direction. This is because it has an internal suspension mount that doesn't make noise. With no battery operation, you don't have to worry about charging it repeatedly. 
---
5. PowerDeWise Professional Grade Lavalier Clip-On Microphone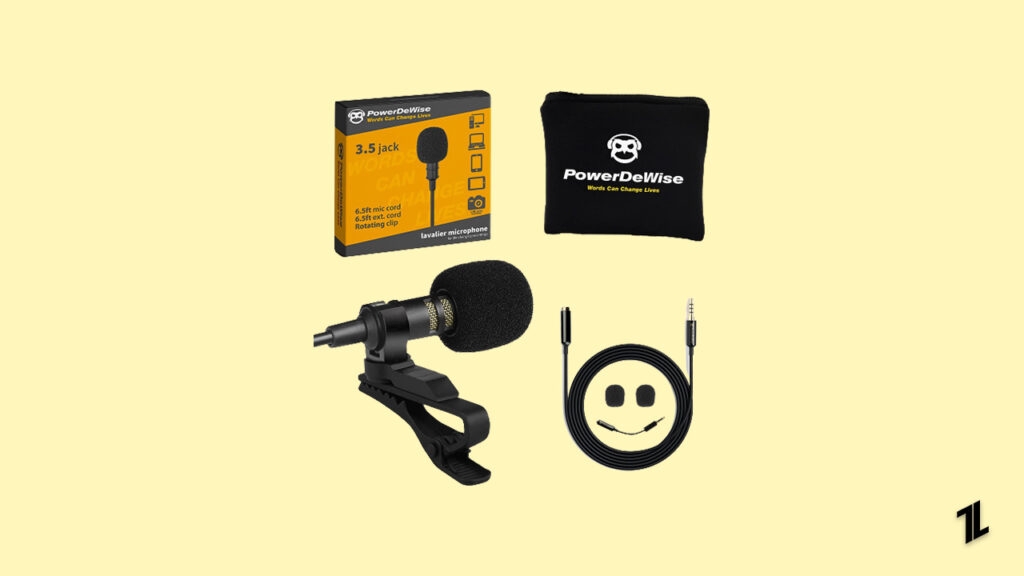 Pros
Great bang under the buck

Tough exterior with a strong metal alligator clip

You don't need to be extra loud to record audio properly
Cons
Average noise cancellation
How about a video camera microphone attachment that reproduces the original sounds to a high-quality one?
If yes, then PowerDeWise's Professional Lavalier Clip-On Microphone is what you need! It features an omnidirectional condenser which makes it possible to achieve that.
With a windshield screen, it gives the records of the best sounds without the intervention of winds. Further, external voices do not affect your video sounds as it has a noise cancellation feature. 
Wireless connections do obstruct the recorded sounds. Hence, its 100% WIRED connectivity ensures no radio interference.
The best part is that it's an easy P&P attachment. So, you don't have to bother about your device's charging getting low.
Besides, the connecting wire is shielded, which ensures robust sound quality. You also get a TRRS to TRS interchangeable Jack adapter of 3.5mm. 
The attachment is suitable for all, whether it's a camera, action camera, smartphone, audio recorder, or similar devices.
You can also record sounds far from your camera using the 2m extension cord, which you get along with. Its one-year warranty ensures no quality issues after purchase. 
---
The Final Word
If you were searching for the top 5 Action Camera Microphone Attachments, then you would have gotten your answer!
Rode VideoMic Pro R Camera is the best overall when looking for the best one that nails all the factors efficiently. It even has wireless connectivity.
The Moukey MCM-1 Video Microphone should be your go-to choice if you are looking for the most affordable product. PowerDeWise Professional Grade Lavalier Clip-On Microphone has an extra-long cord and is an excellent bang for the buck. 
Leave a Comment