Highlights
Capturing videos and photos on the go is a good idea until it is convenient.

iPhone users don't find a tripod convenient, especially if they have shivering hands or are into vlogging. 

While searching for Gimbal for iPhone, we have selected the best ones available in the category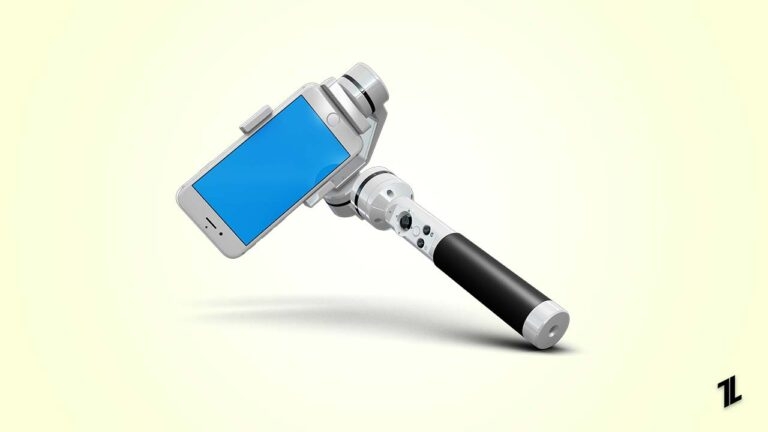 TechLatest is supported by readers. We may earn a commission for purchases using our links. Learn more.
Do you like making video content from your iPhone devices? Holding your hand while recording a video is not easy. The shakes and tremors of your hand reflect in videos.
To tackle the issue, we use tripod stands to keep the camera still. Similarly, a perfect Gimbal also plays a crucial role in helping stabilize iPhone for smooth recording.
A good-quality Gimbal is a handheld mechanical stabilizer that can help you record smooth and seamless videos.
So, you can record cinematic quality footage without purchasing expensive dollies or trolley stands. Investing in a Gimbal can help you improve the video quality of your recorded footage.
You are at the right place if you regularly make video content and want to improve its quality. This article will tell you about the best Gimbals for your iPhone, which will be a great accessory for your devices. 
Top 6 Gimbal for iPhone
Amongst plenty of Gimbals available, not all of them serve the purpose. Most of them aren't durable in the long run. They are ineffective in action. Hence, we have handpicked and selected the best ones under the category!
DJI Osmo Mobile 6 Smartphone Gimbal Stabiliser
Hohem iSteady Mobile+ 3-Axis Gimbal Stabilizer for iPhone
IKOMMI Gimbal Stabiliser for Smartphone
Wensot Gimbal Stabilizer for Smartphone
AOCHUAN Smart S2 Gimbal Stabilizer for Smartphone
Zhiyun Smooth 5 Combo Gimbal Stabiliser
But what makes them incredible? Let's check out their features!
1. DJI Osmo Mobile 6 Smartphone Gimbal Stabiliser
Pros
Easy to set up

Intuitive controls

Strong magnetic clamp

Smooth action tracking

Simple to use with responsive controls
Cons
No room for different angles
Are you looking for a Gimbal that allows for multiple shooting angles?
The rules of recording videos have changed over time. You don't just use a few standard angles to record videos.
Instead, you can capture from nearly every angle, and the DJI Osmo Mobile 6 Smartphone Gimbal Stabiliser extends up to 215 mm and allows for high or low shots.
So, you can unlock several shooting angles. Also, its built-in extension rod will make you capture backgrounds or landscapes easily.
It has smooth three-axis stabilization to get seamless stable footage from your iPhone. Equipped with advanced stabilization technology, it eliminates unwanted movements and catches from recordings. You can keep the subject in the center and record it with its new design.
A common problem with many gimbals is a loose grip. But, DJI Osmo gimbal helps to capture shake-free recordings.
It has a quick launch option that easily connects to begin shooting to avoid missing out on opportunities to capture the best moments. For capturing scenes over a long distance, it has Active track 5.0, which is also ideal for supporting your front camera.
You don't have to remove essential accessories from your luggage because it has a lightweight (309g) and compact design.
It's filled with intelligent features like shot guides to help to record creative scenes like a Timelapse for a star-filled night sky. The gimbal has greater flexibility with double-clicking switch buttons to change from horizontal to vertical shooting.
---
2. Hohem iSteady Mobile+ 3-Axis Gimbal Stabilizer for iPhone
Pros
Strong build quality

Lightweight

Long-lasting battery

Easy to Use app
Cons
App capture in lower video quality
Are you a video creator needing a gimbal to record different vlogs?
The recording needs of a content creator are distinct from a regular user. Content creators need more detailed and shake-free recordings with higher flexibility offered by the Hohem iSteady Gimbal stabilizer for iPhones.
You get unique face tracking and beauty retouching features to focus clearly on your face while you make blogs for TikTok, YouTube, or Instagram. It helps you capture perfect videography through your iPhone.
A new style of Time Lapse videography is trending on the internet. This gimbal will allow you to record street hassle, changing atmosphere, or a monsoon shower cycle through it. Similarly to that, it even provides for Motion Timelapse and Hyperlapse shootings.
For professional vlogging purposes, it helps you capture the minutest of details from a broader perspective. Consequently, you will no longer have to spend on expensive tripod stands.
It has a panorama mode with a single click to shoot vast landscapes or massive crowds. There are sports Mode, PhoneGo Mode, and fast Follow Speedup modes for varied recordings.
Its sports mode will help to capture motors and their movements with delicate details and smooth transition in time.
On the other hand, it is suitable to capture fast movements. Upgraded with iSteady 5.0 Stabilisation Algorithm Upgrade, it has one of the most advanced features in the marketplace.
Apart from iPhones, it has a dual-mode Bluetooth upgrade that also makes it compatible with android phones.
The makers of this gimbal have carefully designed it with 1/4 inch screw holes for attaching accessories like an extension pole, microphone, flashlight, etc., for shoots.
It has an intimate ergonomic handle curve design for a good grip to get comfortable holding for longer hours of recording.
You won't get sufficient opportunities to charge the gimbal as a video content creator. So, it has a 12-Hour Runtime Two-Way Charging for sustaining the battery for a longer duration.
---
3. IKOMMI Gimbal Stabiliser for Smartphone
Pros
Affordable

Simple and Easy to Use

High precision control

Integrated Selfie Stick tripod

Suitable for professional recording purposes
How about a Gimbal stabilizer that has a 360° Automatic Rotation?
A 360° rotating capture is popularly used while recording Vlogs, Tik Tok videos, and YouTube content.
The IKOMMI Gimbal Stabiliser turns 360° to let you capture a rotating shot and flexibly record other scenes at a uniform speed. Consequently, it helps you to shoot a creative video with a complete Rotation.
To help you in vlogging, it has a stable shooting mode for capturing selfies. Additionally, it has a sports mode follow-up and a fast speed for recording. So, it will help to balance the shooting screens from your iPhone to capture flawless scenes.
Switching from Horizontal to Vertical modes is often difficult because you have to change your hand postures for it.
But, this difficult task is made easy with this gimbal that offers a quick switch from vertical shooting state to Horizontal Shooting mode.
You need to turn the gimbal to the left by 180°, and you are ready to record differently. Similarly, adjust it to the right by 90°, and you are immediately adjusted to vertical shooting mode.
You don't need to buy an additional selfie stick as this gimbal has a selfie stick mode. When you don't have enough battery to use this gimbal for recording videos, it can be used as a selfie stick to click pictures. Its design allows the option to lock the motors when no battery remains.
The gimbal helps record Low-Angle Shots, which is impossible with many other gimbals. Moreover, it has a one-button start, and you can begin recording immediately without missing out on a perfect capture.
Many Gimbals in the market have poor battery life. However, this one has an independent lithium battery that can be charged at 400mAH and lasts at least 2 hours.
Every iPhone user is protective of their expensive device. This gimbal has a clip on its head to protect it from falling and scratching. Additionally, that clip is suitable for mobile phones of various sizes.
In terms of height, it has 3 x adjustable stretch rods and a built-in 28.8-inch aluminum alloy telescopic rod. So, it is much larger than a regular selfie stick. An extended height helps you click group pictures or make a live video.
Equipped with a High-precision gyroscope, acceleration sensor, and real-time calculation of angles, you can work on more professional quality recording. It gives a proper balance to avoid any shaking. It is easy to store and carry if you like to record while traveling.
---
4. Wensot Gimbal Stabilizer for Smartphone
Pros
Simple to use

Compact Size

Strong build quality
Are you looking for a Gimbal stabilizer compatible with varied kinds of iPhones?
The Wensot Gimbal Stabilizer is compatible with almost all iPhone models, including iPhone 14 13Pro Max/13Pro/12Pro Max/12Pro/12/11Pro Max/11Pro/11/XS/XS among others. So, this one is good even if you want to use it with two different kinds of iPhone models.
It has horizontal and vertical shooting automatic locks, a practical and latest feature for seamless recording. It supports 360° rotation with a single tap on a button to avoid missing an accurate scene. In addition, you can even manually adjust it if needed.
You get an adjustable Length feature for recording wider angles or shooting across longer distances. It has a selfie stick tripod has 3 x adjustable stretch rods. Also, its built-in 28.8-inch aluminum alloy telescopic rod is much longer than any other selfie stick.
The gimbal has a brushless motor to make required movements without shaking your phone. It helps to record videos keeping the phone stable for capturing both smooth video and clear pictures.
Wensot handheld gimbal has three modes of handheld gimbal stabilizer, extendable selfie stick, and phone tripod stand for all kinds of recording. Consequently, you can take selfies or record video material, chat, movies, discussions, and more.
The handling of wires is often a difficult task when you have to manage to record simultaneously. So, this gimbal stabilizer comes with a Bluetooth wireless remote control with a tripod-integrated card slot design. It can help you control the distance to 10m and can be removed when needed.
For easy carrying, it has a durable and lightweight body that has been made with ABS and aluminum alloy. Furthermore, to prevent slips, it has a humanized handle design for increased stability.
---
5. AOCHUAN Smart S2 Gimbal Stabilizer for Smartphone
Pros
Lightweight

Simple Control

Versatile to use

Built-in Microphone

Metal extendable grip

Three-position adjustable Fill Light

The professional 3-axis gimbal stabilizer
Are you looking for a Gimbal to record travel vlogs or live streams easily?
The Aochuan Smart S2 Gimbal Stabilizer has a face-tracking Smart 6.0. It keeps attention on your face and simultaneously records the background, focusing on capturing high-quality Video Vlogging and Store-telling.
It has a 360°inception mode for flexibility in recording videos from various angles. Further, it reduces the need for making manual movements. Additionally, it has a wide-screen movie and panorama mode to capture more significant background scenes.
It is specially designed with three professional orthogonal axes to get a larger vision and record cinematic shots without blocking your phone screen.
Moreover, it has integrated fill lights and a cardioid microphone for proper lighting and audio recording with shake-free recording. It reduces the need to buy additional expensive equipment.
A focus wheel on the left side makes it zoom more smoothly. So, you are always ready to take street, mountain, or palace shoots without problems.
It would help if you extended the metal extension monopod inside to reach far beyond. Additionally, it helps to work on high-angle photography as well.
---
6. Zhiyun Smooth 5 Combo Gimbal Stabiliser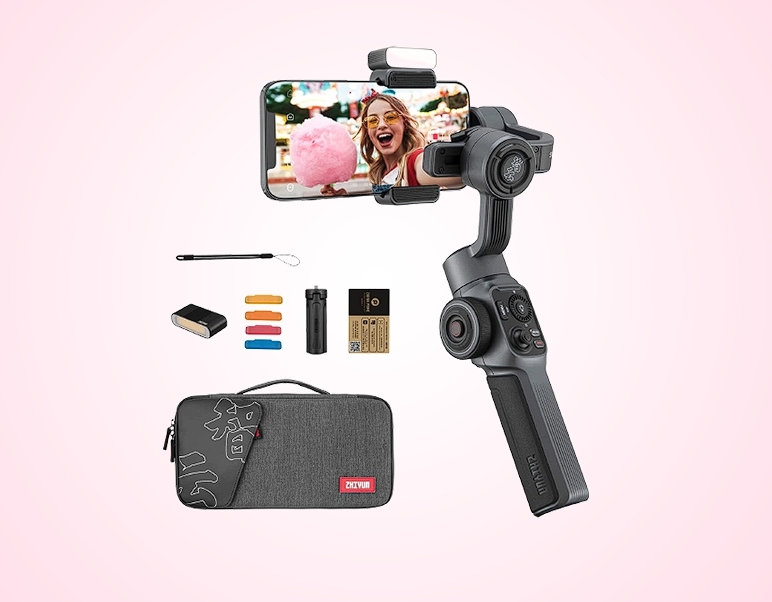 Pros
Easy to use

Solid build quality

High-quality images

Intuitive controls
Cons
Vague instructions

Not suitable for beginners
Are you looking for a Gimbal stabilizer that supports fast charging?
The Zhiyun Smooth 5 combo gimbal stabilizer supports fast charging that is wholly charged within 2 hours. Also, it has a battery life of up to 25 hours under normal conditions.
It has an all-in-one compact control panel. So, you can easily integrate camera parameters adjustment, joystick, and intuitive focus/zoom switch for professional recording purposes at your fingertips.
You get a 360°magnetic fill light that helps shoot quickly in low lighting conditions. In addition, it has a versatile control wheel focus and zoom for making quick movements.
You can record films professionally with its smooth 5. It has an ultrawide angle shoot for taking higher shots without effort. Moreover, you can change the color of lights using light filters.
It has a 3-axis stable structure with a brand-new motor algorithm to prevent shakes and falls. These features make it suitable for capturing wider angles and ranges. You get an optimized motor structure and thick that makes it convenient to use with all kinds of smartphones
---
Summing Up – Best Gimbal for iPhone
We have reached the end of this article, and you must know the best Gimbal to use with your iPhone. A Gimbal stabilizer can be the accessory you need to begin your career in video content creation. So, whether you run a company or a personal vlog, investing in other expensive accessories like a tripod is unnecessary.
If you want a Gimbal with a good battery life, Zhiyun Smooth 5 Combo Gimbal Stabiliser can be a good option. At the same time, the Wensot Gimbal Stabiliser for Smartphones is compatible with all iPhone devices.
On the other hand, if you want a Gimbal for recording different kinds of vlogs, Hohem iSteady Mobile+ 3-Axis Gimbal Stabiliser for iPhone is your match.
All these gimbals are designed for Anti-slip use with excellent versatility. Moreover, it can be the right accessory you need to make the maximum use of an Iphone's advanced camera for smooth video recording. Ensure you carefully read the details of all the gimbals and choose the one that suits your need.
Further Reading:
Leave a Comment