TechLatest is supported by readers. We may earn a commission for purchases using our links. Learn more.
Have you been trying to use an audio interface for mac? There could be tons of reasons why you would be willing to use an audio interface for activities such as podcasting, recording music, etc. An audio interface is very necessary if you want to start a home recording studio.
So what is an audio interface? An audio interface is an external piece of hardware that allows you to record audio through a microphone or musical instrument into your system/mac. This audio can be later edited, mixed, or mastered accordingly.
So, if you are looking for some of the best audio interfaces, we have compiled them for you. Have a look at it below.
Best Audio Interface for Mac
Motu M2 2×2 USB-C Audio Interface
The Motu M2 has all the functionality that a good audio interface needs to have. It is very easy to use as most of the tools necessary for using this is available at the front of the unit. This is perfect for solo musicians and producers as it has a portable design that makes it easier to carry around. 
This audio interface is able to handle two audio inputs at the same time. A power switch is available next to each audio input, which makes it easier to use. The front panel also has a zero latency button and a color LED meter, making it easier for users to monitor the levels accordingly.
The backside of the interface consists of two analog monitor outputs and MIDI connectivity. The software comes with around 6 GB of loops, sounds, etc. 
---
PreSonus Studio 24c
The PreSonus Studio 24c is a reliable audio interface with a bus-powered USB-C connection. It is made out of metal and is very easy to carry around. LED meters at the front of the audio interface make it easier to check the input and output levels. Besides that, all the knobs are at the front of the device, making it much easier for you to adjust it accordingly. 
This device also consists of two XMAX-L mic preamps, Line combo inputs for mics, instruments, etc. Along with that, it also has two balanced TRS main outputs for monitors and one output for headphones. It can also be used with drum machines, etc.
If you are someone who doesn't like cables at the front of the machine, it would be a great choice because the headphone port is at the back.
This interface is built for recording and mixing very high-definition audio files. It also comes with a software bundle. The only thing that might be considered bad about this device is the design of the knobs, which seem to be a bit outdated.
---
Audient ID4 (MKII)
Audient is known for producing some of the best audio interfaces. The ID4 is one of the best examples to prove it. This audio interface has an outstanding class-A mic preamp that can produce great studio sound. 
The device is easy to carry as it comes with two input devices offering a decent sample rate. Controlling the volume is very easy as it comes with an oversized volume button. 
You can also connect condenser mics with this device also musical instruments through direct input. The ID4 is affordable and has USB and apple camera connectivity options, thus making it quite easier for mac users to connect their respective devices. 
---
Focusrite Scarlett 4i4 3rd Gen
The Focusrite comes with a new and improved preamp design and balanced connectivity. This bus-powered audio interface has two mics inputs, two line-level TRS inputs, and four TRS outputs. The 4i4 has the ability to handle low-latency monitoring and also has Focusrite's control application. This allows the device to make settings in the software itself.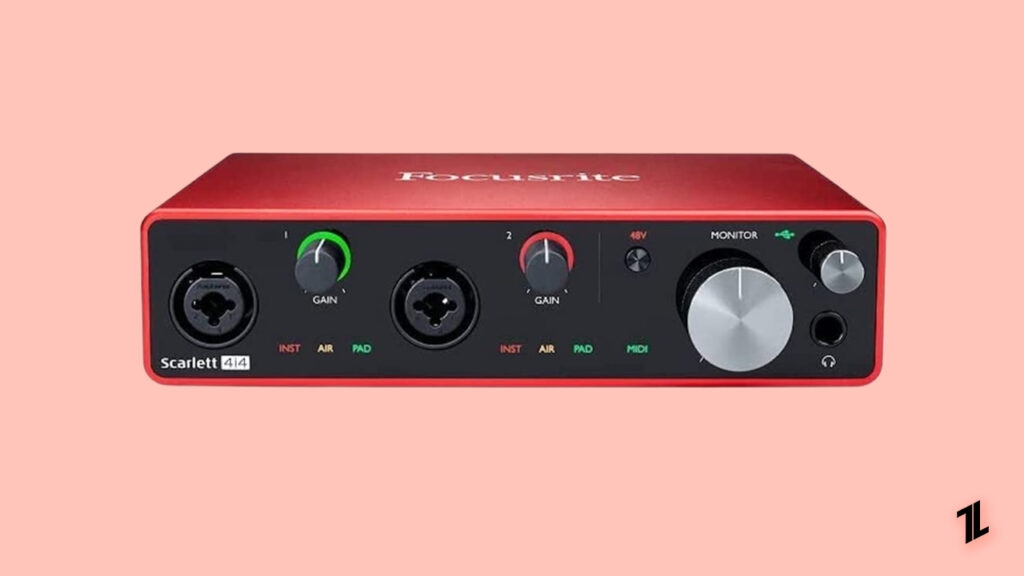 The 4i4 is easy to use and quite cheap as well. Besides this, a decent software bundle is also included in the device. With the Air option, you can add high-frequency lift or tame unwanted proximity by tilting the frequency response towards high frequencies.
Most of the controls are at the front of the device with a big volume button. This would be great for people who don't like to have wires in front of their devices. 
---
Universal Audio Apollo Twin X
The Apollo Twin X is the perfect choice for professionals such as sound engineers. This device is one of the best audio interfaces out there and has the capability to reduce latency to zero. It will provide you with universal audio plugins such as vintage and analog emulations. 
The plugins reduce computer processing consumption and can be used in various recording systems. The Audio Apollo Twin X has two versions, one with a dual-core processor and the other with a quad-core processor. The major difference here is that the latter allows you to run more plugins simultaneously on the interface. 
Since it is a premium-quality interface, the price is a bit high. Nevertheless, if you can afford this, it will yield high-quality audio files. 
Read: 10 Best Small Gaming Keyboards To Pick
---
How to Choose Audio Interface For Mac?
Before you buy the audio interface for Mac, consider these factors:
Budget: Decide how much you are willing to spend on an audio interface. Based on the price, the number of products gets narrowed down. If you are starting out a home studio, it is recommended to go with the entry/basic level audio interface for mac, which comes at as low as $500.
Computer Connectivity: Many interfaces are available in the market with different types of connectivity. So, before buying an audio interface for your Mac, check the connectivity options. Some interfaces sport only USB-A or USB-C, while others include Thunderbolt and FireWire.
Inputs and Outputs: Depending on your work type, the number of inputs and outputs needed for the audio interface will change. For example, if you have the requirement for a regular podcast, you need two mic inputs, whereas recording a band's demo requires a multichannel interface.
Sound Quality: This is one of the primary reasons you buy an audio interface for mac. Before investing in an audio interface, check the audio sample rate of the device. For commercial audio, the sample rate should be at least 44.1 kHz. The device must also support any of these bit depths: 16-bit, 24-bit, and 32-bit.
Portability: You might need to move the audio interface around your home or take it out with you. So, it is recommended to buy a portable audio interface.
Software: Most audio interfaces come with plugins and a bundled digital studio workstation. If your audio interface supports extra plugins to deliver the best output, go for it.
---
Conclusion
These are some of the best audio interfaces for mac. Among all the interfaces mentioned here, the Universal Audio Apollo Twin X is the best, but its price is a bit higher than the others. If you are looking for a bit less expensive, then the Motu M2 would be a decent choice. 
Leave a Comment