TechLatest is supported by readers. We may earn a commission for purchases using our links. Learn more.
If you're one of the many people who own an Apple Watch, you may be wondering how to use the Walkie-Talkie app.
With the Apple Watch, two users can communicate over the internet via their Apple Watches using a feature that rivals like Samsung have copied.
In this blog post, we'll show you how to use Walkie-Talkie on your Apple Watch and provide you will find all the information you need regarding Apple Watch Walkie-Talkie app.
So, let's get started!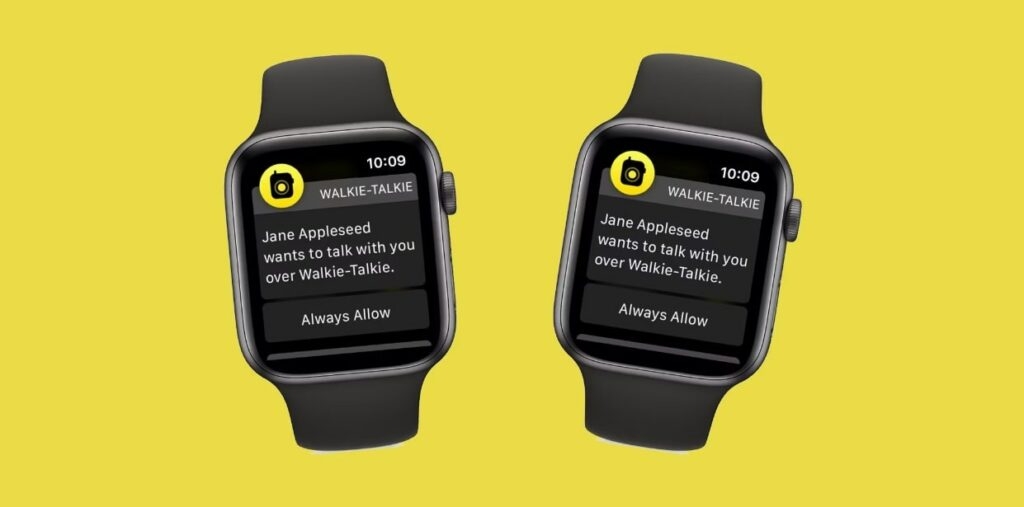 What Is The Walkie-Talkie App On Apple Watch?
The Walkie-Talkie app is an easy method for the Apple Watch that lets you communicate with other Apple Watch wearers over the internet. You can use the app to send quick voice messages to your friends and family members, which is perfect for when you need to communicate quickly without using your phone.
You can use the app to chat quickly with someone in a crowd or for other quick chats on the Apple Watch Series 1 and above. If you want to make calls or talk to people through your Watch App, you need watchOS 5.3 and above and an iPhone with FaceTime set up. 
With the Walkie-Talkie app, you can use a Wi-Fi or cellular connection in countries where the app is supported without an iPhone.
---
How To Setup Walkie-Talkie App On Apple Watch?
It is a very straightforward and intuitive process that won't take long to complete. You should set up the FaceTime app on your iPhone using your Apple ID before you begin so you won't face any invitation issues. 
This guide shows you how to add friends to your Walkie-Talkie app and then chat with them.
First, find the Walkie-Talkie app in the app menu of your Apple Watch.
It appears as a yellow tile with a black radio transceiver icon in the center. You can also download the app from the App Store if it does not appear there.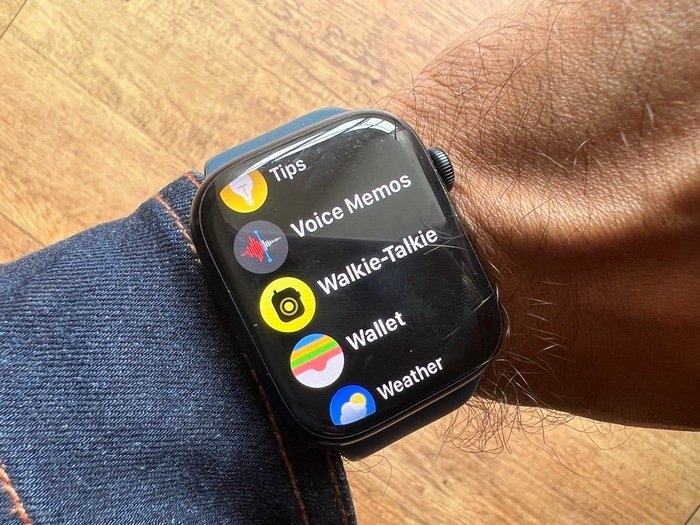 Tap on the yellow plus sign (+) at the bottom of the app when it's open.
From the list of contacts, select the friend you wish to contact.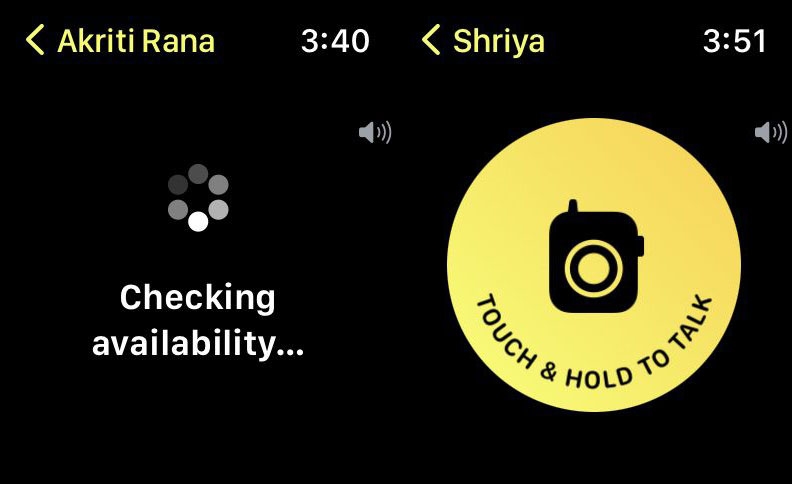 Once you send your invitation, your contact's name will appear grayed out until they accept.
You can finally tap on the contact's name once it turns yellow.
Simply press and hold the yellow TALK Button, then speak into your Apple Watch's microphone.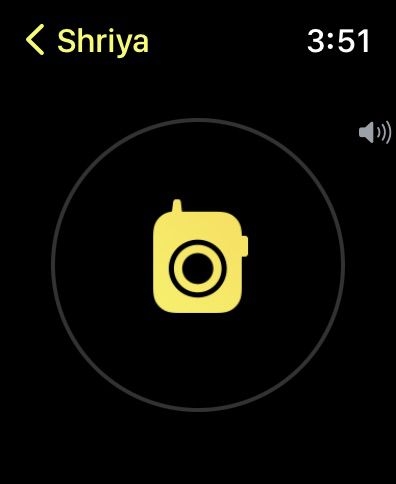 You can send your audio message instantly by letting go of the yellow button once you're done talking.
You'll receive a notification if a contact invites you via the Walkie-Talkie app. 
You can adjust the volume by rotating the Digital Crown clockwise or counterclockwise.
Accept the invitation by tapping Always Allow, and chatting will begin. If you want to decline, simply tap Dismiss.
---
How To Remove Friends From A Walkie-Talkie App?
You can easily remove a contact from your Walkie-Talkie App by following these simple steps:
On your Apple Watch, open the Walkie-Talkie app. On this screen, you'll see a list of all your contacts.
You can delete a contact by swiping from right to left after selecting it.
Delete your contact by tapping on the big red "X" next to their name, and they will be removed from your contact list.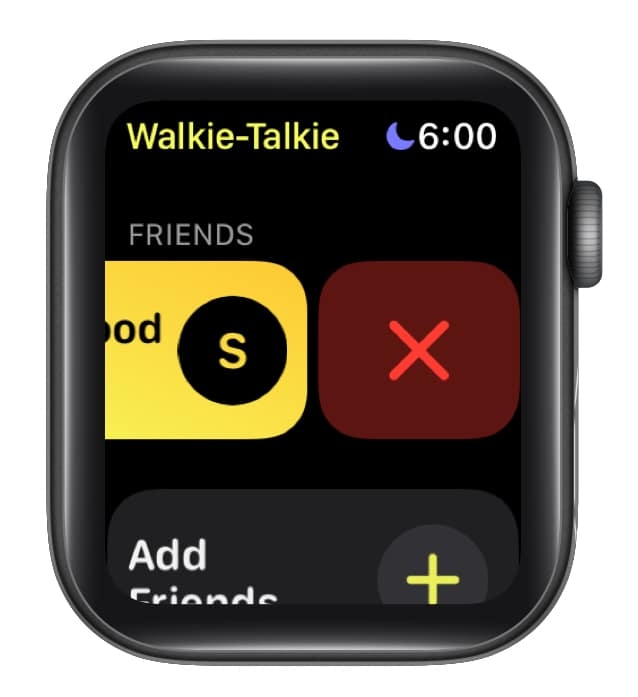 ---
Disabling The Walkie-Talkie App On An Apple Watch
If you do not wish the Walkie-Talkie app to be active at all times, you may want to disable it. You can disable it if you no longer need it.
Open the Walkie-Talkie app on the Apple Watch, then toggle off the master switch.
The Control center also allows you to disable the app.
In order to access the control center on the Apple Watch, tap and hold the bottom of the screen, then swipe up.
By tapping the button, you can disable the Walkie-Talkie.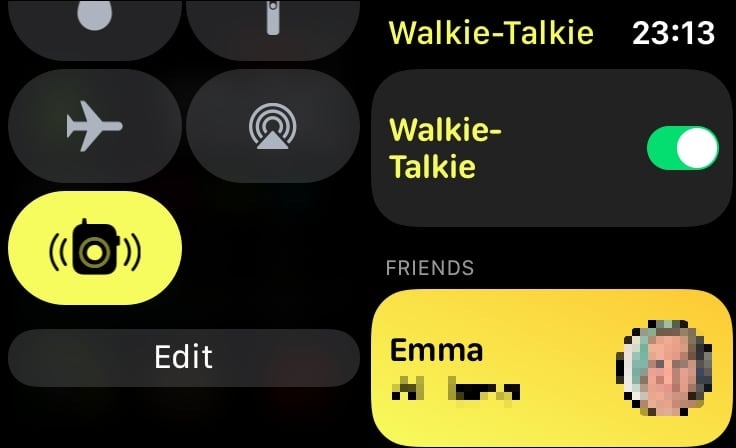 Some attention-related modes can turn off Walkie-Talkie, but not all.
For example, a user can still converse through a Walkie-Talkie while in Theatre Mode, but while in Silent Mode, he or she will not be able to do so.
---
Answering And Silencing A Walkie-Talkie Call
When you receive a Walkie-Talkie call, your watch vibrates and plays an alert sound. When you receive a call, just lift your wrist to your mouth and speak.
You can turn off the "Available" mode on a Walkie-Talkie call if you don't want to be disturbed by a Walkie-Talkie call. When you turn on Theater mode or Do Not Disturb mode on your Apple Watch, you will not be able to receive Walkie-Talkie calls.
TIP: You can better hear your voice when you lift up your arm and bring it near your mouth when answering a walkie-talkie.
---
How To Make The Most Of The Walkie-Talkie Feature On The Apple Watch?
When you have an Apple Watch, you can use the Walkie-Talkie feature to communicate quickly with someone else who has the same watch. It's especially useful when you want to speak privately with someone.
As with a traditional walkie-talkie, the Walkie-Talkie feature works similarly. For it to work, both parties must have an Apple Watch and be connected to the internet.
Don't try to use Walkie-Talkies for long conversations like you might on a phone call. Walkie-Talkies are best for short conversations. You should also remember that the person you're talking to can hear any sound outside of your conversation.
---
FAQs:
Is The Walkie-Talkie App Safe?
After years of waiting, Apple finally released the Walkie-Talkie app for Apple Watch. Not long after launch, Apple discovered a worrying vulnerability. In 2019, Apple temporarily shut down the Walkie-Talkie service after a bug could possibly allow hackers to eavesdrop on iPhones via FaceTime.
Apple has not reported any cases of Apple Watches being hacked by such exploits, but it has banned the Walkie-Talkie app as a security measure. After releasing WatchOS 5.3 and iOS 12.4, Apple fixed the potentially dangerous vulnerability, and the Walkie-Talkie function was brought back online a couple of weeks later.
Since Watch OS 5.3 and iOS 12.4 are mandatory requirements to use the app, Apple Watch wearers will no longer have to worry about using the troublesome version. Generally, this shouldn't be an issue anymore, but if you are having problems with your Walkie-Talkie app, make sure it has been updated to the latest version.
How Far Does Walkie-Talkie On Apple Watch Work?
For Apple Watch Walkie-Talkie to work, you must connect your device via WiFi, Bluetooth, or cellular. The app works as far as you have an internet connection, so there are no limits to its range.
To make a FaceTime call, your device must be equipped with cellular data, and FaceTime enabled. You may not be able to use the Apple Watch Walkie-Talkie if you are in the woods due to the absence of cell towers. Due to cellular limitations, some users have had difficulty accessing the service in remote or rural areas.
Can You Use A Walkie-Talkie On The Apple Watch Without Cellular?
Yes, Apple Watches can use walkie-talkies without cellular or LTE service. Using a walkie-talkie requires an internet connection. Apple Watch users without cellular connections will need to use Wi-Fi and have their iPhones nearby to transfer data.
---
Conclusion
Hopefully, this article has helped you get started with the Walkie-Talkie feature on your Apple Watch. The Walkie-Talkie feature on the Apple Watch is a great way to stay in touch with friends and family. It's easy to use and can be a lot of fun. Just remember to use it sparingly, so you don't bother the people around you.
If you have any thoughts or suggestions, write them in the comment below.
And don't forget to share this article with your friends who might find it helpful!
Thanks for reading!
---
Leave a Comment