TechLatest is supported by readers. We may earn a commission for purchases using our links. Learn more.
In this era of data safety and privacy, users only want to have secured applications and files on their devices. Many people have recently noticed a potentially unwanted software, Wavebrowser, was installed on their systems.
So, is it really safe software to have? What exactly is Wavebrowser? This article has covered in detail the Wavebrowser, its safety issues, etc. Have a look at them in the following sections.
What is Wavebrowser?
In 2015, Wavesor software developed this potentially unwanted program called Wavebrowser. This browser comes with a lot of security risks and is considered to be malicious software by many users.
One of the key issues with this browser is that it does not require any administrator rights to make changes to your system. Moreover, this browser keeps installing itself even after performing a basic uninstall.
Is Wavebrowser Safe?
No, Wavebrowser is not safe software to install on your system. It is considered to be both searches as well as a browser hijacker. It can steal the data of your system. The browser extensions will redirect the users to third-party websites that gather user information and steal the data.
Here is the data Wavebrowser Collects:
The demographic information that contains details about your age, income, race, religion, and gender.
Third-party tracking information.
Your device type.
Your system IP address.
Records of the websites you visited.
Cookies on your device.
---
Should You Remove the Wave Browser?
Yes, you should remove the Wave browser from your system. Though this browser itself is not a virus, it has certain extensions that can collect the data of the user without the admin's permission. When the user does not have complete control over his system, it is risky.
Here are a couple of reasons why you should delete the Wave browser from your PC:
As the browser is capable of making all the unauthorized changes on the system without admin permission, your system can be exposed to hackers.
The browser is capable of stealing sensitive information from the user, which can be more dangerous.
The extensions of the Wave browser redirect the users to malware websites, ads, and unwanted banners that can inject malware into your system and take complete control over it.
---
How to Delete Wave Browser on Windows?
Here is how you can uninstall the Wave browser on Windows:
Firstly, click on the Start button and navigate to the Apps and Features.
Now, select Wave Browser and click on Uninstall.
Once you delete the browser from here, you need to quit the remaining processes as well. Here is how you can do that:
Open the Task Manager and click on Processes.
If you see any related processes to the Wave browser, like Iexplorer.exe or Wavesor, select it and click on End Task.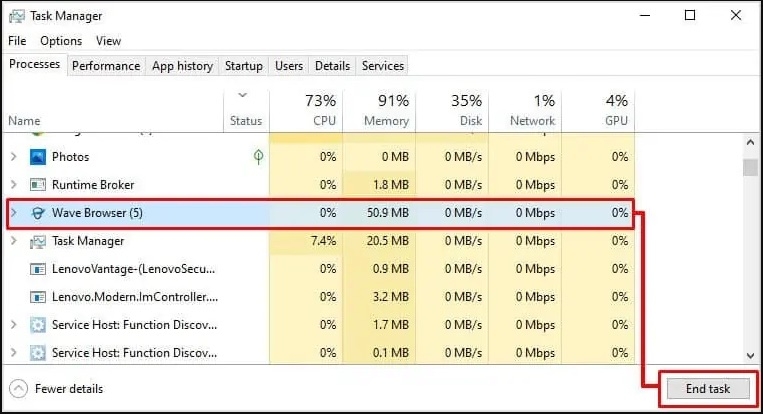 If you still see the processes running, right-click on the task and click on Open File Location.
Now, go to the destination folder and delete all the files present in that location.
---
Disable Wave Browser Related Items
Firstly, click on the Start button and type msconfig.
In the popup window, click on the Startup tab.
Now, click on Open Task Manager and select the processes related to the Wave browser.
Now, click on Disable.
---
Delete Registry Items
Firstly, search for the Registry Editor in the Windows search bar.
When the new window pops up, click on the Edit tab and then select Find.
In the search box, type Wave browser and see if any related files appear. If yes, delete them.
Also, delete any files similar to the pattern:
HKEY_CURRENT_USER\Software\Microsoft\Internet Explorer\DomainSuggestion (registry key)
Once done with the above changes, you can restart the Windows system and see that the Wave browser is completely deleted.
---
How to Delete Wave Browser on Mac?
The Wave browser removal process on Mac is similar to Windows. Here is how you can do that:
Move Wave Browser to Trash
Firstly, click on the Finder application and then click on Go to navigate to the Applications section.
Under the Applications, look for the Wave browser. If you find any other suspicious programs, move them to the trash.
Remove Browser Plugin and Extensions
Firstly, open Safari and go to Preferences.
Now, navigate to Extensions.
Check if there are any suspicious extensions installed. If yes, click on Uninstall.
---
Tips to Protect Your PC from Wave Browser Installation
Don't Click Spammy Links
Do not click on any popups and spammy links while surfing the web. This might redirect you to malicious websites that can install malware on your system.
Avoid Unwanted Software Downloads
Do not download software that is not verified on the marketplaces like Play Store, Microsoft App Store, etc. Moreover, any software that a well-reputed organization does not develop must be avoided.
Use Antivirus Scanner
To avoid installing malicious codes or software on your system, it is recommended to keep performing virus scans through your Antivirus software. You can still use Windows Defender on your Windows system if you do not have any third-party antivirus application installed.
---
Conclusion
We hope this article has provided you with clear insights into the Wave browser and the precautions you must take to avoid installing such unwanted software on your devices.
Leave a Comment