TechLatest is supported by readers. We may earn a commission for purchases using our links. Learn more.
One of the best things about Android is the scope of customization that it gives to the users. Every user can customize the UI according to their preferences.
Not many people might be aware of what KWGT widgets are. KWGT stands for Kustom Widget, where Android users can design the widgets from scratch, which enhances the look of the Android home screen.
Android users can play with the images and text to customize these home screen widgets. They can also shuffle between the colors and themes of the widgets to make them more appealing.
How to Customize Android Home Screen With the KWGT Widgets?
Follow the steps given below to customize the home screen of Android.
Firstly, download the KWGT Widget Maker application from the Google Play Store. If you want to get advanced customizations, then it is recommended to buy the KWGT Widget Maker Pro subscription, which costs less than $1.
Now, download any of the Widget packs mentioned in the article below.
---
How To Apply the KWGT Widgets?
You need to create empty widgets on your Android home screen using the KWGT Widget Maker (or Pro).
Now, press and hold the empty area on the Android home screen, and then tap on the widgets option.
Now, scroll till you see the 'KWGT Widgets' and then drag the widgets to your home screen.
Now, tapping on any of the widgets will navigate you to the KWGT Widget Maker app. Here, you can choose the widgets of your choice and customize your Android home screen.
---
Best KWGT Widgets for Android
Vanilla KWGT
If you love minimalistic graphics and widgets, then Vanilla KWGT is the right pick. This widget pack comes with a cool-looking clock widget that makes your home screen look great. You can combine this pack with vector graphics or minimalistic background to get an aesthetic-looking home screen.
---
Mini Music Player for KWGT
This custom widget pack is designed especially for music lovers. One can see the music controls on the screen, which are functional as well as beautifully designed.
All the designs of this pack can easily blend with any type of home screen setup. Right from minimalistic to cluttered designs, there are a lot of widgets available in this pack.
---
Minimal KWGT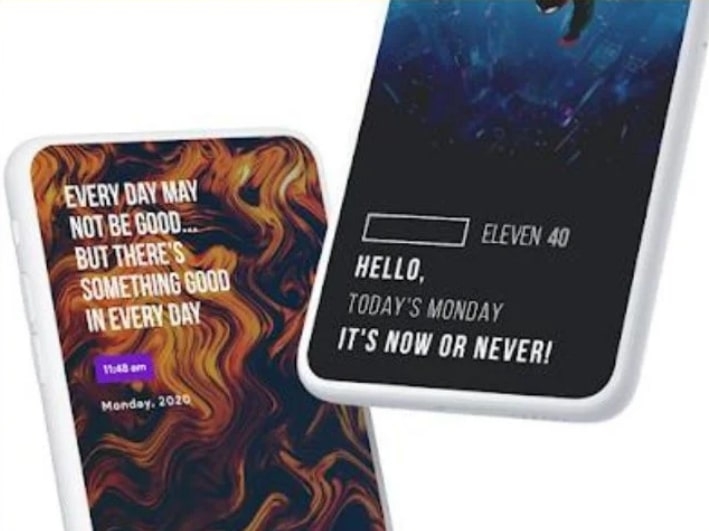 As the name of the widget pack suggests, this widget pack is designed for minimalists. It has clean and minimal widgets that make your home screen look neat and simple. You can combine these widgets with the icon pack to make the home screen more appealing.
---
Huk KWGT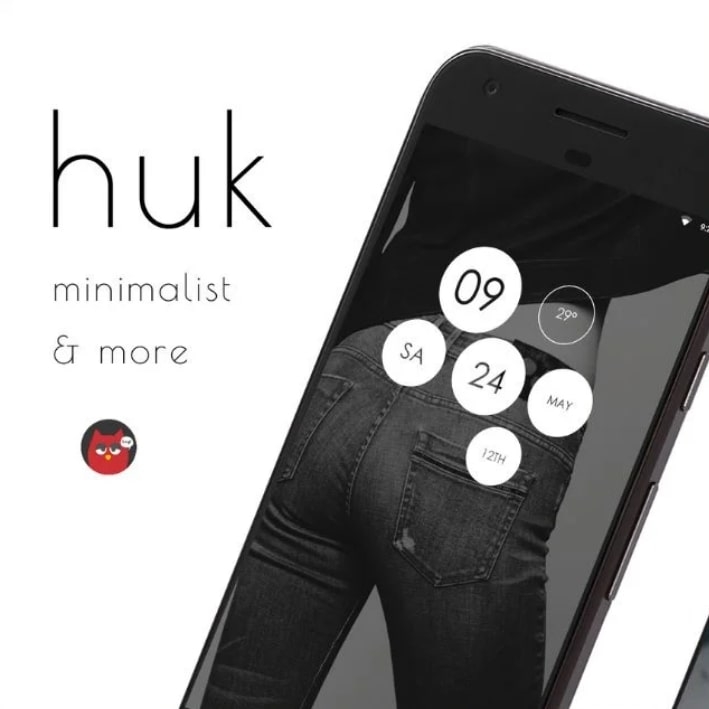 This widget pack is for more than minimalists. It has 200 minimal and clean widgets, out of which some functional options like live updates and calendars are also present. You can combine this widget with a gradient background or minimal background to make the home screen look perfect.
---
Titan KWGT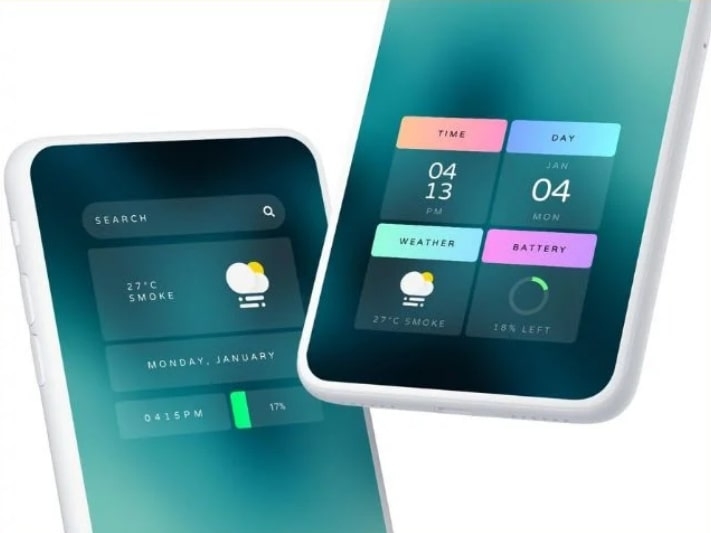 The design aspects of Titan KWGT are inspired by glass morphism. It has a clean design with full-screen widgets and also built-in keyboard shortcuts. The home screen looks absolutely stunning if it is combined with a dark background and a bright icon pack.
---
Skyline KWGT
The Skyline KWGT offers about 136 widgets. Despite this huge collection, each and every widget in this pack looks unique and stunning.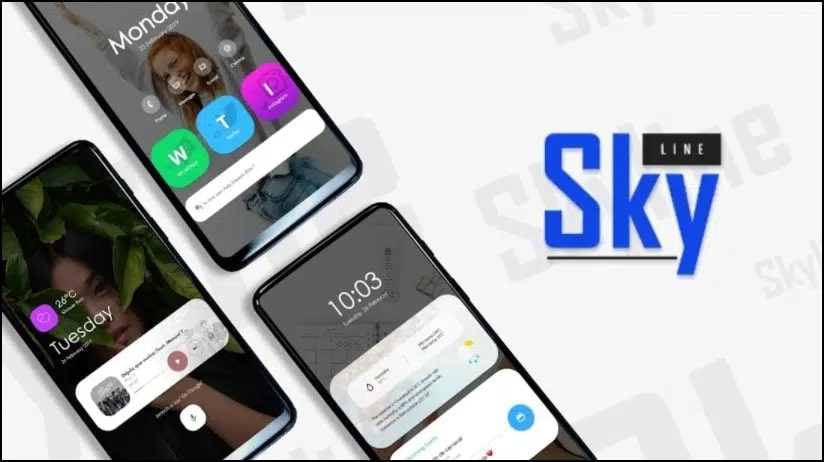 Most of these widgets look transparent, as the wallpaper does not get masked. People can mix and match the widgets with the wallpaper. The designs of Skyline KWGT widgets look similar to the Pixel designs.
---
Clement KWGT
The Clement KWGT widgets as well come with transparent widgets that can blend well with your wallpapers. The font size is also small, which makes the widgets look great on the home screen.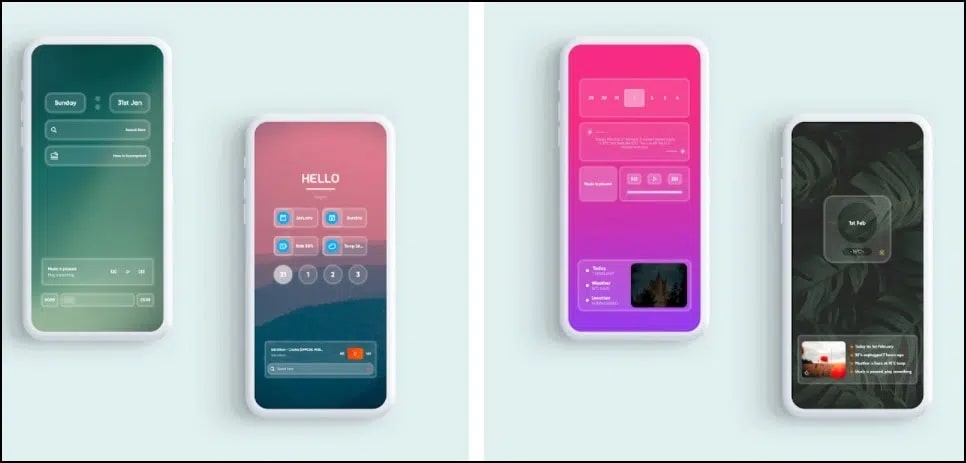 The Clement KWGT looks great with dark backgrounds. The developer of this pack provides the latest updates on the widgets every week.
---
Rocket KWGT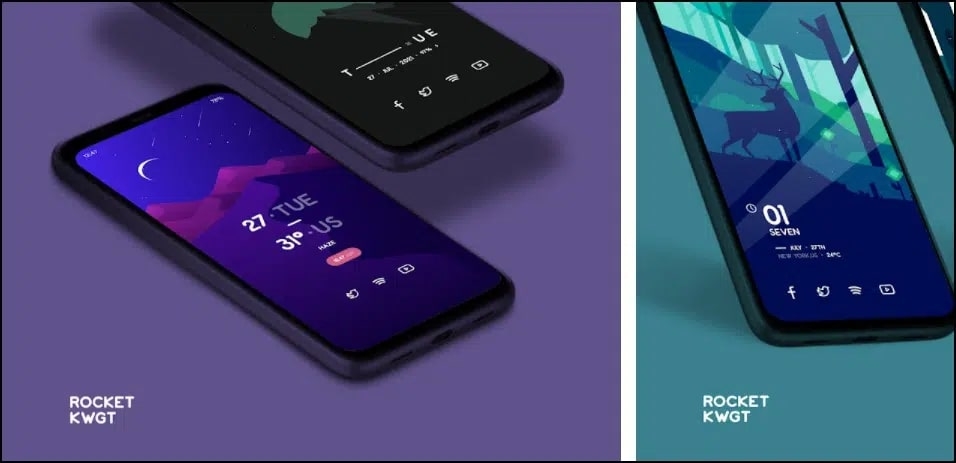 This KWGT widget uses dark colors for the widgets and is also bold in design. It has a transparent background and blends with any wallpaper. The typography is also bold, which makes it easy to read even from a far distance.
---
Caramel KWGT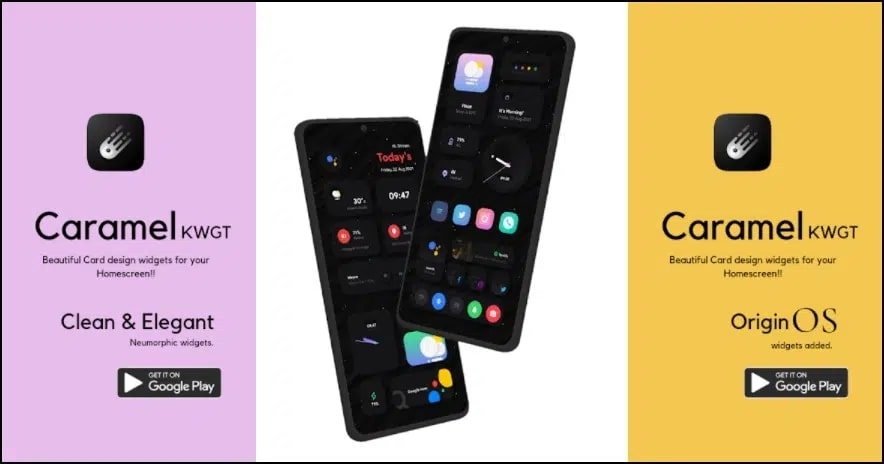 This is the best widget pack for anyone who loves neomorphic designs. The designs look stunning and unique. Currently, it has only a few widgets compared to the other KWGT widgets mentioned in this list.
---
FusiOn for KWGT
Fusion is a really great app for people who are fans of minimal aesthetics. The app has some of the most stunning black, white-themed widgets that actually look super cool, especially if you have an AMOLED screen.
Along with the black and white themes, it also offers some stunning colors and gradients that also look super cool. It also has all your basic widgets like battery stats, clock, music, weather, and others. Overall, it is one of the best KWGT widgets on the list.
---
Orca for KWGT
Orca I has over 80 pre-made widgets that you can choose from, and the best part is the option to customize.
Orca gives you a lot of options to customize. The analog clocks and touch interactions are really impressive on this one. The vertical widgets are some of the coolest you will find on the list.  
---
Fiction KWGT
If you are annoyed by the setting up process of widgets one by one, then Fiction might be the way to go for you. Fiction has a way to add all the important widgets at once.
It has block-based widget themes, including a clock, music, and weather widgets. Fiction is really a timesaver as you can customize color, font, and size all at once and for good.
---
Shadow KWGT
This is one of the best and most recommended widget packs for all Samsung smartphone users. Using Shadow, you will maximize the use of your beautiful AMOLED displays.
Shadow has some of the most stunning dark widgets that look super cool and minimalistic. It is one of the best KWGT widgets on the list.
---
Odisea KWGT
Odisea gives you a lot of features for a widget pack. However, the key highlight is its date/time widgets.
As for a lot of users, the first thing they see is the date/time on the home screen, and keeping that in mind, Odisea has a lot of date/time widgets. It has some widgets that display date and time as texts which are quite unique, so it is really great.
---
Ocea for KWGT
Ocea is for people who like their phones colorful. The app is full of colorful widgets that look very cool. The best feature of this widget pack is that you can set any image as a widget background.
The free version of Ocea will give you over 250 widgets and over 50 wallpapers to choose from. Overall, it is a very good KWGT pack.
---
Feast KWGT
Feast is one of the all-rounder widget packs on the list. It serves the needs of everyone; whether you want attractive widgets or minimalistic ones, Feast got you covered.
The text widget looks super cool with customizable fonts and all of that. It has some of the most attractive and unique widget designs.
---
Rainbow Kwgt
As the name suggests, Rainbow is a very colorful widget pack that brings a lot of colorful themed clock, search, and weather widgets.
The app also allows you to customize the pre-made themes. The widget pack has some of the most stunning-looking KWGT weather widgets, and it is a must-try for everyone.
---
Element for KWGT
The best part about this widget pack is that it is unique and versatile. The widget pack has unique widgets that go seamlessly with any wallpaper.
Element has a lot of cool widgets, including a clock, music control, search bar, weather info, and more, and they go really well with any wallpaper.
---
Andromeda for KWGT
This is one of the most extensive widget packs available now. You just have to be ready to dive deep; this widget pack will not disappoint you.
It has an extensive collection of modular widgets that make your home screen cool-looking. You can also experiment with widget backgrounds, themes, fonts, accent colors, and a lot of other stuff. It is simply one of the best KWGT widgets on the list.
---
Conclusion
We hope these widgets help you create a stunning home screen that fits your suitability. Most of these KWGT widgets mentioned above also come with custom wallpaper. Do try them, and let us know which is your favorite one.
Leave a Comment