TechLatest is supported by readers. We may earn a commission for purchases using our links. Learn more.
Do you want to know what OEM unlocking is? Are you interested in unlocking your device possibilities? Are you interested in customizing your phone with your favorite features?
If your answer to the above questions is yes, then this post is for you.
What is OEM Unlock in Android Devices?
OEM is the acronym for "Original Equipment Manufacturer." It is also called "Jailbreaking" sometimes.
OEM unlocking is the process in which the unlock ability flag is set to 1 (Yes) instead of 0 (No) of your device. Generally, this is locked by the original manufacturing company, so its name is OEM Unlocking.
The manufacturer locks the bootloader, so there shouldn't be any unauthorized access to your device, which we will discuss next.
Read More About the Technicalities of Locking/Unlocking the Bootloader
So, let's discuss the bootloader first.
What is Bootloader?
If you have stepped into the beginning world of technology, then, you might be aware of the word "booting".
Booting is nothing but a process of running system image files on your device and the program that runs it is called a "bootloader."
The process of making a bootloader to run that image is called "booting."
---
Is Unlocking Bootloader Safe?
Yes, it is safe only if you are techy, as it may cause your device to break.
The only complication in the bootloader comes when it is tried to be locked again.
The process of OEM Unlocking from the manufacturer follows the standard process as and when required. As it may be the case due to software changes, the manufacturer may reject your warranty request.
So, it is recommended only if you know the process well.
---
Does Unlocking the Bootloader Voids My Warranty?
Yes, in some cases, unless some software complications occur while installing custom ROMs and thirty-party apps.
Some smartphone companies like Xiaomi allow it, but others don't.
So, we request you confirm with your device before doing it.
---
Why OEM Unlock is Important for Android Customization?
OEM Unlock is very important in terms of Android Customization, as OEM Unlock is the first step towards the whole customization world. And without OEM Unlock, you can't do any type of customization on your Android smartphone.
Also, Read: What is Magisk | Root Android Device using Magisk
Let's take a good example, and understand why it is important. Suppose you are using a smartphone from a manufacturer who uses a custom and bulky UI like the Mi 11X with MIUI from Xiaomi, but now you want to try some stock Android experience by flashing the Pixel Experience ROM.
Also, Read: How to Unlock Mi 11X Bootloader (Redmi K40/POCO F3)
So, to do that, you will have first to unlock the bootloader to install a custom recovery and then flash the Pixel Experience ROM. But to unlock the bootloader, you will first have to enable OEM Unlock on your Android smartphone.
---
Pros and Cons of OEM Unlock
Pros
It unlocks administrative settings and bootloader access, allowing you to download custom ROMs, kernels, etc.

It allows you to install apps blocked by the administrator.

It allows users to manage partitions and remove pre-installed bloatware.

You can install Custom ROMs of your choice.
Cons
It will allow unauthorized access to your device due to third-party installs.

It will block access to secured apps like Google Pay, and other banking apps, etc.

It may cause a loss of your data and make your phone break if loading is not done properly.
---
Enable OEM Unlock on Android
Step 0: Backup your data
Note: It will not erase your personal data but as a precautionary measure we recommend backing up your data.
---
Step 1: Enable Developers Option
First, we need to enable the Developer Options; on your device, head towards Settings -> About Phone -> Software Information.
Now in Software Information, tap on Build Number 7 times, and enter your pattern or pin if prompted.
Now it enables Developers Options.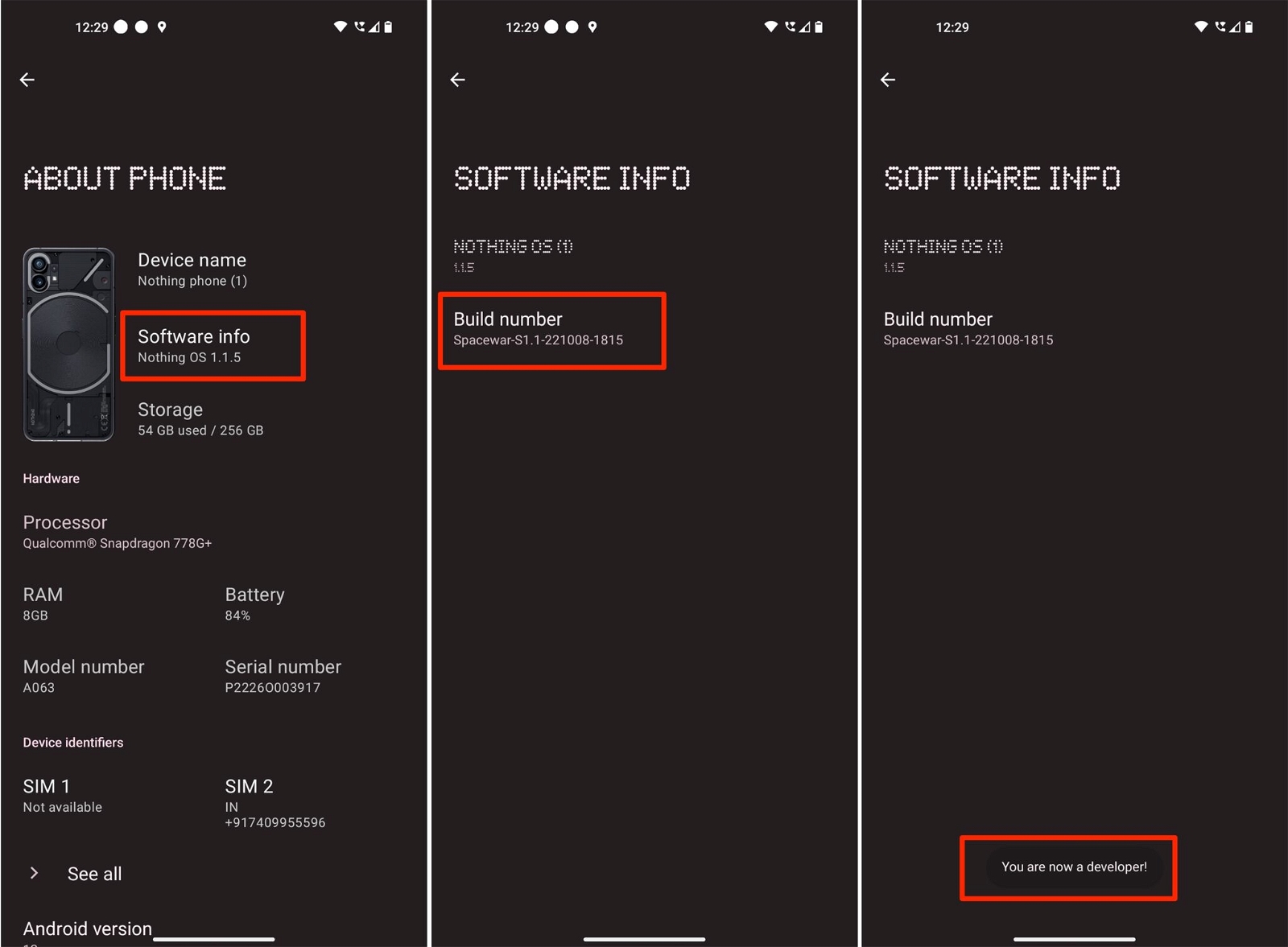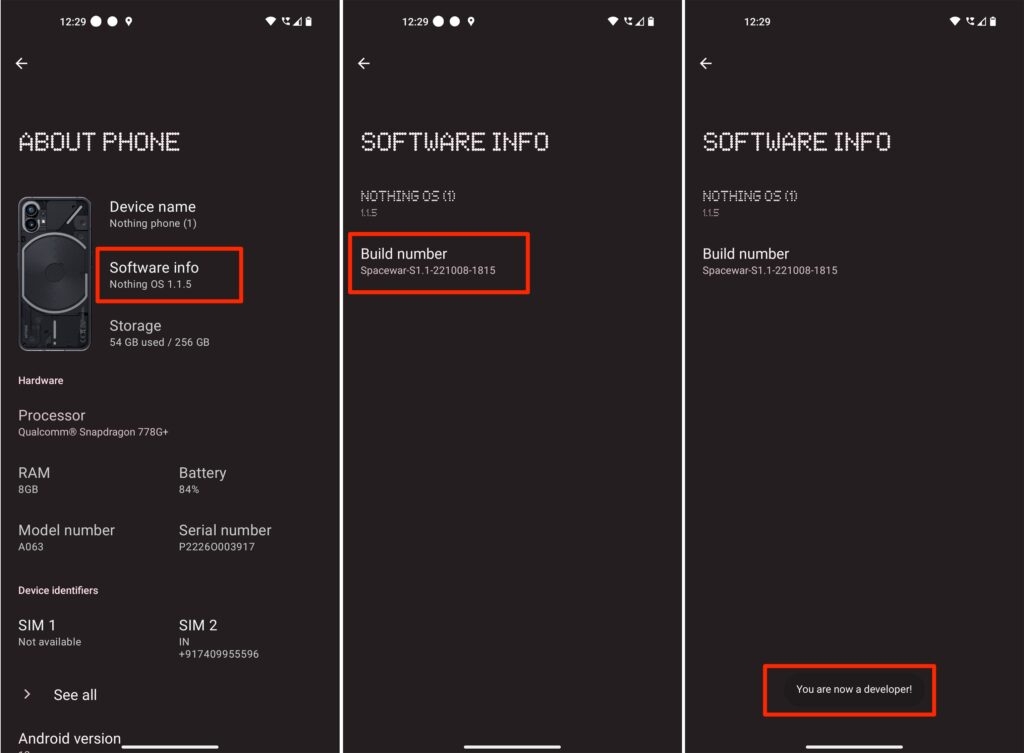 ---
Step 2: Enable OEM Unlock
Now, go back to System settings. And tap on the Developers Option.
In the developer's options, just toggle the switch towards the right, located in front of OEM Unlock, to enable it.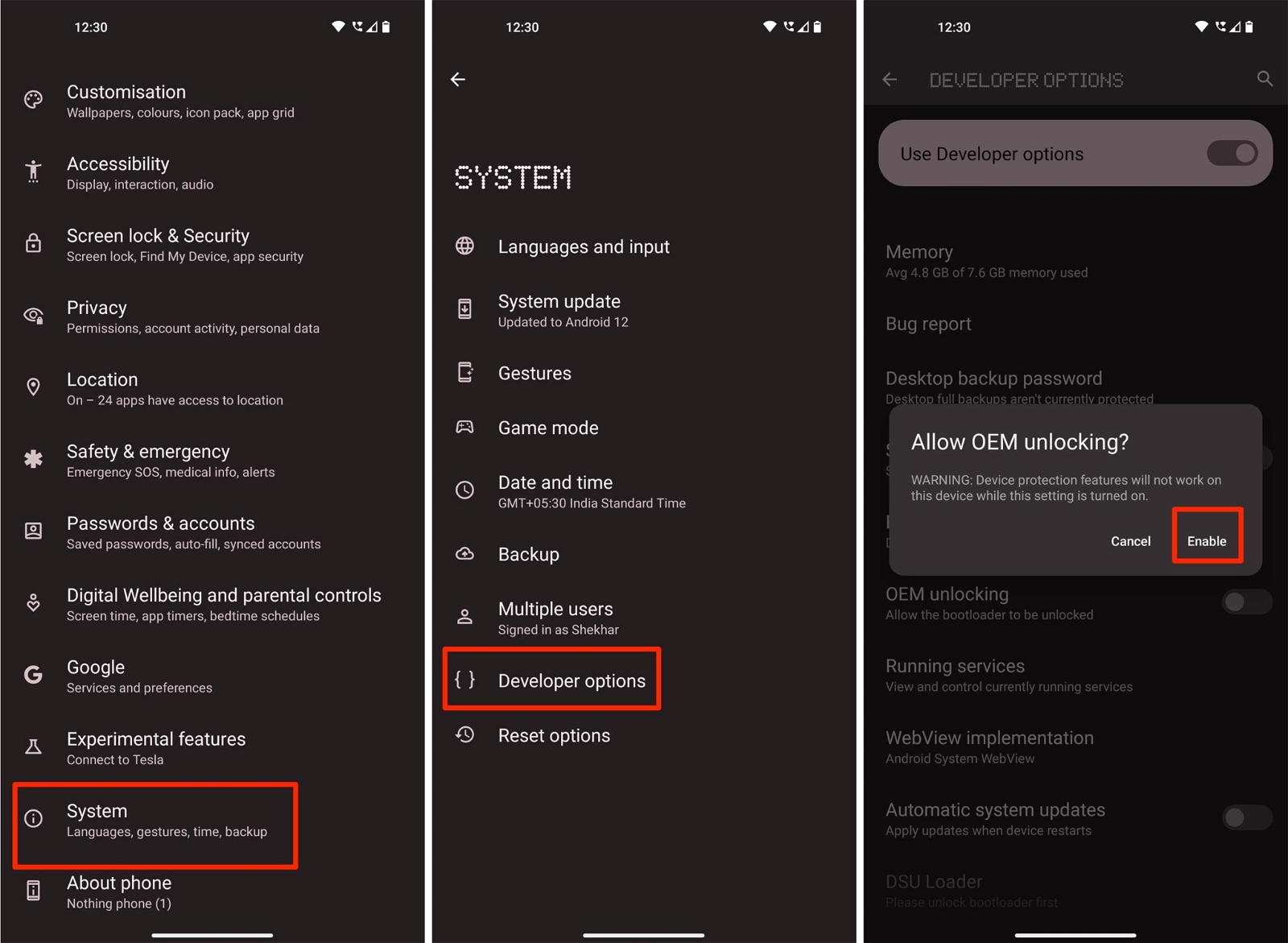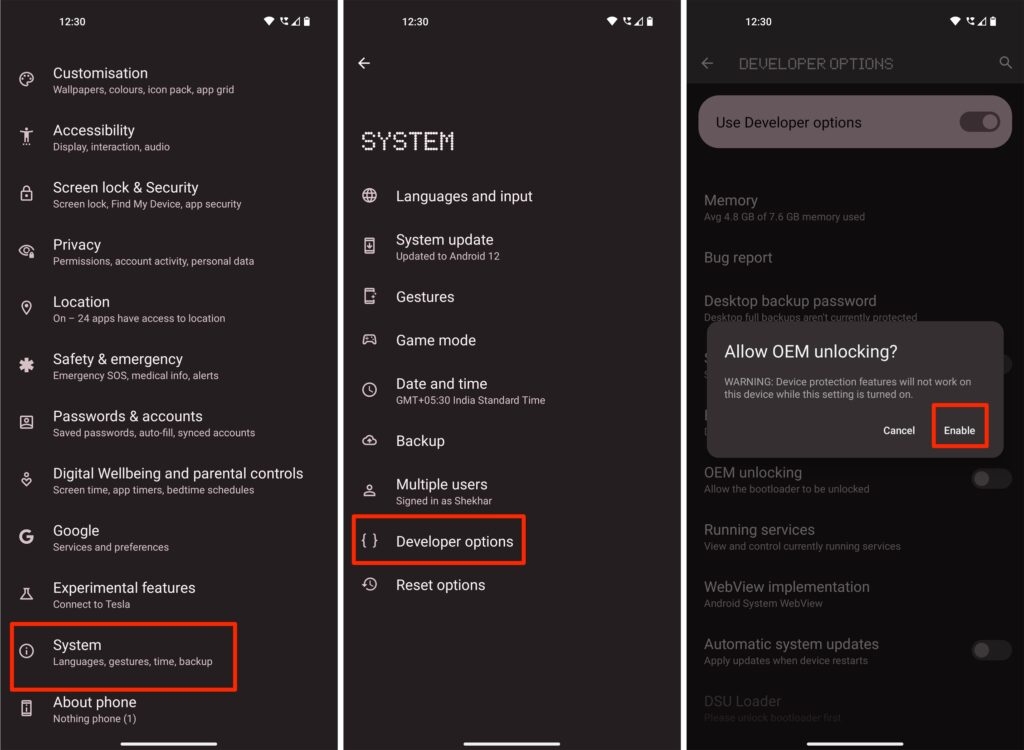 Few options in your device may differ depending on your device build.
---
Disable OEM Unlock on Android
In case you want to disable OEM Unlock, then follow the similar steps as the above to do so,
Open the Settings app from the App Drawer or from the Notification/Control center.
Then, navigate to the System Settings.
Now, scroll down to Developer Options.
Finally, go to the OEM Unlock option and toggle the switch towards the left to disable it.
---
What Can I do After Enabling OEM Unlock?
There are tons of things that can be done after enabling OEM Unlock. I am mentioning a few of them just to get started,
The first thing you can do is unlock the bootloader; as soon as you unlock the bootloader, there is an ocean of opportunities.
After unlocking the bootloader, you can install/flash a custom recovery(Best Custom Recovery) to take all the customization power at your hand.
After that, you can flash custom ROMs(How to Flash Custom ROM) as per your preference, like the stock android (Pixel Experience ROM), Oxygen OS (Ported Version), gaming custom ROM(Best Android Custom ROM for Gaming), etc.
If you need more system power, you can also root your device. (Root Android Device using Magisk)
---
Lastly, if you have any doubts regarding this OEM Unlock article or want something else, comment below on any topic, we should take up for you.
Leave a Comment