Highlights
Whether you are a student, a normal person, or a content creator, you would use memes to express your emotions in a relatable way.
There are plenty of meme-generating apps, but not all are worth it.
We have covered you with the funniest eight meme-making apps.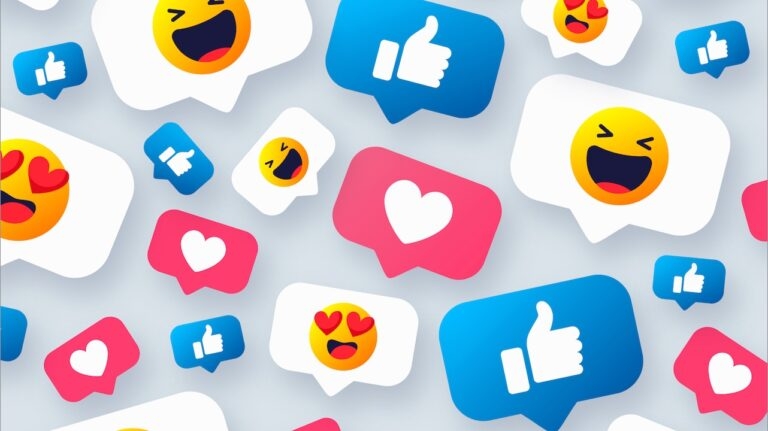 TechLatest is supported by readers. We may earn a commission for purchases using our links. Learn more.
Do you want to express all your emotions, whether happy, sad, bored, or irritated, digitally in the most relatable form?
Well, emojis and stickers aren't that trendy nowadays. Besides, you cannot stand apart from the crowd by using it. So you could create memes or would already be doing so.
But when you want to make the funniest and most relatable memes with a wide variety, you need a good app, and we have covered you all with the best meme generator apps! 
Without any further ado, let's dig into the details!
Top 8 Funniest Meme Generator Apps
When searching for different meme Generator apps, you would need clarification about which one to select.
All of them promise to provide excellent content. Yet, which ones are the best? We have carefully handpicked and chosen the funniest ones on the list! 
1. Indian Meme Generator
How about an evergreen Meme Generator app with the best and most epic collection of meme templates?
If yes, then Indian Meme Generator is a must-check under your list! Personally, it's one of our favorites when it comes to meme generator apps for the Indian audience.
There are a lot of categories to choose from. These include Popular, Hera Pheri, Welcome, Web Series, Politics, TV Shows, Comedian, Cricket, Music, and lots more.
It is remarkable because it includes Meme templates from popular Indian advertisements with little to no apps offered. It displays memes in the default list view, and you can switch it to grid view for convenience.
Have you ever seen people gathering fame with memes and embedding them in Twitter post templates? Well, with this app, you can create them too.
If you don't like the Meme templates and want to add your images, it lets you do that. Besides, what we love the most is that there are plenty of fonts to customize, and the memes you generate will always be of high quality.
---
2. Canva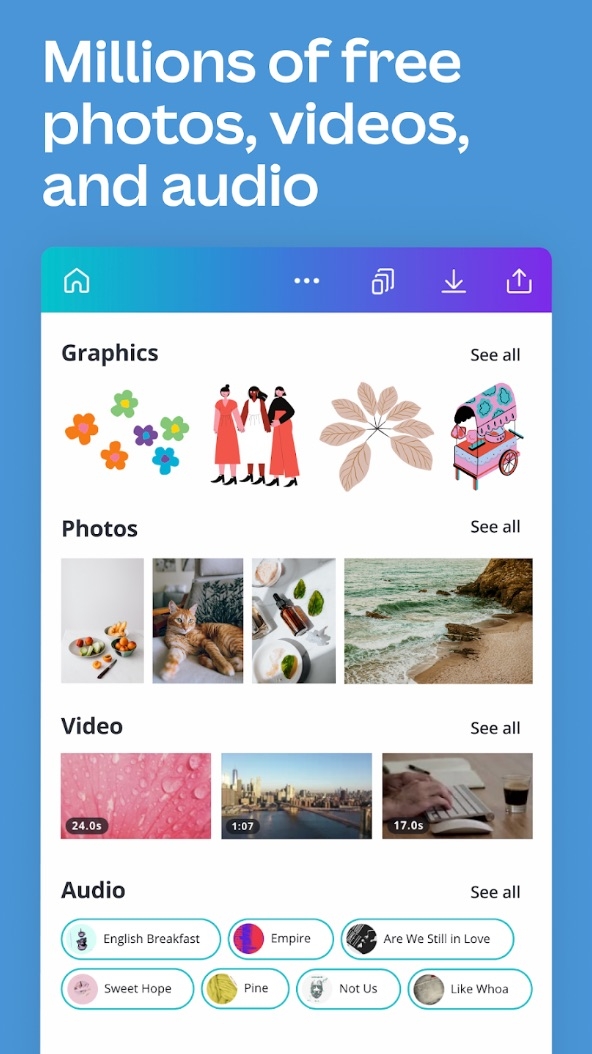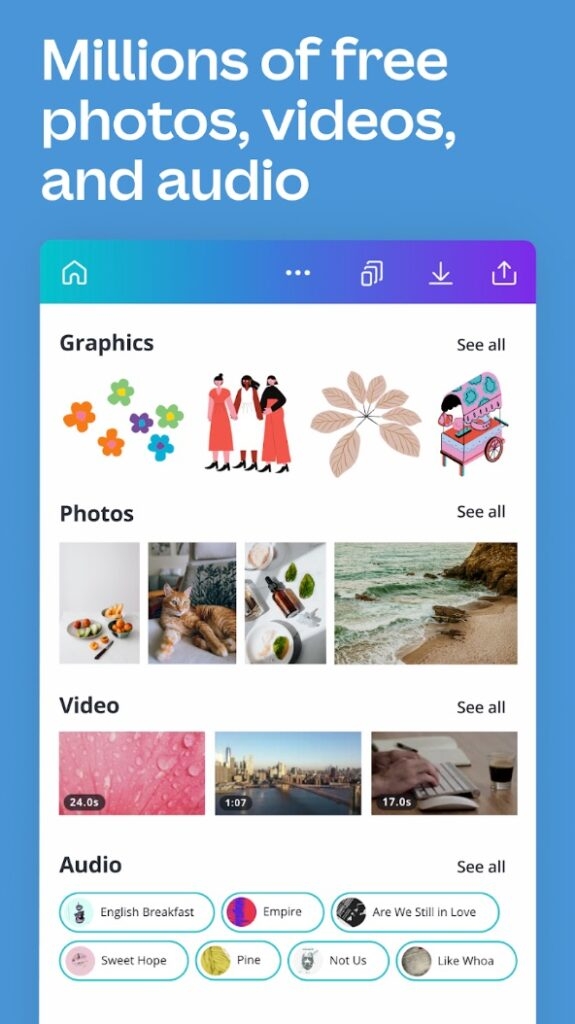 How about a Meme Generator app that lets you create other social media graphics and memes?
If yes, then you cannot miss out on Canva!
It has a variety of Meme templates where you can customize text according to your needs. You can find cat and dog memes on this app.
Besides, if you want to make before and after-type memes, you will see several templates here. What's noteworthy is that this meme maker is incredible at editing, also!
You can customize it how you want, improve the Meme pictures by using filters, adjust its placement, and more.
You can even create several memes and export them as a PDF. Plus, it has memes of excellent picture quality, but several ones are paid. Therefore, you have to buy them! 
---
3. Meme Generator by ZomboDroid
Are you looking for a Meme Maker app that lets you add deep fry effects for a remarkable appearance?
If yes, Meme Generator by ZomboDroid is a must-choice on your list! The benefit of adding deep fry and other such effects is that these leave an everlasting impression on your audience.
Be it classic memes or modern ones; Meme Generator lets you create them all! You can also create GIF memes apart from jpg ones. 
Besides, it also has a stock of Tenor GIFs for you to help with. You can even add a spice of stickers to the memes to make them dank. Though the text and its styling are fully customizable, you will find a stunning variety of presets.
You can even import photos, remove the background from the app itself, and instantly share them to Facebook, Twitter, and Instagram after saving.
---
4. Meme Maker – Mematic 
Would you prefer to make Meme collages apart from the usual memes?
If yes, then you cannot miss checking out Meme Maker-Mematic, where you can also curate hilarious memes and collages.
You can even change the background, blend the pictures or colors depending on your preferences and create your Meme hallmark.
What sets it apart is that it contains various which suit the best memes. There are several layouts and features which make it a choice for editing your photos also. 
Besides, if you are a newbie, an easy-to-use interface would be best for generating and customizing memes. So, even if you are a newbie to Meme making, this app is the best.
Its credibility and worth are evident from its 4.4. ratings on the PlayStore.
---
5. Video & GIF Memes by ZomboDroid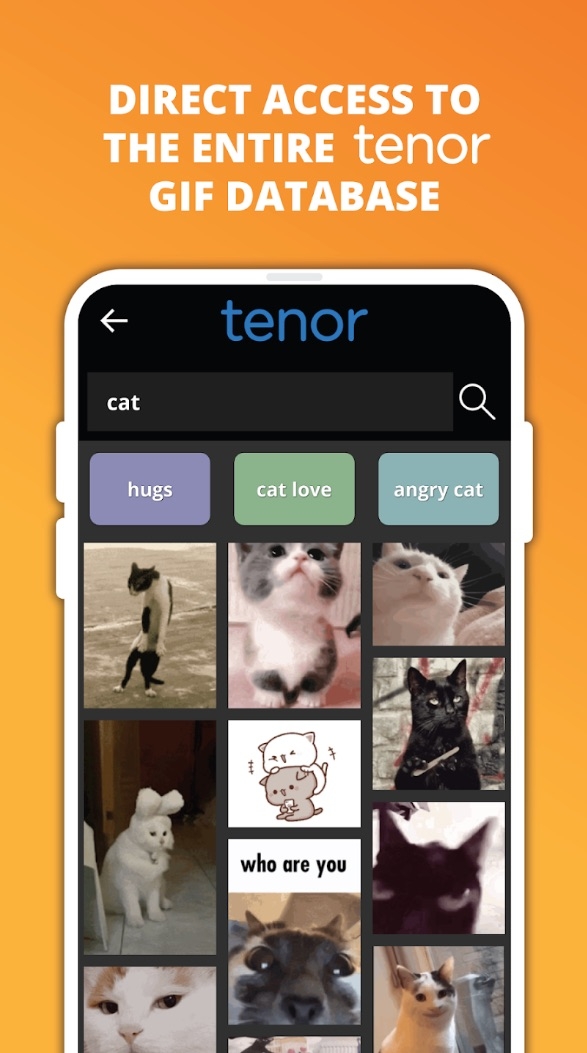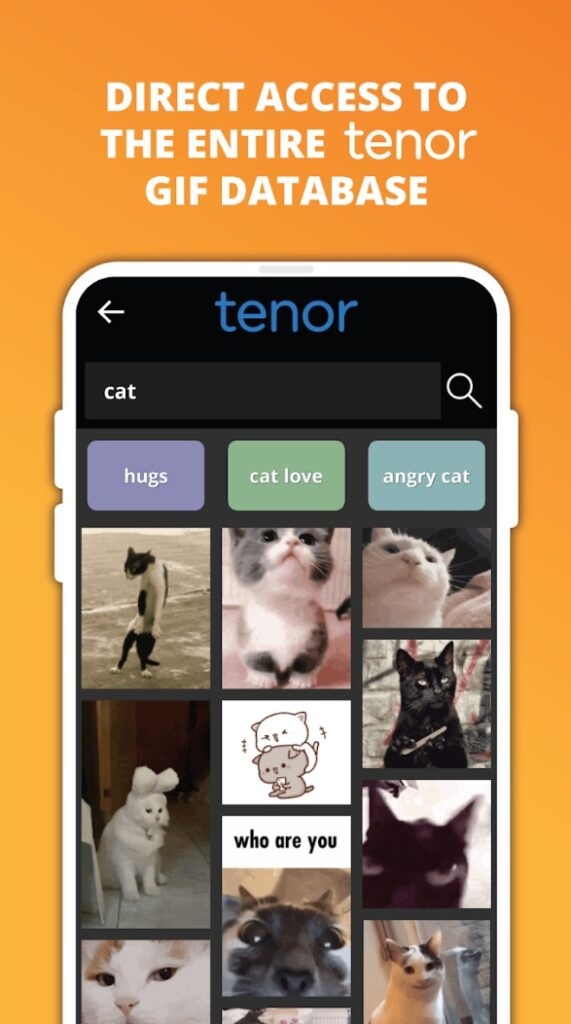 How many times have funny video memes impressed you? Would you love to create one?
If all of the above is yes, then Video & GIF Memes by ZomboDroid are what you need!
ZomboDroid has designed it, especially for creating videos and GIF memes. Yes, you can use GIFs, also. Apart from choosing the existing innocent furry little ones or some funny scenes from memes, you can also import those from your device.
So, you can use external resources to download your favorite movie or advertorial scenes, import them into the app and customize it with text. But if not, then also, with this app, you access many video and GIF Meme templates from Tenor and Vlipsy.
Apart from customizing, you can even perform advanced-level editing and add stickers and effects. You don't need to access the web for stock photos as it has image stuff from Pixabay.
While creating video eyes, you often want to shorten it for a particular platform or edit the original video to make it funnier. ZomboDroid's Video and GIF meme supports this feature also.  
Whether image or video, memes without captions seem like cake without toppings. The developers understand it and have thus added the feature of adding captions and editing them per different styles.
One of the most remarkable features of the app is that the source you use to create video memes need not be single. You can use a mix of images, gifs, and videos to make your favorite meme. 
Further, you can adjust the frame rate and video quality per your prerequisites. If you are a bit picky, more than 60+ fonts would be needed. Besides, it won't add a watermark; you can even square your videos for social media platforms like Instagram.
---
6. Meme Generator – Meme Maker 
Are you fed up with using the same Meme templates and merely changing text over them?
If you think so, then the people seeing your content would also feel so. So, you must be looking for a Meme generator app with an enormous collection of presets, and here's where Meme Generator-Meme Maker is what you need!
Apart from having more than 1900 templates, developers ensure that they upgrade the app with the latest ones frequently.
Thus, you can catch up with the latest meme trends, and your memes will be varied. What sets it apart from most others in the category is that you can crop, rotate or mirror the images.
It is simple to use, and hence with a few clicks, you can create the latest and unique memes. Besides, it won't add the app watermark; thus, you can share it without any constraints.
If you are in love with Thug Life memes, then the coolest part is that you can also create stickers out of the meme for varied purposes. Further, if you have any image to create a sticker or use to make a meme, you can do it with this app. 
The only downside is that you cannot edit the text spacing in this app, and users have faced font sizing issues.
---
7. Memasik – Meme Maker 
Would you like to create funny memes using cute adorbs?
If yes, then Memasik is what you must check out!
It has the cutest dogs, cats, puppies, and funny baby faces to create memes out of them. Apart from having these templates, you can choose a variety of text effects to add to your memes.
Whether it be resizing the font, changing its color, or using a hilarious one, Memasik has a lot of choices to offer.
This platform is the ultimate rescue when you fall short of meme ideas. It's because there's a community of 10M+ creators. So, you can visit it within the app and seek Meme inspiration.
Besides, you can share with the community others' posts and vice-versa. You can even use it to add your custom watermarks to avoid someone stealing your memes. 
---
8. Desi Meme Template & Stickers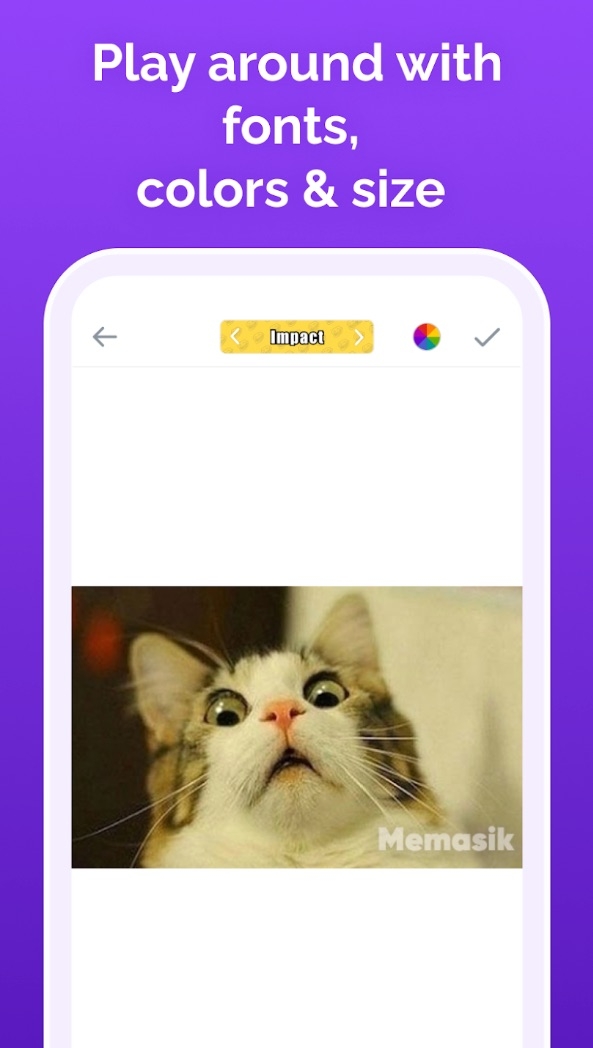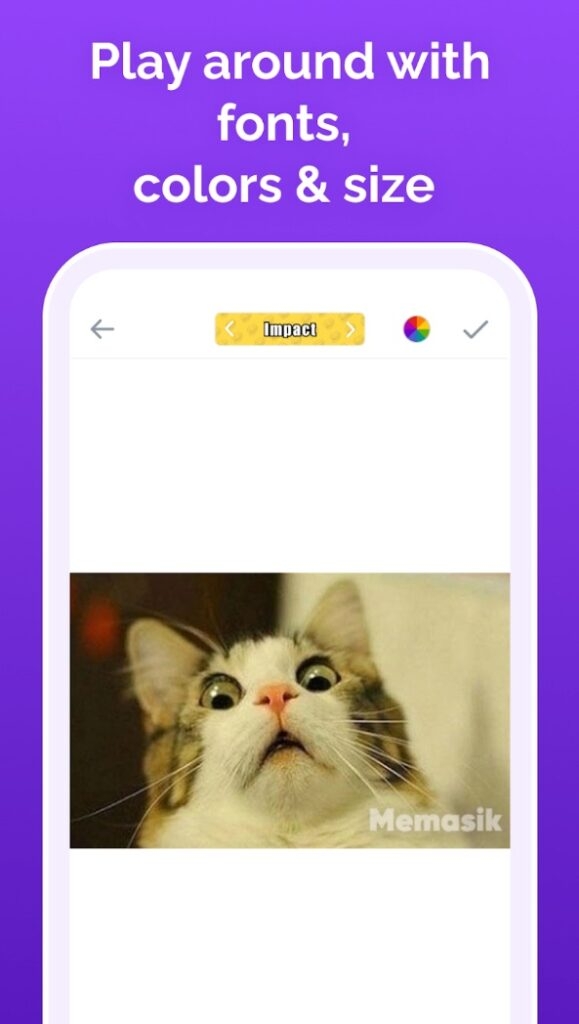 How about an app offering the most Indie meme templates and also letting you save WhatsApp Status?
Well, Desi Meme Template and Stickers name speaks for itself. Not only do you get the rarest, funniest, and most authentic Indian memes, but the app has a lot to offer also. This is because you do get some animated meme collections.
Besides, you can even generate memes in Twitter post templates in the Tweet maker section. Amongst a horde of templates, if you find it challenging to find a suitable one, you can use the categories option and accordingly search for it.
It has the rarest feature, which rarely any other app provides. Yes, apart from the conventional method of meme editing or using it in Twitter templates, you can also add text bubbles to create memes. If you don't wish to edit in the app itself, you will find a download option to save the template.
You can easily choose and switch between dark and light modes in the app for better navigation. Desi Meme Template and Stickers also let you save WhatsApp status. You can import images from your gallery. However, its interface is inconvenient to adopt.
---
Wrapping Up
When you were confused between various meme generator apps, you would have found the eight best ones under the list!
Indian Meme Templates and Desi Meme Templates & Stickers are our recommendations when creating Indian theme-based memes. For video memes, Video & GIF Memes by ZomboDroid is what will never disappoint you.
When you are tired of repeatedly using the same limited collection of meme templates, Meme Generator- Meme Maker is what you should go for, as it updates its collection daily!
Any more to add to the list? Please mention it in the comments below! 
Further Reading:
Leave a Comment