TechLatest is supported by readers. We may earn a commission for purchases using our links. Learn more.
Do you find your WhatsApp chats too dull? The platform lets you download some sticker packs to make it more interesting. Tinton Friends, Sticker Heist, Weird is Wonderful, and Playful Piyomaru are some good ones.
However, the platform needs legit comical ones. Whether you want to laugh your heart out, tesse your contacts or react to jokes, funny stickers are a must. But as you only get a little of them in inbuilt WhatsApp.
Thus, there are several apps from which you can download amusing sticker packs and send this to WhatsApp. We have covered you all if you are searching for Best Funny Stickers for WhatsApp!
Best Funny Stickers For WhatsApp
Apart from WhatsApp Store, you can also download the Stickers from a third-party app. There are plenty of apps available for this purpose. But only some have funny stickers that would persuade you to laugh. We have compiled a list of the best funny stickers for WhatsApp.
Hindi WA Stickers
Are you an Indie or someone fond of Indian YouTubers?
If yes, then Hindi WA Stickers are a must-check-out!
How about the funny yet sarcastic dialogues of Sharks from Shark Tanks? Or would you love to roast your friends with CarryMinati memes? There are funny stickers from all these famous personalities.
You would find savage reply stickers. Besides, if you are a cricket fan, you will also discover several incredible collections of Cricket player memes.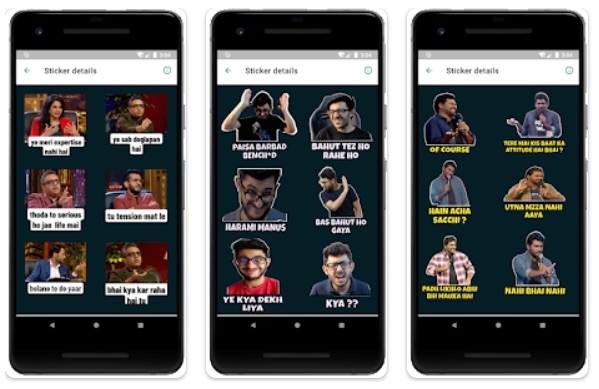 Depending upon sarcasm and characters, you would find stickers in 10 categories. There are detailed and sarcastic replies to every hilarious situation. It keeps on adding newer and trendy collections frequently.
---
WASticker Funny Memes
Are you bored with static stickers? How about getting the funniest Meme Stickers that are animated?
If yes, WA Sticker Funny Memes is a must-check on your list! It has the most remarkable and unique collection of funny meme stickers worldwide. With many funny stickers, share funny reactions and laugh at your friends' jokes.
These moving stickers seem as if you are trolling someone live. It's never dull, as it has 500+ animated stickers in its collections. However, they are not well-organized in their storehouse, making it challenging to sort stickers.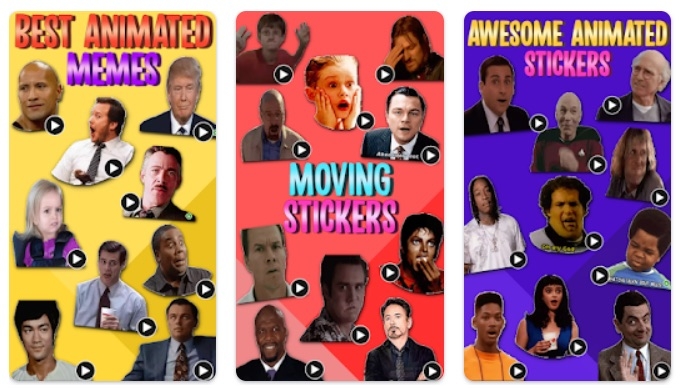 But the best part is that developers subsequently release updates to add the trendiest animated meme stickers in it. Engage more with your friends, laugh louder and give shocking reactions like crazy! So what are you waiting for?
---
Funny Cat Memes Stickers
How much are you in love with cats? Do you assume yourself to be a cat? If you are a cat-lover, Funny Cat Memes Stickers is your go-to choice!
You will find all the cats you would have seen in memes or whose reactions have made them viral on the internet. Be it Persian or  Siamese cats or cute kittens; you will see their funny stickers and responses in this pack.
Cats and their funny faces are always attractive. But comedy is better with their different crazy reactions.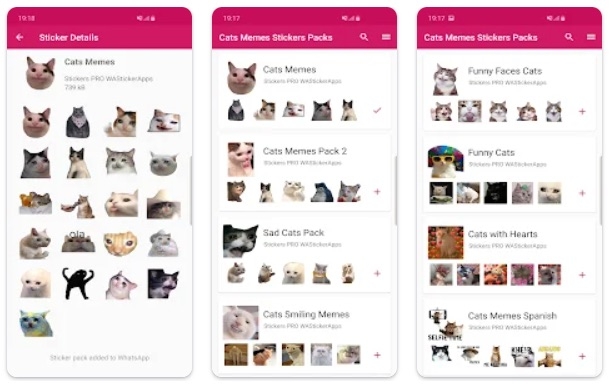 Besides funny cats and meme cats, teasing cat stickers are also exciting and savage to share. Adding them to Whatsapp is easy.
However, after downloading two packs, an ad pops up every time, which often becomes annoying. Moreover, some of these sticker packs are not cropped perfectly. Yet, they are well-categorized for downloading quickly. 
---
Funny Cat Stickers- WASticker
If you want cat memes that are crazier with a better crop, then Funny Cat Stickers- WASticker is the best! Its colorful interface with better quality, some laughing, smiling, and staring would make you laugh uncontrollably. You will find plenty of stickers with different hilarious reactions.
What's more interesting is the fact that ads won't interfere with and annoy you in it. With the platform solely for funny cat stickers, it has the most exclusive collection of them. All of which are worth downloading.
---
Sticker.ly
How about fetching the most extensive collection of high-quality funny WhatsApp stickers?
If yes, then Sticker.ly is something you cannot afford to miss out on! Be it animated, non-animated, moving, or non-moving stickers, you would find them all.
Telegram has always been incredible, with unique and awesome stickers. From this app's database, you can find funny Telegram stickers also. You will find funny stickers for all age groups and interests, regardless of age.
Search with keywords like Tom & Jerry, Telegram, Mochi Cat, or any of your favorite characters. There are funny stickers for all characters. Besides, if you are mere kiddish fun, then there's too you would find interesting ones under the category. You would also find many stickers with naughty adults' fun.
Be it memes, YouTubers, Vloggers, cartoon characters, fictional avatars, anime, celebs, movies, or TV series; there are funny stickers in all categories. Its database is well organized.
You can also create laughable custom stickers. Different creators make sticker packs and share them on this platform, thus contributing to its extensive database.
When you are too much of a Whatsapp freak, you post stories frequently. Apart from stickers, you will also find several amusing Whatsapp story videos.
Moreover, you can also share sticker packs with your friends via different social platforms. Here, you would also see classical emoji funny stickers. All of them are of high quality, which looks quite perfect for sharing.
With an easy, minimalist, and intuitive interface, it's also easy for novices. You don't need to sign up compulsorily. What sets it apart from others is that you can now back up your sticker packs. All you have to do is sign in with your Google account and register with the app.
It lets you download individual stickers, also. Some comic characters, trolling dialogues, and roasting meme stickers are again fun. This app would take you there too.
You can also add stickers or sticker packs to your favorites list. But amazing things never come quickly. Owing to its popularity, there are ads on this mobile app. So, whenever you add a sticker/sticker pack to Whatsapp, an ad will pop up. 
---
OP Meme Stickers for Whatsapp
As hysterical as the name implies, OP Meme Stickers for WhatsApp should be your go-to choice! It has a funny yet incredible collection of memes from famous Indian personalities.
Whether you are a native of India or not, you would have heard of Rajpal Yadav, Akshay Kumar, and the famous movie Hera Pheri. These evergreen comedians and films have a plethora of jokes and dialogues that you would get as sticker packs with reactions.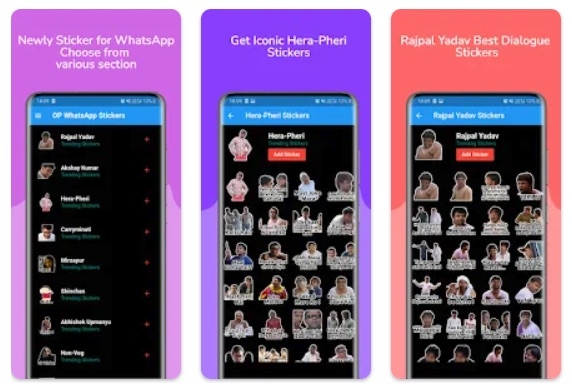 They would not make you LOL, but you would laugh out loud. These are legit fun, and with the accompaniment of some popular Asian Netflix series and Indian YouTubers, the stickers would roast your acquaintances better. So while chatting with your buddies, best friends, dudes, or family, you would have comic reactions to every situation.
The best part is that the stickers are lightweight. So, adding them doesn't consume much of your phone's storage space. You can also share these collections directly as links for others to download.
Some of you would prefer fun with some slams, and this app has such funny stickers with slang too. Apart from them, you would also see the crazy cunning and cute Shinchan stickers on it. 
---
Baby Memes Stickers WASticker
Some entertaining adorbs to simultaneously make your contacts laugh yet feel innocent of you? 
If that impresses you, then Baby Memes Stickers WASticker is something you cannot miss!
The app and best collection for smiling, cunning, sad, and taunting baby faces that will always be a delight. Babies are cute, and these stickies make them more playful. So, your laughter won't offend anyone with such innocent facial expressions in stickers.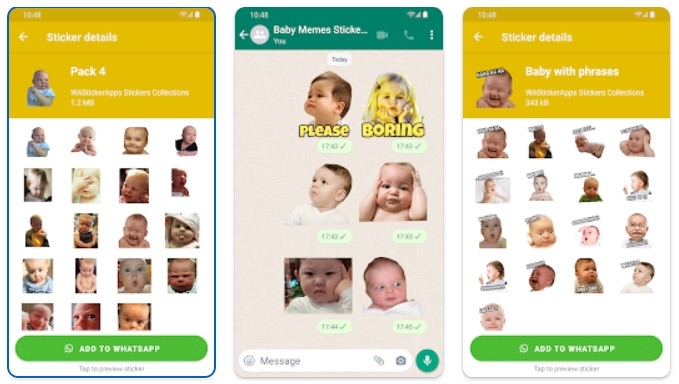 Besides, infants' naughty faces and phrases are further ado for more fun. When you want to sound childish and innocent, you have to download the app.
The app is well organized and does not annoy you with ads. There are animated packs, also. Furthermore, you can search with its search option using different keywords or names of sticker packs. 
But for newer cute reactions, update the apps frequently. Thus, you would get more variety in every short time.
---
Dog Meme Sticker WA Sticker Apps
Do you want the most absurd yet funny stickers pack for dog lovers? That sounds too interesting, and the Dog Meme Sticker WA Sticker Apps is a must-check on your list.
It has a comprehensive range of dog stickers with hysterical faces. With better-cropped stickers, high-picture quality things are way too better. It has both animated and non-animated sticker packs.
With innocent playable trying to be mature as dogs, it's legitimately jolly to watch them. Besides, it also has the funniest meme dogs in these sticker packs.
Be it German Shepherd or meme dogs, including Doge, Corgi, and Cheems, and the app has it all. So what are you waiting for? Jump in to download the exclusive funny collection for a dog lover. 
---
Funny Stickers Cartoons
Do clowning meme stickers don't impress you that much? Are you hunting for some unique collection to have a box of humorist Whatsapp stickers?
If your answer is yes, then the Funny Stickers Cartoons app is something you can't miss.
Whether you are fond of Simba lion, Doraemon, Shinchan, Blue stitch, or Melody, it has whimsical reactions. Moreover, Powerpuff Girls, Pink Panther Bear, Tom and Jerry, and Winnie the Pooh are something you can't forget. It has an exclusive collection solely of jovial cartoon sticker packs.
For the snoopiest and craziest reactions, head over to the app now. Its popularity is apt because, despite 1k+ downloads, it has a complete rating of 5/5 stars.
This implies that each of its users is pretty satisfied with the app. You, as an adult, would relish Cartoons, and chat and laugh with kids, then it's a legitimate delight of fun. 
---
Stickers Cloud & Sticker Maker
How about some laugh-out-loud meme stickers or those with bizarre cartoons? If yes, then Stickers Cloud and Sticker Maker have it all. You would find the weirdest cartoon creatures laughing strangely to frighten your contacts.
Plus, Pikachu's laughter would obsess you more, yet you would burst into tears. 
If you have played the NES Emulator, there are incredible comedy reactions from popular characters. This includes your favorite Mario; see him laughing and not running through levels.
There's a never-ending list of stickers that you cannot resist downloading. You can also create custom sticker packs or edit yours. It's a classic yet funny collection.
Though an epic collection, ads often cover the content. But its clean interface makes it more intriguing. With its newer updates, you would get new stickers frequently.
---
Cat Me If You Can- Stickers f
Whether you are scared of cats or not a cat lover, you can always install their hilarious reactions! As impressive as the name sounds, Cat Me if you can have an incredible range of animated cats trying to be cute. When creatures are that cute, then those strange looks are good. It has a limited yet 30 awesome cat stickers.
With their simple yet elegant design, these stickers are prominently visible against light and dark backgrounds. The app won't consume much storage on your phone as it's only 5 MB.
---
Bigmoji- WAStickerApp
Are you fond of sending funny emojis to your friends? But their diminished size is what spoils the fun. Here's where Bigmoji- WAStickerApp is a rescue. This app has Android Stock emojis of larger size.
So, you can send laughing, rofl, and bursting into-tears emojis for reacting to surreal things. It's enjoyable to use classified emojis in bigger sizes.
However, it lacks a variety of emojis. With a newer update, you expect newer ones soon. Amidst other platforms, which usually have larger sticker files, the app is 1.9 MB.
---
Stickers for WA- Halloween
How about scary, funny reactions to frightening up your friends? Well, if that sounds interesting, then Stickers for WA-Halloween would let you do so!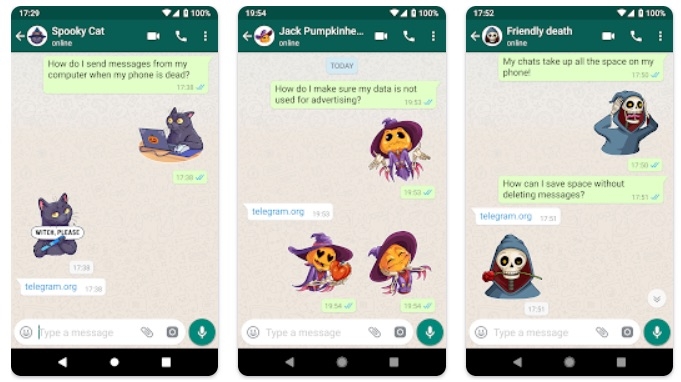 Apart from having animated ghosts and spirits, it has its craziest reactions, making it hilarious. With rich graphics, better cutouts, and fantastic creatures, these have the scariest and most fictional characters. So, bring alive the dead and frighten others with these spooky, scary, funny WhatsApp stickers.
---
Pentol Animated Stickers
How about some cute characters that make equally cute faces to make you laugh? If yes, PentonlAnimated Stickers is a must-check on your list! Whether you call it cuby cat or Pentol, there are animations for both.
You can use its striking reactions to every situation. With a stunning UI and multiple cute, funny stickers, it has a comprehensive variety. Quarterly or monthly updates ensure that you get newer stickers frequently.
---
The Bottom Line
If you searched for funny stickers for WhatsApp, you would have gotten your answer! Stickers are the best app for stickers, with a vast and clear database. Stickers Cloud & Sticker Maker works pretty well for animated stickers. If you are looking for unique funny packs, OP Meme Stickers for Whatsapp and WA- Halloween works best. 
Leave a Comment