Highlights
It's been a short time since the developers launched Darktide for PC, and you would be hooked on its sci-fi world.
However, it seems irritating when you launch the game and it's stuck on the loading screen.
We have mentioned how you can eliminate the issue to enjoy your game.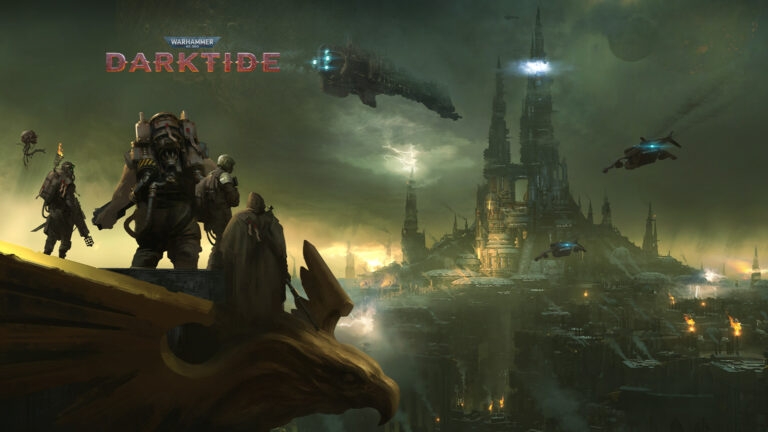 TechLatest is supported by readers. We may earn a commission for purchases using our links. Learn more.
After a long tiring week, how does it feel to immerse yourself in a sci-fi world with a lot of fantasy and action? Plus, if it's brilliant as a simulation, that's further ado.
Yes, we are talking about Warhammer 40000: Darktide! When you are all set to de-stress yourself with the incredible game and launch it, you will hate it if the game is stuck on the loading screen.
So, if you are thinking about how to Fix Darktide Long Load Times Error, then we have covered you all with it! 
How to Fix Darktide Long Load Times Error on Windows?
There are several reasons which cause the Darktide long loading times error. These include device incompatibility, server issues, outdated drivers or Windows, corrupt game files, and more. Thus, you must resolve them depending on the reasons, and the solutions vary.
Let's check them in detail!
1] Check Minimum System Requirements
Developers launched Darktide for Windows at the end of 2022. However, not all Windows OS are compatible with it.
Therefore, you must determine whether your device meets the minimum system requirements of Darktide. This ensures that the game will run smoothly or not! 
Here is a list of the system requirements essential for playing Darktide on PC:
OS: Windows 10 (64-bit) / Windows 11 (64-bit)
Processor: Intel i5-6600 (3.30GHz) OR AMD Ryzen 5 2600 (3.4 GHz)
Graphics: NVIDIA GeForce GTX 970 OR AMD Radeon RX 570
DirectX Version: 12
Network: Broadband Internet Connection
Storage: Usable 50 GB
Thus, you can visit your Windows settings, check your device specifications, and cross-check whether it meets the criteria.
If it's incompatible, we recommend you only play the game if you upgrade your PC to the required. Moreover, if it's compatible, then the cause is something else. 
---
2] Fix the Internet Connection
A robust and high-speed internet connection is a must to use the Darktide game. Even when you use broadband or Wi-Fi, it should be high speed.
Therefore, check whether your internet connection is stable or not. Perform an internet speed test to check for the same. If it's slower than usual, your device won't be able to connect to the server. So, you must reboot your device or contact your ISP provider.
---
3] Check Darktide Server Status
Another reason for the Darktide long load times error is that the game servers are down. Yes, the issues are often from the backend, and hence servers are under maintenance leading to obstruction with gameplay.
Thus, check the Darktide Server Status on Twitter by visiting the @DarktideComms profile.  If they are working fine, then the following method is for you.
---
4] End Background Tasks
Darktide requires more system resources to function. So, when other apps or processes run in the background, the game doesn't get many resources. Hence, it takes longer for the game to load. In such a scenario, you must end all the background tasks
Follow the steps given below to do so:
Press the Win key to open the Start menu and search for Task Manager.
After launching it from the search results, navigate to the Processes tab. 
Scroll down to see the third-party apps and their processes. 
Click on the End button for each one to finish them.
After doing so, the Darktide long load times error would be resolved if system resources were an issue.
---
5] Verify the Integrity of Game Files
Games that require intensive graphics and action need several additional files to function. These are installed after downloading; however, they often go corrupt, or the game needs extra files with time.
In such a scenario, also Darktide long load times error is apparent. Hence to resolve it, you should verify the Integrity of Game Files. 
Follow the steps given below to verify the Integrity of Game files:
Open Steam Launcher's game Liabbry and right-click on Darktide.
Choose Properties from the context menu. 
Navigate to Local Files and tap on Verify Integrity of Game Files. 
The Steam client will take some time to complete the process. Yet it will fetch the missing game files and fix the corrupt ones. After doing so, restart your PC and check the issue will be resolved. If it doesn't, then the cause is something else. Keep on reading!
---
6] Update GPU Drivers
Darktide's sci-fi and fantasy world will only seem lovely with an immersive gaming experience. For it, the game's graphics play a crucial role.
However, you must ensure they are updated to run smoothly on your PC. Thus, they will find it easy to process. An obsolete GPU driver results in n numerous errors like the Darktide long load times error 
Here's you can troubleshoot it by updating GPU drivers:
In the Start Menu, search for Device Manager and open it.
Select Display adapters And right-click on your GPU.
Select Properties from the drop-down menu and go to Driver Tab.
Press the Update Driver button.
Choose Search automatically for drivers.
Your system will now start searching for GPU drivers and updating if updates are available. After doing so, restart your device, and the issue will be resolved. However, if there are none, you will get a prompt that your devices are updated.
---
7] Update Windows
Your Windows OS often develops glitches or bugs which interfere with its functioning. Similarly, it also interrupts other apps' efficiency.
Further, since it was recently launched for Windows, it needs the latest version of Windows. Therefore, if your PC needs to be updated, it leads to the Darktide long load times error. 
Here's how you can resolve it:
Open the Start Menu and go to Settings. 
Select Update & Security and click on Windows Update. 
Press the Check for Updates button.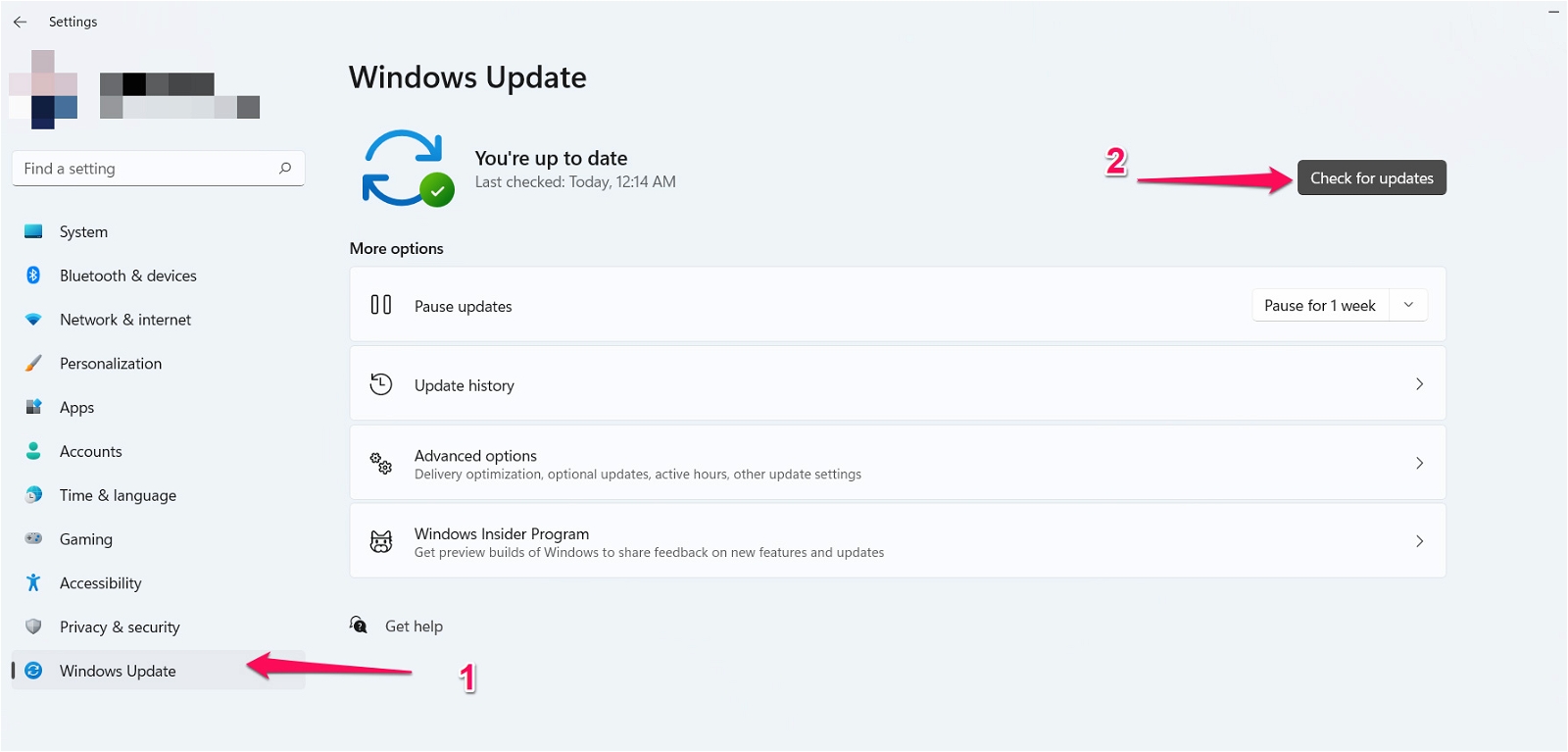 Windows will start checking for updates, and this may take a while. Further, it will prompt you to download it. After updating and installing, the issue will be resolved. However, the following method is for you if no updates are available! 
---
8] Clean the RAM and HDD/SDD Slots
One of the most underrated reasons for the Darktide long load times is that your RAM and HDD/SDD Slots would be blocked.
Thus, your system needs help to process robust tasks like this graphics-intensive game. You should clean their respective slots using a fine brush to eliminate them.
To do so, open your PC case, and remove the HDD/SDD and RAM from their respective slots. After doing so, clean using a fine brush.
Now, try again; if there were dust and grime, the issue would have been resolved.
---
9] Disable Overlay
Several apps make it easier for you to monitor and enhance your game. They do so as they have their in-game overlays meant for the purpose.
However, using them often causes gaming errors. Therefore, you must disable them to troubleshoot issues like the Darktide long load times. 
Follow the steps given below:
Disable Discord Overlay
Open Discord and click on the Settings icon at the bottom.
Go to Activity Settings and click on Game Overlay. 
Toggle off Enable in-game overlay and save changes.
Disable Xbox Game Bar
Go to Settings and click on Gaming.
Navigate to Game Bar.
Disable Record game clips, screenshots, and broadcasts using the Game bar option.
Disable NVIDIA GeForce Experience Overlay
Go to the Cortona search and type the Nvidia GeForce Experience app.
Open the app and navigate to Settings. 
Expand the General tab and then disable the in-game overlay. 
Reboot your PC for the changes to reflect in each case. Further, if you have any other in-game overlay, disable that too. After doing so, the Darktide stuck on loading screen error would be resolved. Yet, if it doesn't help, the following method is the ultimate solution. 
---
10] Reinstall Darktide
The Darktide long load times error occurs if the game's installation corrupts. Therefore, in such a scenario, you must uninstall and install the game to fix the issue. 
---
Frequently Asked Questions
Why is Darktide running so slow?
When there are a lot of processes and applications running in the background, Darktide needs more system resources. Hence, it causes Darktide to run slowly.
How do you fix stuttering in Darktide?
To reduce shuttering in Darktide, ensure your PC meets the minimum system requirements. Further, update your GPU and OS. Later on, restart your device to resolve the issue.
How much RAM do you need for Darktide?
Is Darktide GPU or CPU heavy?
At 60 fps, Darktide doesn't need a heavy CPU but a hard-core GPU.
---
Final Thoughts 
If you were irritated with Darktide long load times glitch, then our guide would have helped out a lot. Before proceeding with the solutions, you must force restart your game and check the server status.
Further, ensure faster internet connectivity and a few background tasks running. Later on, verify the integrity of game files, and ensure that your system and drivers are updated.
Besides, after you have followed all the solutions mentioned in the guide and when nothing works, reinstall the game to fix the issue. 
Further Reading:
Leave a Comment