Highlights
InShot is a quick and simple video editing tool for novices. Users chiefly use it for creating a slideshow of their beloved ones.

It becomes difficult to edit on smaller screens, and using it on PC is a good option.

We have recommended ways with which you can use InShot on Windows.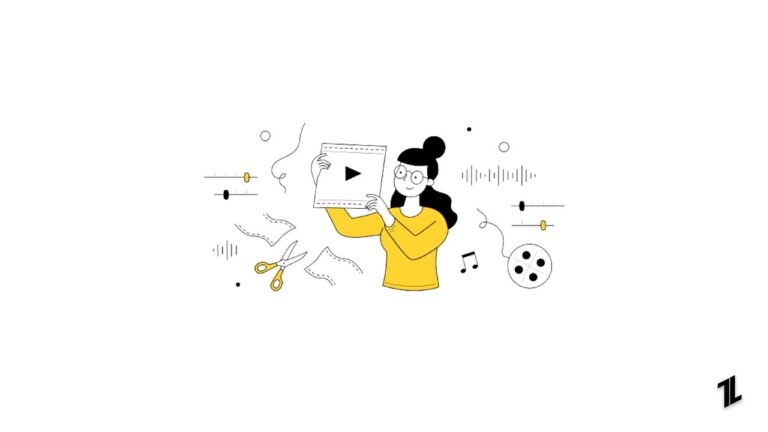 TechLatest is supported by readers. We may earn a commission for purchases using our links. Learn more.
Collecting some of your or your beloved ones' best pictures and preparing a video is fantastic. But it is more incredible to give it a bit of refined touch.
Plus, would you like to create stop motion also easily? In such cases, you need a mediocre yet adequate video editor like InShot.
However, you would be looking for how to download InShot for PC for more precision and protection, as it features a pretty simple interface! When you want the software on Windows, we have covered you with it! 
Is InShot Available for PC?
No, InShot Inc has designed its apps for Android and iOS devices. Therefore, if you are a Windows or Mac user, you cannot use InShot. Besides, it's neither available to use online.
However, there's still a workaround. You can create an Android environment on your PC by using an emulator.
Further, after doing so, you can install the InShot app, which is available for Android, and then access it in the emulator. 
Let's learn more about them!
---
How to Download InShot for PC?
Accessing InShot on Windows requires the need of an emulator. However, the Emulators and their interfaces differ. Hence, you can choose from the different ones available. BlueStacks, MEmu PLAY, and Nox are the best and safest.
Let's learn how to download InShot for PC and use it via Emulators!
1] Get InShot for PC using BlueStacks
There is a range of BlueStacks versions available. The latest one is BlueStacks 10, while some people use v5 as it's also relatively stable.
Here's how you can download and use InShot using BlueStacks:
Head over to the website given here and press on the complete Download BlueStacks 10 button 
By default, the latest version is 10; you can click on See All Versions to navigate through them and download any other if you want.
Let the download process complete, and it will download a .exe file. 
Further, extract the file and install BlueStacks. 
Now, open the emulator after installation and sign in with your Google account. 
Go to PlayStore and search for Video Editor & Video Maker – InShot.
Press the Install button next to the first search result that comes up.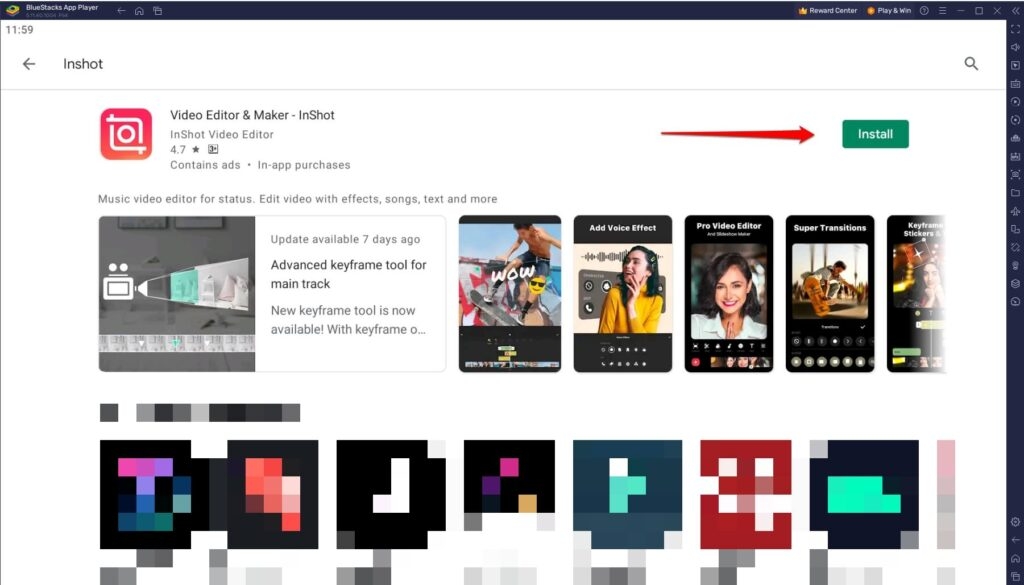 Let the download and install process completely.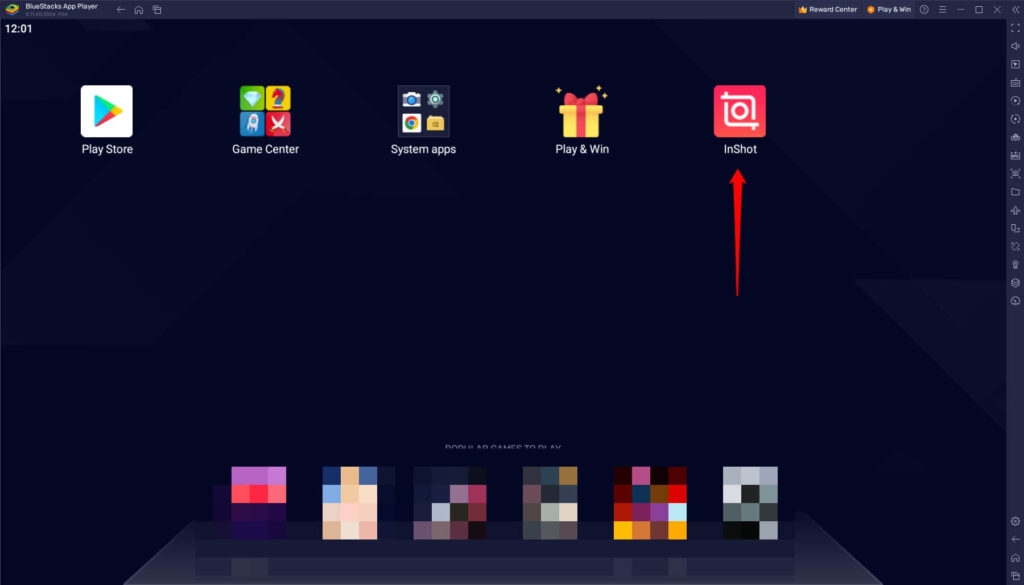 You can then access InShot in the BlueStacks emulator and enjoy video editing.
BlueStacks 5 System Requirements 
Before installing BlueStacks, you should know your system's hardware requirements.
Below mentioned is a list of the same:
| | |
| --- | --- |
| Operating System | Microsoft Windows 7 and above |
| Processor | Intel or AMD |
| RAM | Min. 4GB |
| HDD | 5GB Free Disk Space |
---
2] Get InShot for PC using MEmu PLAY
Another emulator on our list is MEmu; it's specially designed considering hard-core tasks like gaming and graphics. The good part is that it doesn't have special requirements like a GPU.
Here's how you can download and use InShot MEmu:
Visit the website here on your PC and press the Download button.
After the download, double-click on the .exe file, and it will prompt you to complete the file extraction.
Now, open the emulator and sign in with Google.
Launch PlayStore and search for InShot
Click on Install next to the Video Editor & Video Maker – InShot search result
PlayStore will download and install the app and notify you when it's done
Further, when you open the app for Android, MEmu PLAY will prepare it for you to use on your PC. 
---
3] Get InShot for PC using Nox Player
When you are looking for a later Android version like v9.0, the Nox emulator is what you should go for!
Click on the link here to visit Nox's official website and tap on the Download button 
Let the file install and complete the configuration process.
Nox will prompt you to sign in and complete the process.
Head over to PlayStore and download InShot.
After installation, open the app, and it will be ready. But it does happen that if you don't have InShot Pro, the videos contain a watermark which can be troublesome for academics amd social media. The following section will help you tackle it.
---
How to Edit Videos on InShot for PC Without Watermark?
Whether for academic purposes or social media profiles, the watermark next to the videos puts a wrong impression.
Further, even SMEs use InShot but cannot afford the premium plan. Plus, the watermark covers the contents of the video in such cases you wish to remove it. While you think that it's not possible to do so, we have a method for you to do so. 
InShot Pro Mod Apk lets you do so. InShot Inc has not developed it, but developers have modified it to make it freely available, removing watermarks.
It's unavailable on PlayStore or App Store, so you must visit third-party websites on a browser. 
A thumb rule is to have an emulator like BlueStacks, Nox, or similar on PC before you follow the process.
Now, on BlueStacks home or that of any other emulator, you can access the InShot Pro apk
---
Best Alternatives to InShot for PC
Using InShot on PC is an incredible idea, but it does need an emulator, which requires an adequate emulator. You might worry about your device's health and hence drop the idea.
Even InShot Pro MOD APK is illicit. In such situations, you can use video editors similar to InShot. These alternative editors have common features like InShot and an official version for Windows, too! 
Let's check them out one by one!
1. Filmora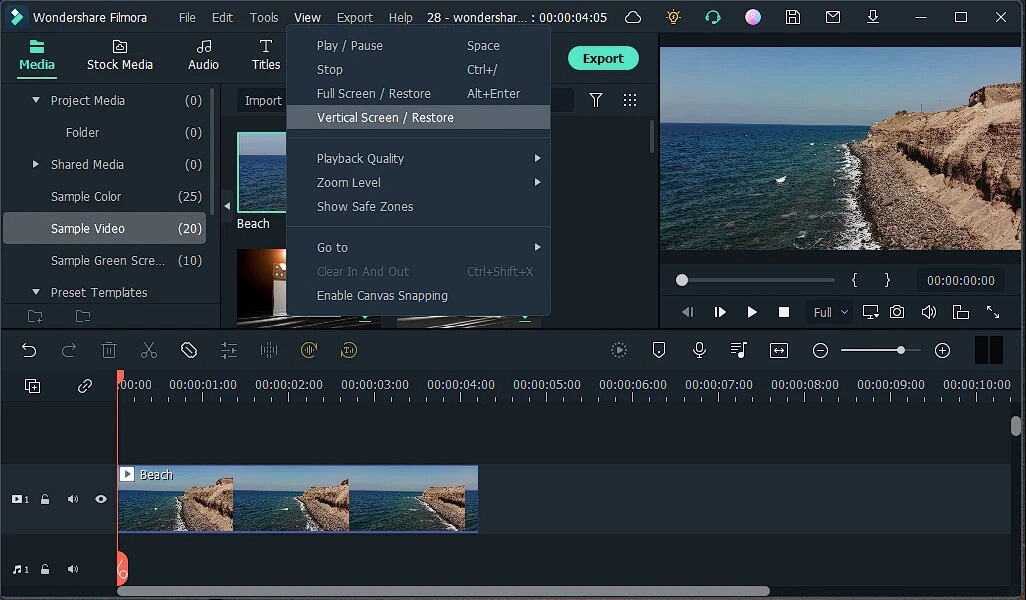 When you think of editing videos in HD quality, then Filmora is something we cannot miss! Apart from its suite of features, it does not focus on diminishing the video quality but rather enhances it.
Whether it be adding backgrounds or canvas, or emojis, Filmora has it all. Like InShot, it does let you add transitions. What's noteworthy is that Filmora has more cool transitions and a variety of them. 
Videos are imperfect, so video editors like InShot come into the picture. Unlike most others, it does not have a trim and cut video feature, but you can crop them.
You can add filters and also adjust the aspect ratio of the video as per your preferences. 
There are more features like adding keyframes and adding special effects.
---
2. HitFilm Express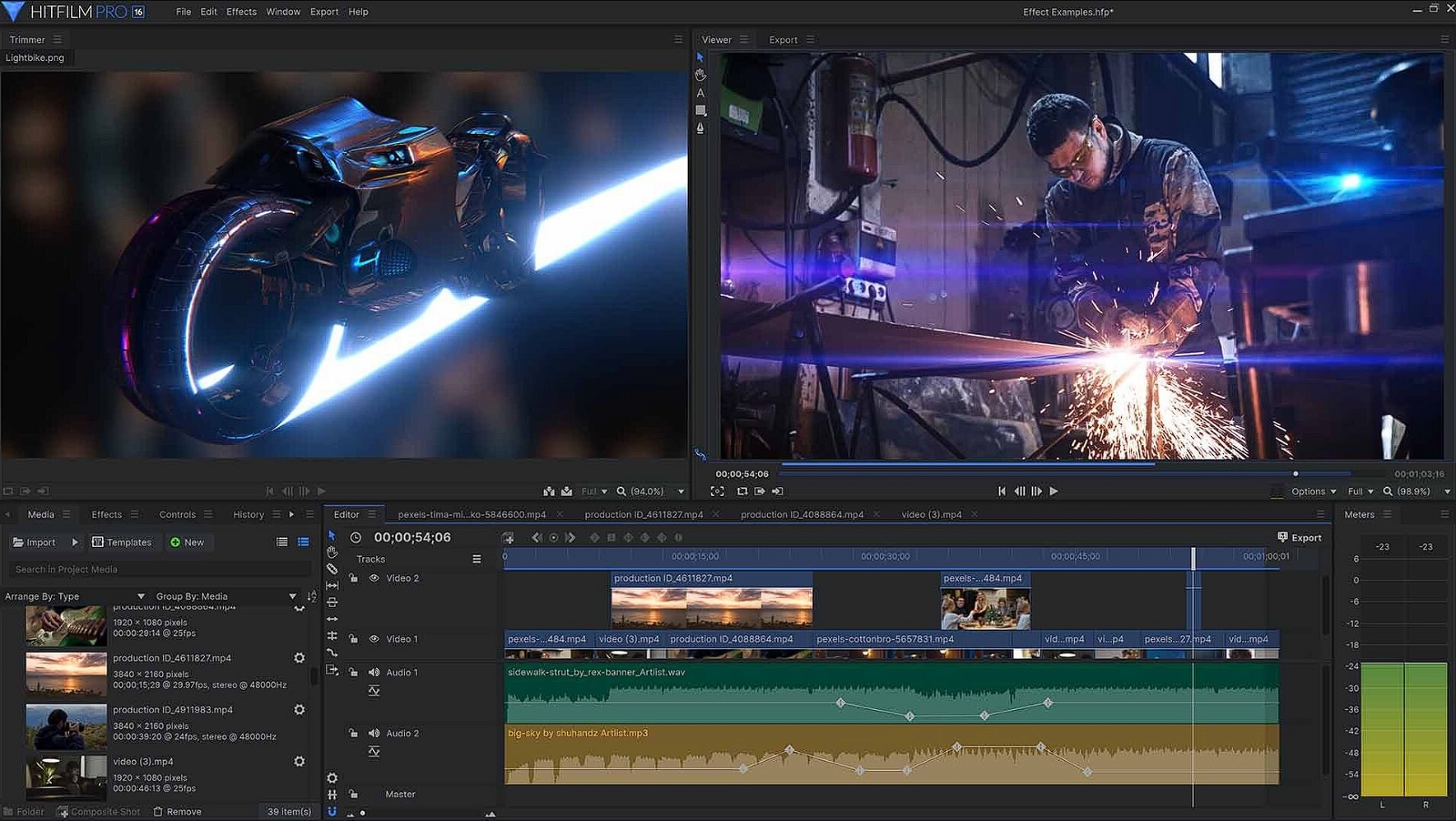 Are you looking for advanced video editing software with features of InShot? If yes, then HitFilm Express is what you must go for! Besides, you can even cut, splice, trim, crop, and flip videos. 
You can create or edit video content with an 8k resolution and 8× faster playback. Further, it exports videos at a fast speed.
It has a variety of presets to add to your videos and make them perfect within a few clicks.
Like other tools, it does have transitions, and the exciting part is that they are of professional quality. Thus, they enhance your overall video. 
---
3. CapCut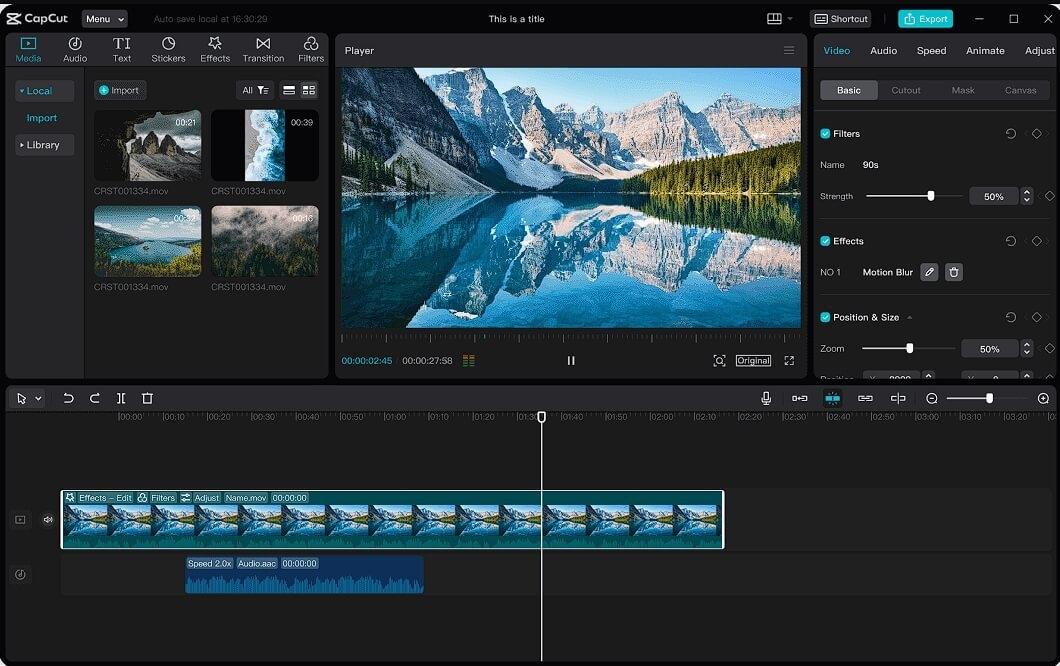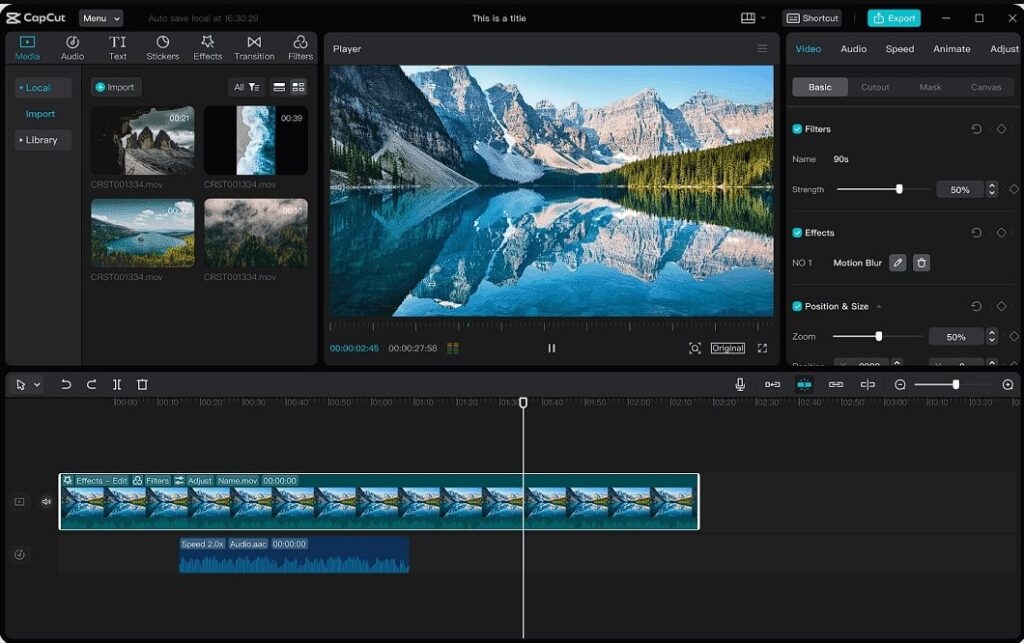 Are you looking for an InShot alternative? Then one of our favorite video editors is CapCut! It is a moderate-level functionality.
This means it isn't precisely based like InShot but has some additional features for advanced editing. You can add keyframes, transitions, sounds, and much more.
Plus, you can even mask videos and add overlays. One of the remarkable features of CapCut is that it even has a prompter named CapCut prompter. 
Not only for us, but it's even the favorite tool for Instagram creators. If you are thinking about adding canvas, text, stickers, filters, and similar, it lets you do that too!
However, as a Chinese app, you must use a VPN for most regions to access this software.
---
Tips for Video Editing using InShot for PC or its Alternatives
Editing videos on PC is more convenient and seamless due to the bigger screen and better. However, if you know little about making better videos or haven't used such software on a PC before, we have specific tips for you! 
Choose the Correct Canvas: The canvas or the background surrounding your video plays a crucial role. Whether you choose a blur or a colorful one, ensure that it complements perfectly with the colors of the video. For instance, A forest scene with dark background won't complement a purple hue.
Carefully Choose the Duration of your Video: Instagram videos, reels, TikTok, or similar video duration play an important role. These platforms are limited to uploading videos; if they exceed, your video will automatically be trimmed to the desired duration. For instance, WhatsApp Status supports 30 seconds video, so create one for it.
Use Masking and Overlays to Add Filters: For more precision in adding filters to your video, you should use mask and overlay features. Further, taking the help of keyframes help with the purpose.
Mute Unnecessary Sounds and Add Music: Your videos would have certain unnecessary sounds that affect their quality. Hence, mute the video sound and add music presets if required.
Check Whether Text Color Complements the Video and Doesn't Cover its Content: You would add text to your video as subtitles or similar. But ensure that its color doesn't hide the video content. Plus, it should complement the video colors.
So, what are you waiting for? Begin your Editing journey on Windows now!
---
Frequently Asked Questions
Is InShot app free?
Yes, the InShot app is free to use. But, the InShot watermark is visible in your videos without the premium (PRO) plan. 
Which Online Editor is Like InShot?
VN Editor, CapCut, Power Director, HitFilm Express, and Filmora are like InShot.
How to Get InShot on PC?
Download an Android emulator like BlueStacks or Nox on your PC, download the InShot app for Android and then access it from the emulator. 
How do I remove the Filmora watermark for free?
You can remove the Filmora watermark for free with tools like veed.io.
---
Summing Up
You would have gotten your answer when you were looking for how to Download and use InShot for PC!
The software doesn't have an official Windows app, so you need an Android environment. In such cases, you should use Emulators like BlueStacks, Nox, or MEmu, depending upon your convenience.
Further, you sign in with Google, access the PlayStore, and download the app on your PC. If you don't want to sign in, skip the part and download InShot from a browser.
Besides, you can download InShot Pro MOD APK if you don't want a watermark. 
You might feel that your system requirements aren't enough for an emulator; hence you can check out alternatives. CapCut, HitFilm Express, and Filmora are the top ones on the list! 
Further Reading:
Leave a Comment