Highlights
Windows 11 widgets provide users a quick and personalized method to obtain crucial data and functions.
There is a widget for any requirement, whether you want to keep track of your daily duties or check the functioning of your system.
Use these top 10 widgets for Windows 11 to increase productivity, maintain organization, and maximize your desktop experience.
TechLatest is supported by readers. We may earn a commission for purchases using our links. Learn more.
The periodic upgrades from Microsoft enhanced the Windows UI by introducing additional features and customizations.
The classic Windows interface has undergone significant changes with Windows 11, including an updated Start menu, a centered taskbar, and additional personalization choices.
Adding widgets to your desktop, giving you instant access to crucial information and practical tools, is one of Windows 11's most helpful innovations.
These Windows 11 widgets can be accessed from the taskbar.
Here, we'll examine the top 10 best widgets for Windows 11 that can elevate your computer's digital experience.
Best Widgets for Windows 11
1. CPU and RAM Widget
One of my favorite widgets for Windows 11 is the CPU and Memory widget, which lets users see how much CPU and RAM their machine is using in real time.
You may access this widget by clicking on the widget icon on the taskbar or by holding down the Windows key and A.
The CPU and RAM widget enables users to quickly and easily discover any performance issues that could harm their system by displaying real-time utilization data for the CPU and Memory.
The widget displays the amount of CPU and Memory being used in real-time and their % usage.
The widget may also be expanded by clicking on it, allowing users to see more precise data, such as the exact programs currently using the CPU and Memory.
This can be helpful for locating any processes that might be impairing computer performance or slowing it down.
Overall, the CPU and RAM widget is a useful tool for Windows 11 users who want to monitor their computer's performance and ensure it is operating effectively.
This widget can assist users in quickly and easily identifying any performance issues by offering real-time use data and comprehensive information about particular processes.
---
2. Sticky Note Widget
Users may make and arrange virtual sticky notes on their desktops with the Sticky Note widget in Windows 11.
Users may easily record notes, to-do lists, reminders, and other critical information that they want to keep track of with the Sticky Note widget.
Users do not need to download or install any additional software in order to utilize the Sticky Note widget because it is already included in the Windows 11 operating system.
The Sticky Note widget offers a blank note when accessed, which users may then edit with text, formatting, and even photos.
Also, users can add new notes, remove old ones, and pin significant notes to their desktops, so they are always accessible.
The Sticky Note widget's compatibility with various Microsoft products, like OneNote and Outlook, is one of its best features.
Users may quickly send a sticky note to someone by email, for instance, or copy and paste content from a sticky note into an email or other document.
Overall, the Sticky Note widget is a handy tool for anyone who wants to keep track of important information on their desktops.
Its ease of use, customization options, and integration with other Microsoft apps make it a great addition to the Windows 11 operating system.
---
3. Traffic Widget
Windows 11 has a new traffic widget feature that gives users access to real-time traffic updates.
The widget is a tiny, resizable panel that can be put anywhere on the desktop and shows data on the traffic conditions right now where the user is.
Using data from Bing Maps, the widget provides information about traffic conditions, such as accidents, road closures, and congestion.
In order to help customers avoid traffic, it may also display projected journey times for various routes and propose alternate routes.
Users of the Traffic widget have complete control over the information presented, as well as the size and positioning of the panel.
Users may observe traffic conditions in several locations by selecting where the widget is focused.
Users must have location services enabled on their devices in order to utilize the Traffic widget. The widget will automatically determine the user's location and present details on the local traffic patterns.
---
4. Entertainment Widget
A little application called the Entertainment Widget gives users easy access to various entertainment materials, including games, music, movies, and TV shows.
Once activated, the widget will present a range of materials, such as suggested films and television programs, top games, top songs, and more.
Users may engage with the widget by clicking on the material they are interested in by being sent to the appropriate app or service.
The Entertainment Widget's flexibility enables users to personalize it to their tastes. Users can view just certain sorts of material or exclude any stuff in which they have no interest.
The widget's size and placement on the screen may change by the user.
The Entertainment Widget offers various helpful functions and gives consumers rapid access to entertainment information.
For instance, it can show alerts for upcoming events like movie releases or game updates. In order to make it simpler for consumers to locate what they're searching for, it also has a search box that enables users to hunt for material across several services.
---
5. Esports Widgets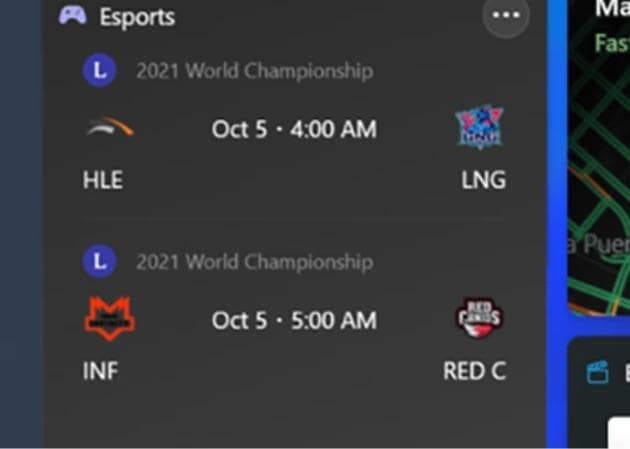 Users may quickly and easily access information on esports events, teams, players, and more by adding an esports widget, a tiny program, to their taskbar or desktop.
These widgets are becoming increasingly well-liked among gamers and esports enthusiasts as esports and competitive gaming gain popularity.
Microsoft could add an esports widget among its pre-installed widgets and gadgets in Windows 11.
This can provide players with an easy method to remain current on the most recent esports news and events without switching between different websites or applications.
---
6. To Do Widget
With Windows 11, users can easily manage their jobs and increase their productivity using the To Do Widget.
The new Windows 11 interface, which includes this widget, was created to give users a more simplified and natural experience.
Users may simply organize their projects, set reminders, and prioritize their work with the To Do Widget, accessible from the Windows 11 Start menu.
The task management tool Microsoft To-Do, available for free download from the Microsoft Store, is also integrated with the widget.
Users may add new tasks to the To Do Widget by clicking the "Add task" button and entering the assignment's specifics.
They may also add due dates, reminders, and comments to their projects to keep them organized and motivated.
The To-Do Widget's ability to show a summary of the user's chores and reminders on their desktop is one of its most helpful capabilities.
As a result, it is simple to stay on top of crucial due dates and impending events without having to move between applications or comb through several displays.
---
7. Watchlist Widget for Stock Market
A new feature in Windows 11 called the Watchlist widget enables users to add a customized list of stocks on their desktops.
The widget allows users to effortlessly follow the performance of their favorite companies, check real-time stock quotations, and access pertinent news items and financial information.
Users only need to click the Widgets button on the taskbar and choose the Watchlist widget to add the widget to their desktop. The names of the stocks they want to follow may then be added, allowing them to modify the widget.
Users may examine each stock's real-time price, price change, and percentage change after the stocks have been uploaded.
Also, by clicking on each stock, they may examine more details like market size, dividend yield, and earnings per share.
The Watchlist widget offers users stock information, pertinent news stories, and financial data on the stocks they have chosen.
To give users the most recent news and analysis, this data is continuously updated from a number of financial news sources.
---
8. Calendar Widget
The user's forthcoming appointments and events, together with the event's name, time, and location, are shown in the Calendar Widget.
The schedule for the day is also briefly summarized, along with the number of activities planned and the proportion of "busy" events.
When a user clicks on an event, they may change it in their calendar app or view additional information about it.
Birthdays and holidays can be shown on the Calendar Widget according to your preferences. Users can select to view events from different calendars, such as their personal and professional calendars.
One advantage of the Calendar Widget is that it offers a simple and practical method to keep track of crucial events and appointments without requiring you to check a different program often.
It also interacts perfectly with the Windows 11 operating system, making it easy to access and utilize.
---
9. Photos Widget
Users may construct a gallery of their favorite images on their desktops using the Photos widget in Windows 11.
Without having to look for manually and open individual images, the widget offers a handy method to highlight cherished occasions and often refreshes with fresh photographs.
A rotating collection of images from the user's local Photos app library and any synced OneDrive folders will be shown after the added widget.
Users may select the albums or folders they wish to see in the widget and change options like the frequency of photo updates, how the images are displayed, and whether or not captions should be shown.
The Photos widget may give a personalized touch to the desktop and act as a helpful record of previous experiences and events.
Users may enjoy scrolling through their photo collection anytime they need a break from work or other duties, or use the widget to spark their memory and reflect on significant events.
---
10. Weather Widget
A variety of meteorological data, such as the current temperature, precipitation, wind speed, and humidity, will be displayed by this widget.
By default, it shows the user's local weather conditions, but users may alter it to show weather data for other areas by adding other locations to the widget.
In order to help users plan ahead and stay ready for forthcoming weather conditions, the widget also offers users a five-day prediction.
High and low temperatures, anticipated precipitation, wind speed, and relative humidity are all included in this prediction.
The Windows 11 weather widget provides users with meteorological data and a button that directs visitors to the MSN Weather website, where they can get more specific weather data as well as news and articles on weather and climate.
---
Wrapping it All
In conclusion, Windows 11 widgets provide users a quick and personalized method to obtain crucial data and functions.
There is a widget for any requirement, whether you want to keep track of your daily duties or check the functioning of your system.
Use these top 10 widgets for Windows 11 to increase productivity, maintain organization, and maximize your desktop experience.
Further Reading:
Leave a Comment