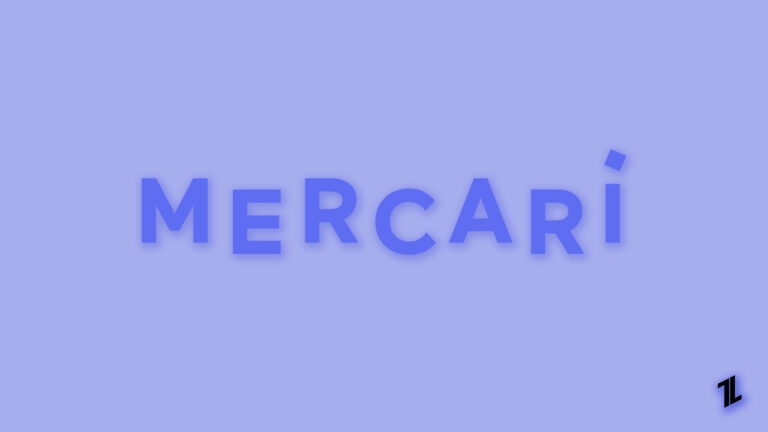 TechLatest is supported by readers. We may earn a commission for purchases using our links. Learn more.
Mercari is an online marketplace for the purchase and sale of used goods. Originally from Japan, it has gained a lot of international popularity.
Like eBay, it promotes items no longer needed for sale. So, Is Mercari legit? It's a question that many people have been asking lately.
After all, it's a pretty new app and online marketplace. So far, Mercari seems to be legitimate. But, as with any online marketplace, there will always be people trying to take advantage of the system. 
It's important to know the risks of using Mercari and to take precautions when buying or selling items through the app. This article contains some reasons why Mercari is legitimate, and you can feel safe using it.
So, let's get started!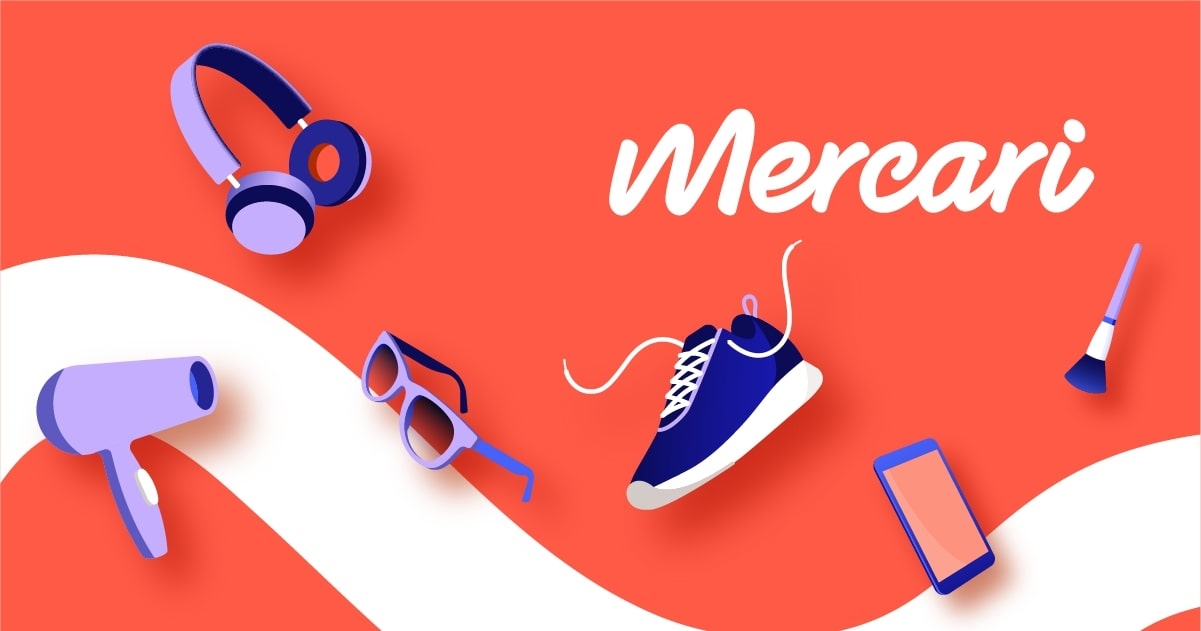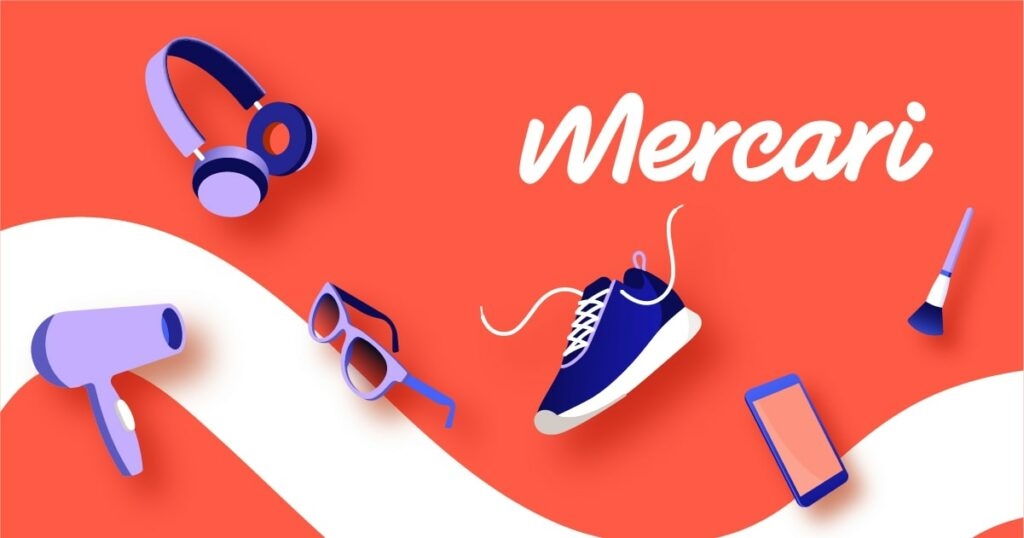 Is Mercari Legit?
Mercari is a legitimate online marketplace. It's gained a lot of popularity, especially in the last few years. It's similar to other online marketplaces, such as eBay and Amazon, but with a focus on used goods.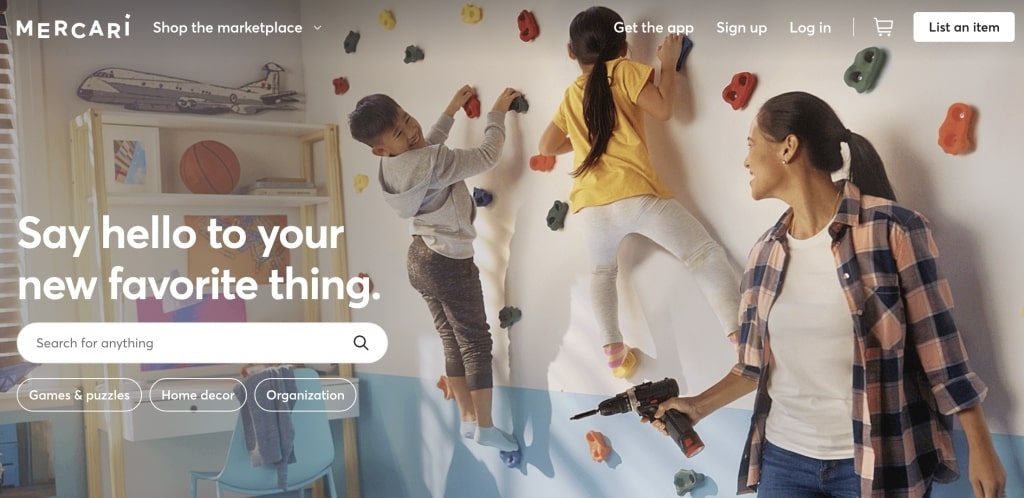 Mercari is great for buying and selling used items, including clothes, electronics, toys, and more. You can also find new items on Mercari, focusing on selling used goods. A customer has three days to ship out a product after it has been sold. 
A seller receives the money once the customer confirms receiving the product, minus a Mercari commission of 10%. A more secure version of Craigslist could be Mercari.
It was founded by Shintaro Yamada in 2013 and operated as a Japanese e-commerce company. Almost a million listings were on the app within a year of launching. 
In 2014, Mercari opened its first office in the United States in San Francisco. Among the US App Store rankings, it has reached as high as third place, with more than 40 million downloads since its launch. Since entering the UK market in 2016, Mercari has decided to 'temporarily retreat' from the country.
Users love Mercari because of its speed. A user can easily list their products for sale, then ship them away anonymously once they have been sold. Additionally, Mercari's payment system appears transparent and doesn't seem to be too protective of buyers or sellers. 
---
How To Find Legitimate Sellers On Mercari?
There are a few things that you can avoid scams; make sure that you're only buying from legitimate sellers on Mercari. Sadly, this does not always happen. If you want to know if a seller on Mercari is legitimate, follow these steps.
Check Out Profile Verification
When you're looking at a Mercari seller's profile, check to see if the company has verified them. A green checkmark next to the seller's name means that Mercari has verified its identity. This indicates that the seller is legitimate and that you can trust them.
---
Check Out Customer Reviews
Another thing to look at when you're trying to decide if a Mercari seller is legitimate is customer reviews. You can see a seller's customer reviews by going to their profile and scrolling down.
Is your previous customer happy with their purchase? Was the item exactly as described? If a seller has a lot of positive customer reviews, that's a good sign that they're legitimate and that you can trust them. 
---
Check Out The Badges On Your Profile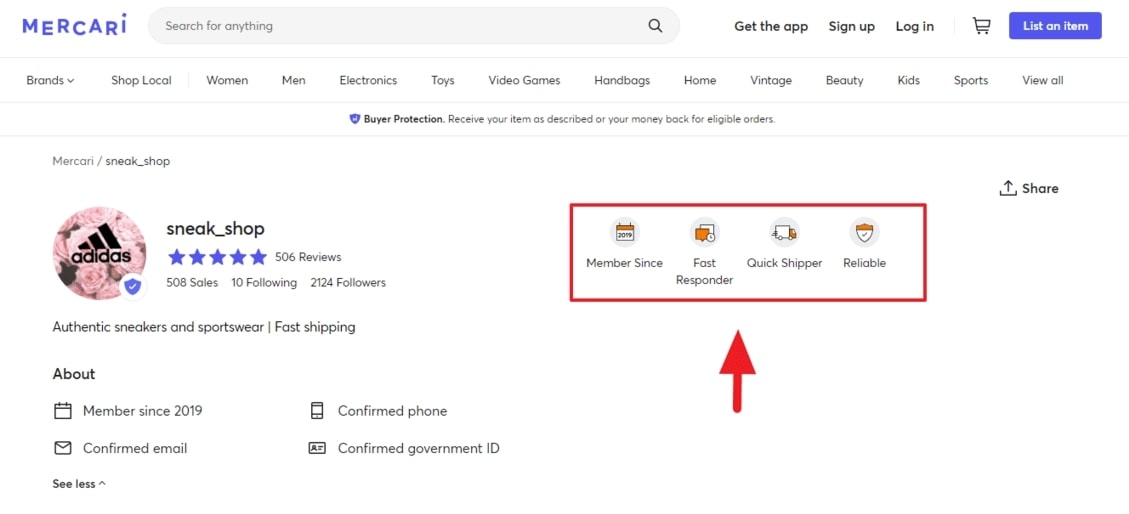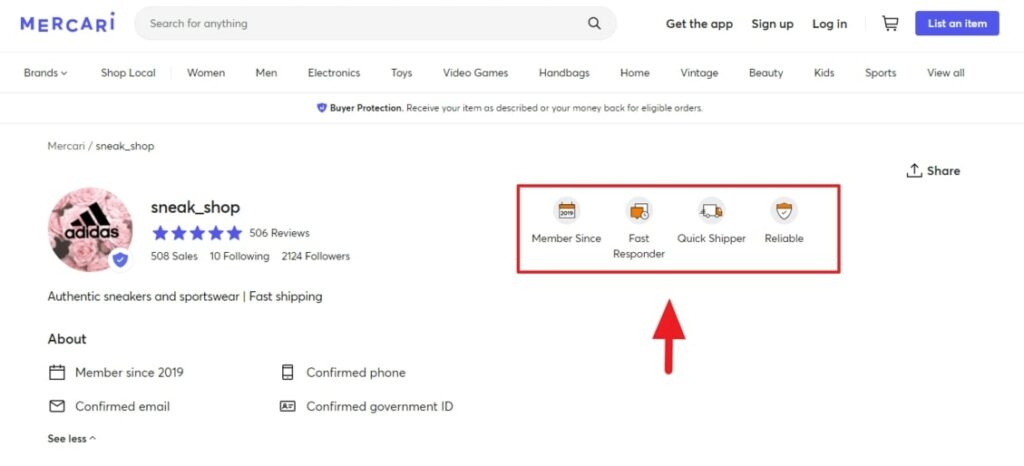 A profile badge can be earned by sellers who perform well on the platform. When you buy from a seller who has these badges, you know how they'll react. You should look for the following badges:
Fast Response:- Sellers with this badge respond to buyers quickly, as suggested by their name. A seller earns this badge if they respond to questions from shoppers within 12 hours on average.
Quick Shipper:- If a seller has this badge, it means that items are shipped within 24 hours, excluding weekends and holidays. As the carrier scans the tracking information, the badge is earned.
Reliable:- This indicates that the seller usually completes orders.
---
Verify Your Identity With Mercari Authenticate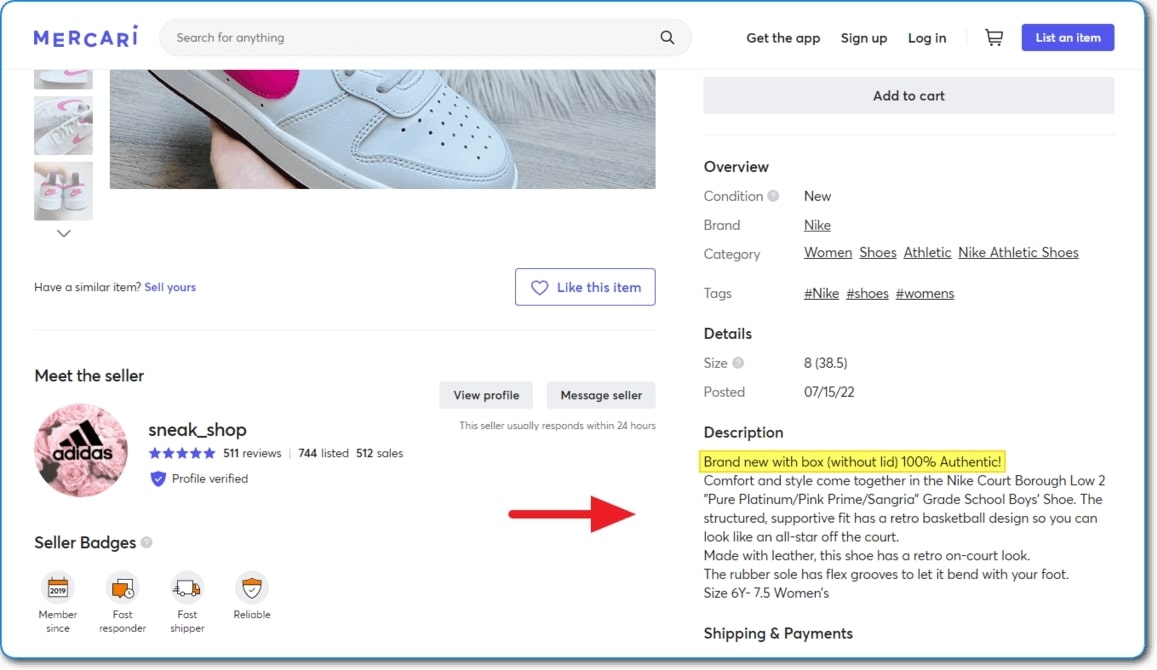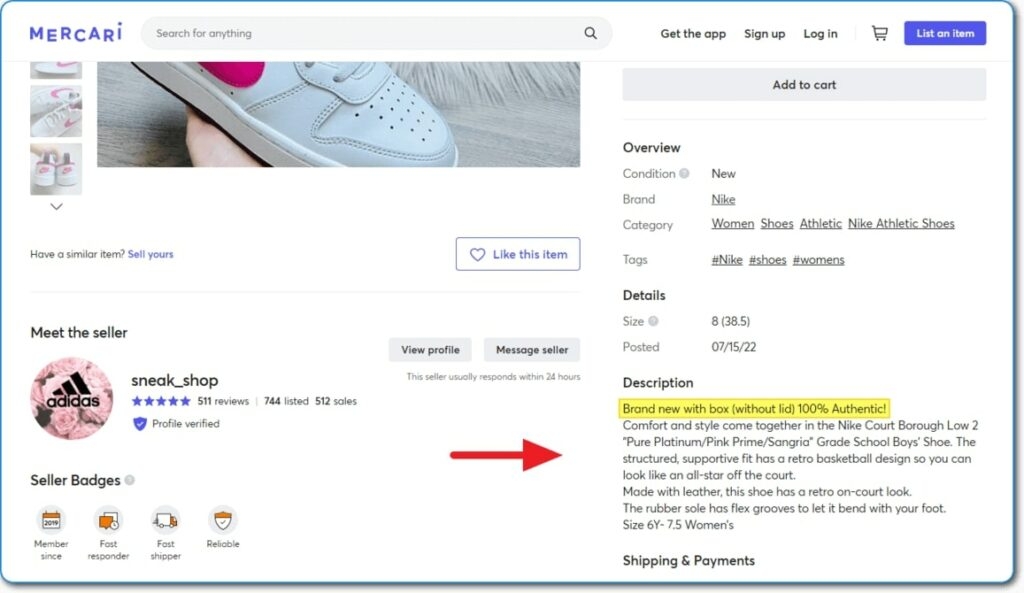 If you are purchasing a designer item, check the listing for an authentication badge. You can upload photos of your products to Mercari Authenticate and have them verified by a third party.
Seeing this badge indicates that someone other than the seller has verified the item's authenticity.
---
Mercari Scams: How To Avoid Them?
If you want to stay safe on Mercari, you can do a few things. You can protect yourself on Mercari by following these steps.
Never Deal With Payment Outside Of Mercari
The first and most important rule of avoiding scams on Mercari is to never send payment outside of the Mercari platform.
Mercari advertises products that are not actually for sale. These advertisements are designed to convince individuals to send payments outside of the application and then retain the money. You have no protection if you pay someone outside of Mercari, so it's just not worth the risk.
---
Avoid Buying Anything That Is Too Cheap
A significantly lower price often indicates a reason why the item is being sold at a lower price. Maybe the item is damaged, or the seller won't deliver it. If an item is listed for way below market value, it's probably fake.  And if an item is listed way above market value, the seller is probably trying to scam you.
Do your research on the item before you buy it, and if something seems off, trust your intuition and don't buy it.
---
Avoid Anything Ambiguous
If you purchase something on Mercari and are not satisfied with it, you are only entitled to a refund if the item wasn't as described. A dishonest seller is aware of this and will often post vague advertisements that are not necessarily fraudulent, although they may be misleading. 
You should never buy anything unless you know exactly what it is and how it works from its description.
---
Ask A Question To The Seller
When you place an order on Mercari, you can ask a seller a question. This is because it allows you to check if the seller is still active and that the item you're looking for is still available.
You can also determine the legitimacy of the seller based on the question that you ask. You should probably purchase elsewhere if they fail to respond or fail to answer your questions correctly.
---
Verify The Seller
You can verify sellers on Mercari using their systems. Sellers should have badges indicating their commitment to their customers, such as being fast in responding and shipping.
Additionally, you can see how long the seller has been in business. Good badges and a long history usually indicate an honest seller. Otherwise, they wouldn't have lasted so long. 
---
Pay With Merpay Or Paypal

Whenever possible, you should use Merpay or PayPal to make your payment. This is because these platforms offer protection in case you do not receive your item, or it is not as described.
You can order items and pay for them the next month using this payment option. You can open a dispute if there are any problems with your purchase, and you will likely get your money back if the seller does not respond to the dispute.
---
Take A Look At The Tracking Number
When you receive an item, check the tracking number to make sure it matches what was provided by Mercari.
Since you have no proof that the item has been shipped, you should request a refund if the seller does not supply you with a tracking number. You will need to wait 7 days for delivery to do so. If the seller claims the item has already been shipped, Mercari will provide a refund.
---
Be Careful With Your Purchases
When you receive the item, inspect it to make sure it matches the description. If there are any discrepancies, take photos and reach out to Mercari customer service.
If you wish to confirm your purchase, you have three days to do so. You can't request a refund without checking the item within that time frame because the seller is paid automatically. 
Consequently, you should carefully check your purchase. After purchasing a product, you cannot return it if you find it damaged or is not as described. Oftentimes, sellers make use of this knowledge by selling fake items that seem legitimate at first glance.
---
Conclusion
Mercari is a great platform for buying and selling products, but you need to be aware of the potential scams that exist. By following the tips above, you can minimize your risk and have a positive experience on Mercari.
If you have any further questions or suggestions about this blog post, feel free to let us in the comment section below.
Thanks for reading!
Leave a Comment