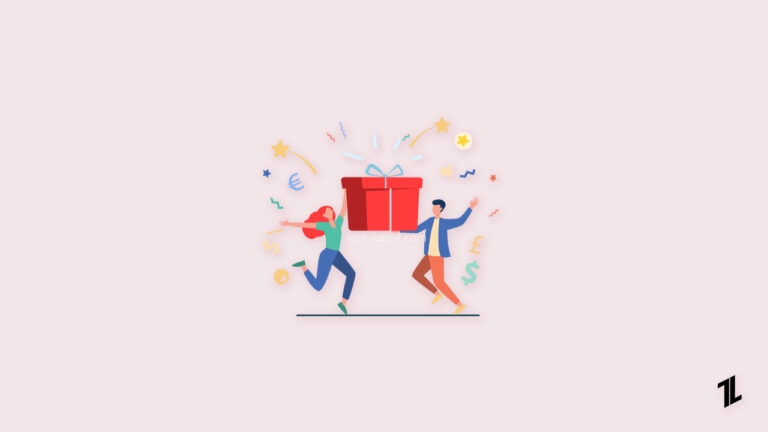 TechLatest is supported by readers. We may earn a commission for purchases using our links. Learn more.
If you're looking for a way to make some extra money online, you may have come across Swagbucks.
You might be able to earn unlimited cash or rewards by opening a Swagbucks account if you wish to generate additional passive income in your home.
It's important to understand that this website won't make you rich overnight.
Whenever an opportunity seems too good to be true, remember not to get blinded by the promise of easy money.
But is Swagbucks safe?
In this post, we'll look at what Swagbucks is, how it works, and whether or not it's a legit way to make money.
So without further ado, let's get started!
Is Swagbucks Safe or Scam?
Overall, yes. Swagbucks is legitimate and safe.
Swagbucks is a legitimate and secure website that you can use confidently. In Swagbucks, you can earn money for doing things you already do online.
Over $780 has been paid to Swagbucks members in the form of free gift cards, PayPal credits, and other rewards. More than 7,000 free gift cards are redeemed on Swagbucks every day.
Furthermore, many sources (including us) confirmed its legitimacy.
Just be sure to carefully read the terms and conditions before you start so that you know what to expect.
Now that we know Swagbucks is safe and legit let's learn more about the website.
In this Swagbucks review section, I'm going to cover everything you need to know about Swagbucks, what exactly it is, and how it works.
---
Swagbucks: A Quick Overview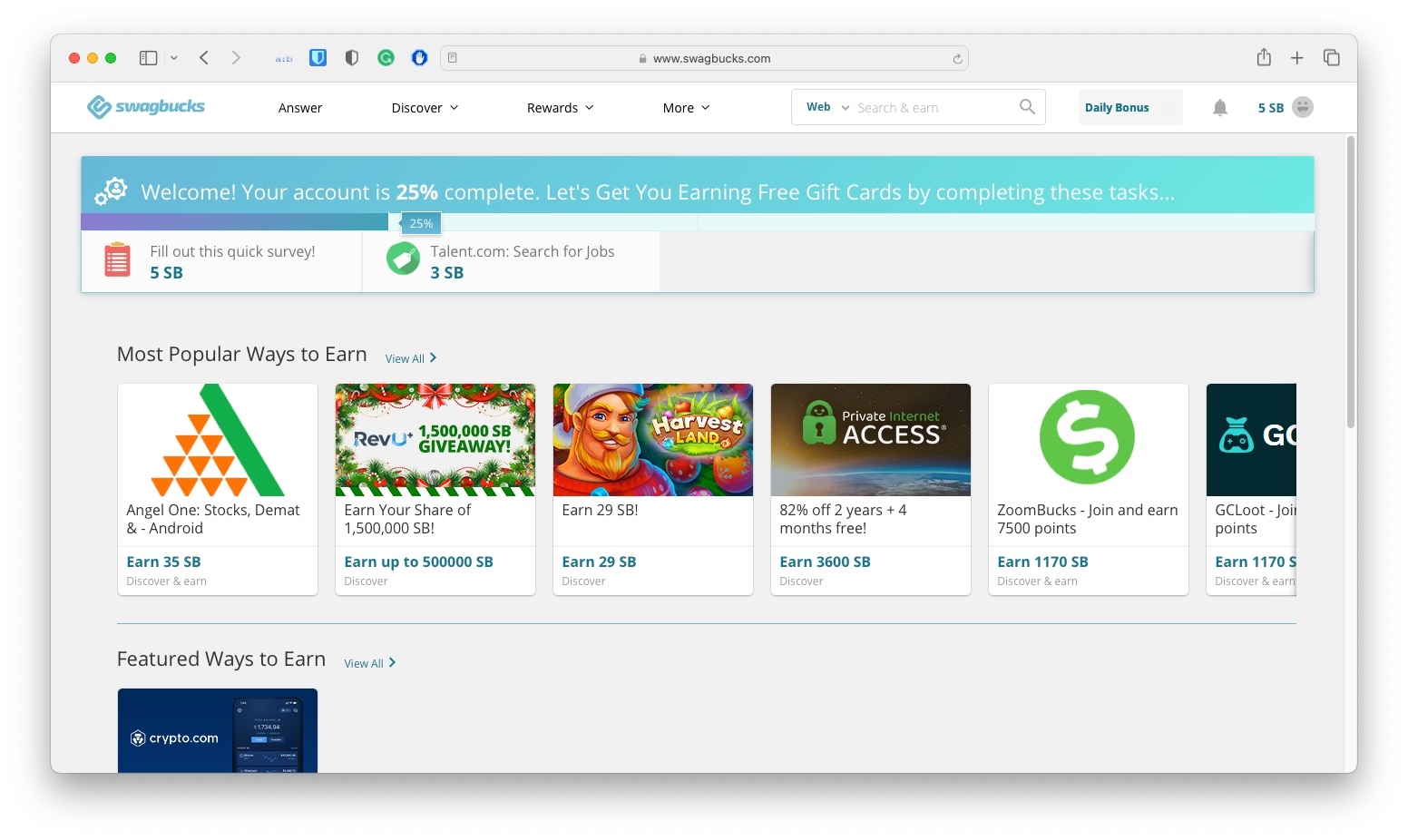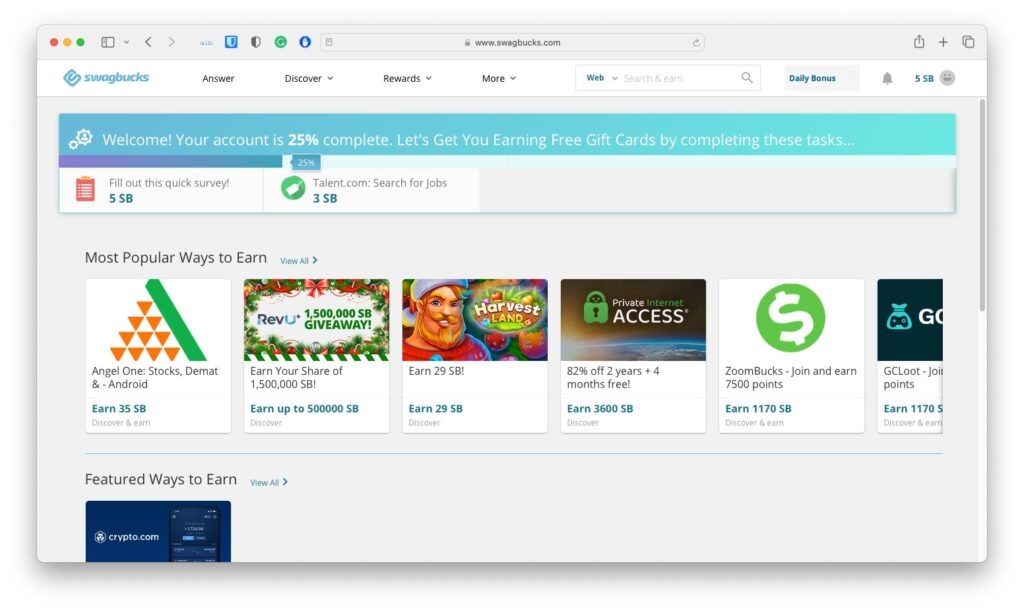 Since it was founded in 2008, Swagbucks has grown to become one of the most popular platforms.
With this platform, consumers and brands around the world are able to celebrate their passions.
Using it, individuals can generate income from a laptop, desktop, smartphone, tablet, and other internet-connected devices.
As a member of the company, you can earn rewards by shopping, watching videos, playing games, answering surveys, and trying new products.
When you complete online activities on Swagbucks, you can earn gift cards and PayPal cash.
Using its platform, companies can connect with customers and brands, and Swagbucks makes money by providing companies with qualified leads (Swagbucks' customers).
Everyone benefits from this program, as customers receive free gift cards, save money on purchases, and earn money online, while brands get extra exposure and new leads.
In addition, Swagbucks receives commissions since it is a middleman.
---
Swagbucks: How Does It Work
If you want to earn from the website, The first requirement is that you must be at least 13 years of age, and the second requirement is that You will have to signup as a member.
Once you have completed your profile, read through the privacy terms before accepting them.
Next, you must provide a channel through which incoming money can flow.
You can sync your PayPal account with it. Around $211 Million has been paid to its 250 million users worldwide by Swagbucks.
You should not go to this website with the expectation of earning cash or money. Through the SB Points system, you can earn rewards and loyalty points.
It is possible to redeem SB Points for popular gift cards from companies such as Amazon, Target, and iTunes without any restrictions.
When you sign up for Swagbucks for the first time, the company gives you a $5 bonus for joining and another $5 for linking your PayPal account.
In addition, you'll need to install a Swagbucks button, which works as a browser extension.
Through this Swagbucks button, you can earn SB Points when you browse the Swagbucks website or any partnered website.
Here are the steps in a nutshell:
You'll receive $10 as a gift when you sign up and become a member.
Whenever you shop online, you'll earn cashback rewards.
Get Swagbucks by watching videos, taking surveys, and playing games.
Get gift cards when you redeem SB points.
---
Swagbucks: How to Make Money with It
In Swagbucks, you can make money in several ways. Here are some popular ways to earn rewards:
Shopping Online With Swagbucks
You can earn money by shopping online with Swagbucks.
You can choose from a wide selection of gift cards, cash rewards, and a wide variety of merchandise from popular brands such as Amazon, Walmart, Target, Nike, Expedia, and Sephora.
Their website offers cashback and discounts when you shop online. Different campaigns may offer even greater rewards.
Still, Swagbucks is not a rewards program by its very nature, and such activities are not best suited for it.
If you're looking for loyalty programs, you might want to look elsewhere since plenty of platforms offer unique ways to save money as you shop.
Swagbucks Answers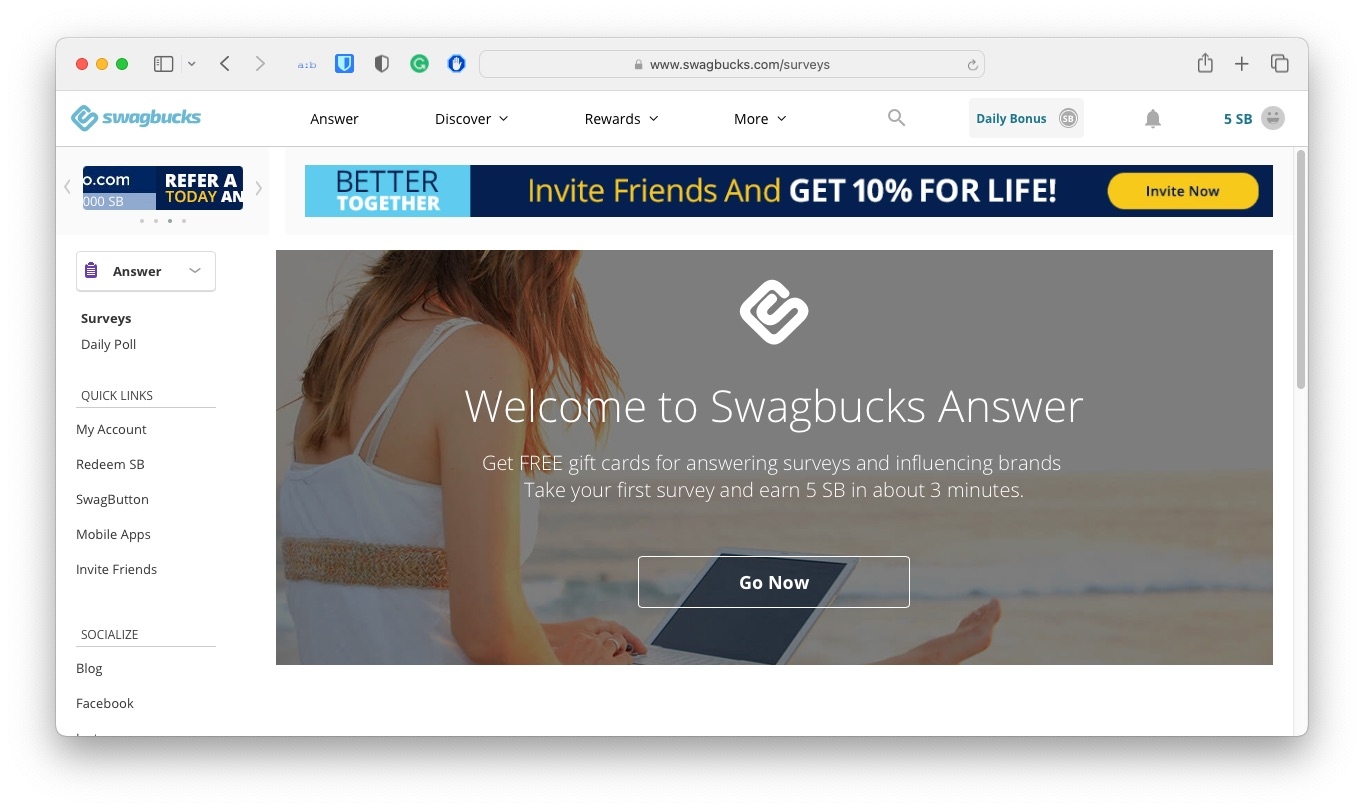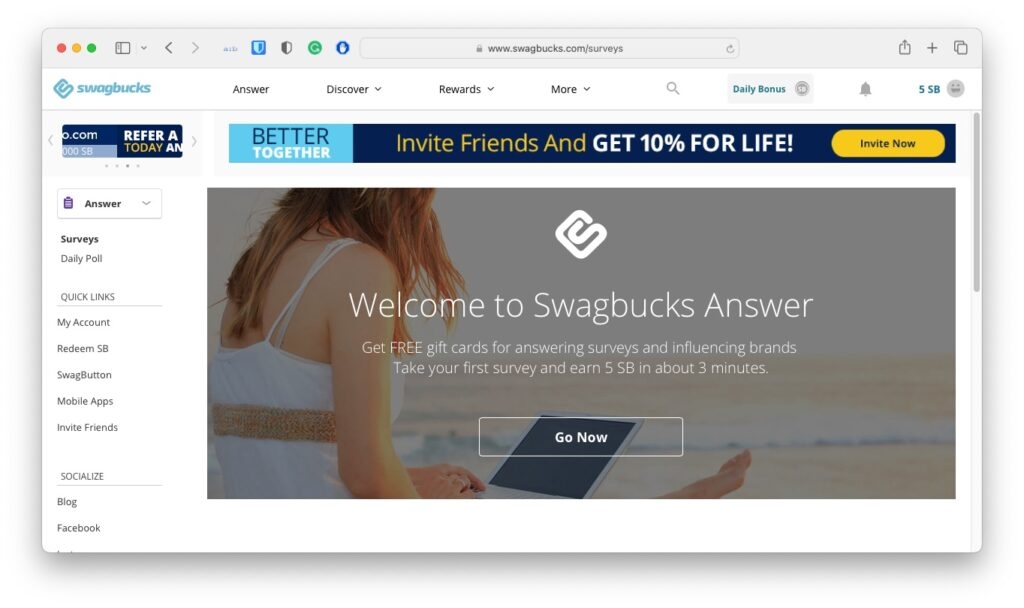 You can earn gift cards by filling out surveys. It is possible to earn 100 to 300 Swagbucks points per survey. You can make money online easily with it.
Swagbucks Watch
Watching videos online is also a way to earn points. Among the topics covered by the videos are news and politics, TV and film, food, sports, and fashion.
In addition, the length of the videos varies, with some lasting less than 10 minutes and others lasting more than an hour. Points are indicated clearly in each video.
Swagbucks Discover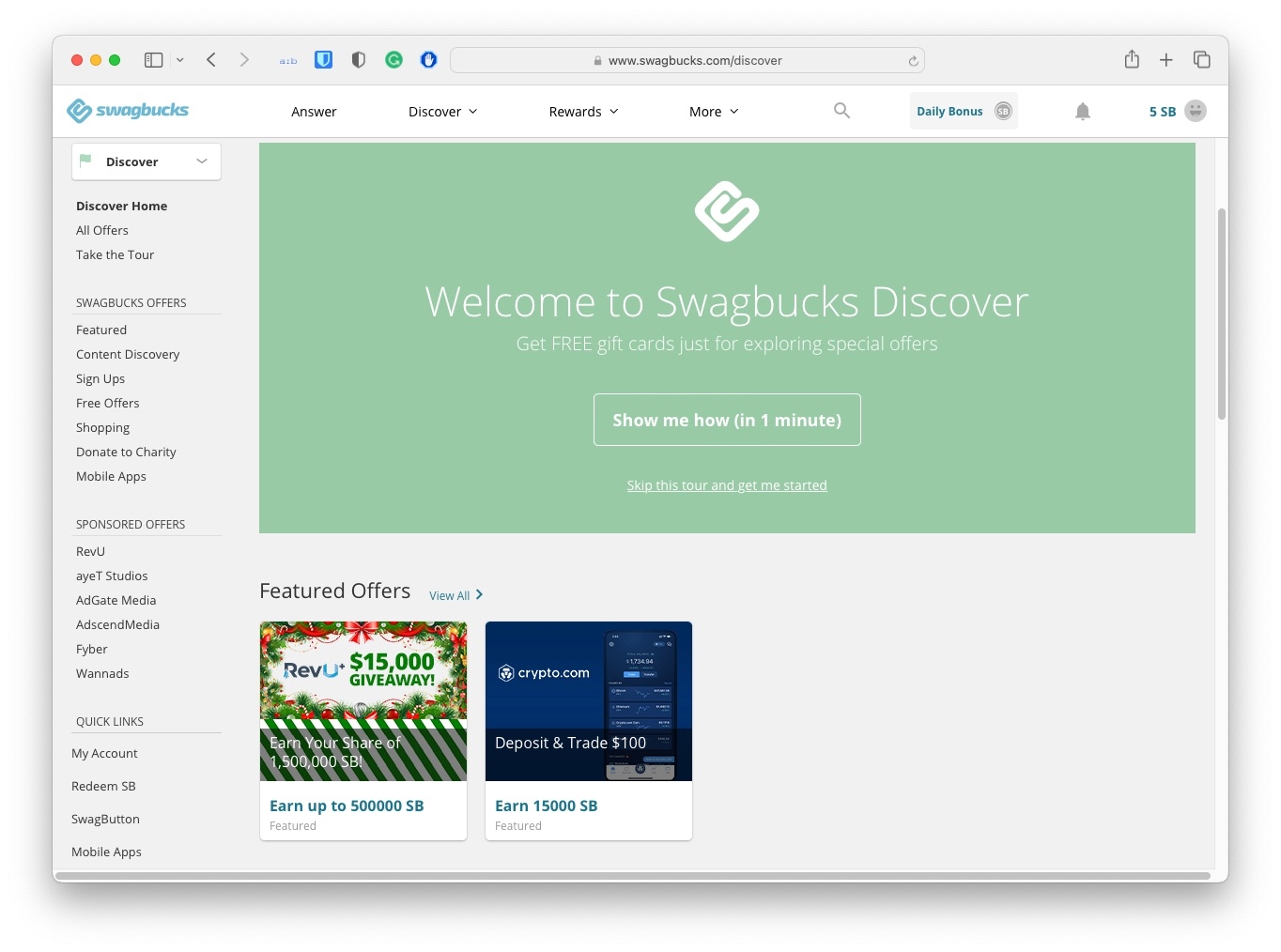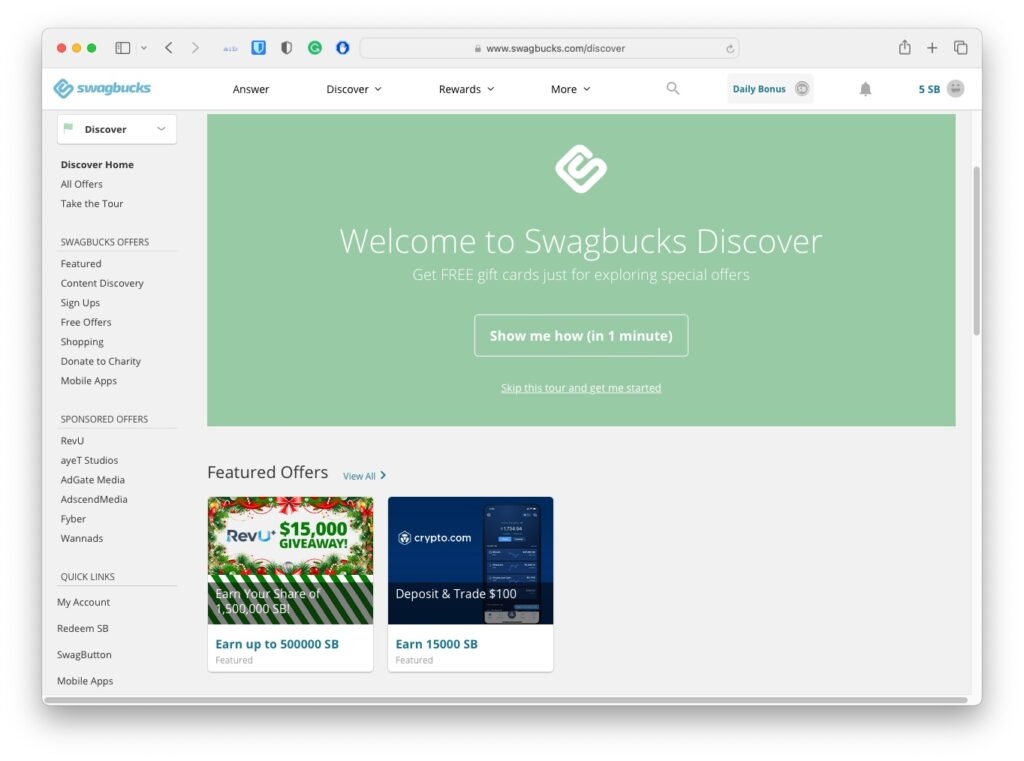 If you buy one of Swagbucks' featured deals or read about it, you can earn points.
A typical deal is for a membership service, like Blue Apron, or for a "click and earn" to learn about services for 1 SB per day or in varying amounts per click.
Participate In Paid Surveys
It is a fantastic opportunity for customers to gain stable points through polls and surveys. If you share your opinions more often, you will perform better in future polls.
Despite this, not all polls are the same. In some of them, SB points are earned at a higher rate than in others, and they take a different amount of time to complete.
So, when taking surveys, always make sure it is worth your time by weighing the benefits against the time spent.
Instead of a 10-minute survey worth 20SB, you may be better off taking two 5-minute surveys, each worth 15SB.
Use Their Browser
You can also earn a good income by using Swagbucks' search engine.
You can find some great deals. When you make it your default search engine and lurk for opportunities, you can get the most out of it.
You earn SB points when you use their browser (powered by Yahoo! ), but we are concerned that it may sell your personal information.
Swagbucks Play
Angry Birds and Tetris are among the online games that give Swagbucks points.
In most cases, you will receive 4 points for every $1 you spend in gameplay or earn points by playing select games from our collection.
SwagButton
SwagButton is a browser extension that lets you earn money for doing things you already do.
In just a few clicks, you can find cash back from relevant coupons, be alerted to unique savings opportunities, and be notified of earning opportunities.
---
Swagbucks: Who Should Use Swagbucks
You can't earn a full-time income with Swagbucks, but it may be just right for you if you're looking to earn some extra money. 
According to Swagbucks themselves, teens can earn extra money by using Swagbucks.
It is possible you love filling out surveys (there are some of us out there!) and are willing to do it for free.
Are you that person? You might as well get paid in gift cards for something you already enjoy.
It might be perfect for you if you're looking for some extra pocket change. If you want to grow something, starting a side business is better.
---
General FAQs
Is Swagbucks Worth It?
Yes, Swagbucks is worth it.
Depending on a person's circumstances, the answer will vary. You won't become rich with Swagbucks, as should be obvious.
However, if you're going to spend your free time watching videos, playing games, and surfing the web, you might as well be paid for it.
Spending time online can help you earn free gift cards and cash via Swagbucks if you have enough free time on your hands.
Using Swagbucks, Some users have earned up to $300 a month. They are known as power users.
The Swagbucks users spend a few hours each day watching videos, completing offers, completing surveys, and playing games on Swagbucks.
Whether you're a power user or not, Swagbucks still allows you to earn enough to cover your groceries and perhaps a monthly bill.
Overall, Swagbucks is a wonderful service, and if you want to make a little extra cash, this is the service for you.
How Much Can You Earn?
You can earn anywhere from $0.25 to $100, depending on the activity you're completing and how much time you're willing to spend.
According to the company's website, you can earn up to $100 per day. But "up to" and "in real life" are entirely different concepts.
On average, you can earn between $1 and $5 per day, but if you are lucky, you can make around $10 per day.
Can You Make $100 A Day With Swagbucks?
Yes, Swagbucks allows you to earn up to $100 per day.
Swagbucks offers users the opportunity to earn money online and on their mobile devices by taking surveys and completing online activities.
You can earn $100 a day using Swagbucks if you use it consistently.
You can earn daily rewards by answering daily trivia polls, taking daily polls, and checking the daily checklists on Swagbucks.
As you earn Swagbucks in all the different ways, your number of free gift cards will increase, and your Swagbucks account will receive more points.
The Swagbucks program offers users many ways to earn points. Playing games, scanning receipts, taking surveys, and other activities are ways of earning Swagbucks.
You will earn more Swagbucks rewards the more tasks you complete. Generally, longer tasks offer more Swagbucks than shorter ones.
After completing tasks, users are able to redeem Swagbucks rewards for gift cards.
---
Conclusion
I hope you enjoyed reading this article. Swagbucks is a great, legitimate way to earn some extra money.
It's not going to make you rich, but it can help you earn enough to cover your groceries and perhaps a monthly bill or two.
The key to success with Swagbucks is consistency. The more you use it, the more rewards you'll earn.
So, if you're looking for a way to make a little extra cash, give Swagbucks a try. It might surprise you just how much you can earn.
Have you used Swagbucks before? How much money did you make? Let us know in the comments section below.
Thanks for reading!
Leave a Comment