TechLatest is supported by readers. We may earn a commission for purchases using our links. Learn more.
Are you looking for a journaling app that can add a spark to your daily writing routine? Writing your thoughts down can relieve stress, boost creativity, and enhance productivity. So keep up your journaling habit with the right journal app.
These journal apps can offer much more than a notebook and pen. They can make your journaling experience more rewarding, like adding social media posts and photos from your phone gallery.
In this article, we will list some of the best journal apps for iPad, which are easy to use and come packed with fascinating features.
10 Best Journal Apps For iPad
A good journal app can make your digital journaling a breeze. Below we are providing the top 10 good journal apps you should try. We have also provided the tool link with each app in case you want to know more about it or utilize it.
Grid Diary
If you are a beginner and find difficulty in presenting your ideas, then Grid Diary can help you. It lets you concentrate on those appreciable areas of your life you wish to follow and develop by combining influential diaries with appealing planner templates. Therefore, you need not spend much time daily thinking about what you should write.
Grid diary helps you build your journal and planner structure by combining weekly, monthly, and yearly logs. With its guided writing approach, you can better reflect on your days and get exciting insights.
It has a customizable template, engaging prompts, and multiple journals. You can also add reminders, stickers, or tags to it. Further, securing them becomes accessible with a passcode. You can export them into the desired format like pdf, jpg, and MD. With light and dark themes, you can choose one per your prerequisites.
You can use Grid diary for free, but to avail some advanced features like additional color themes and passcode lock, you need to subscribe to it.
---
Daylio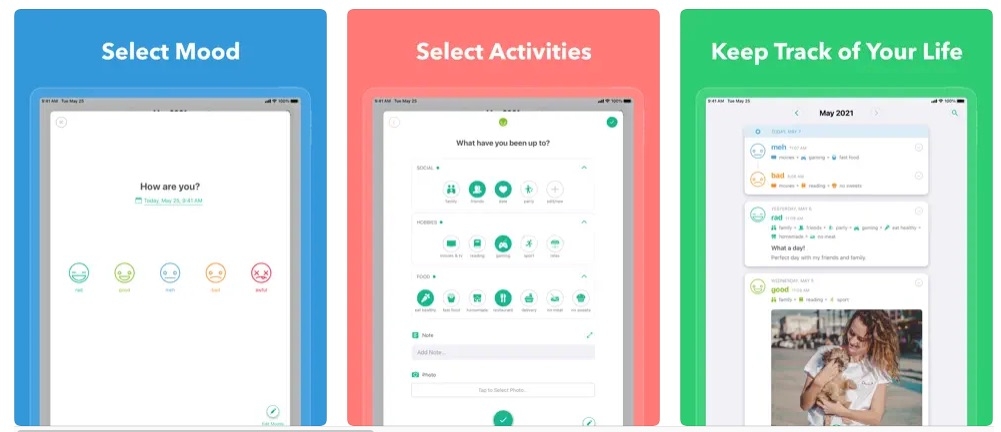 Does lack of time keep you from your journaling hobby? Then you can go for Daylio's micro-diary idea, which lets you keep a personal journal without the need to type even a single word. Instead, it first asks you to choose your mood for the day and then provides you with an activity, considered an entry. Furthermore, like a traditional diary, it allows you to add some notes.
You can turn this versatile app into whatever you wish to track. It can be your mood tracker, gratitude diary, food log, mental health coach, and even your fitness goal pal. The prime focus of this app is to offer easy and quick micro-blogging. Using it regularly also predicts your average mood by showing tracking data in simple graphs and charts.
All your data remains safe in your iPad's local storage and not anywhere else. For safety, you can encrypt it with a PIN. Whether it be setting reminders, building habits, collecting achievements, or sharing stats with your friends, you can do them all.
Easily swap between color themes and dark mode whenever you need. You can perfectly express yourself with emojis as per your moods. Besides other benefits, you can also use Google Drive to safely back up and restore your entries.
---
Day One
Owing to the vast array of features that Day One offers, this app has bagged a spot as Editors Choice in the Apple App Store several times. In addition, you can download this journal app for free on any Apple device. Its end-to-end encryption and biometric security features make it a safe-to-use app. Besides, it lets you export your data anytime using its automatic backups feature.
Moreover, Day One lets you add photos, audio, and videos that can make your journal entries appear lively. This app also provides users with an On This Day feature that quickly takes them back to past moments.
Plus, its award-winning layouts are just perfect to use. There are several preset reminders that you can customize for yourself. With a straightforward UI, automatic Metadata insertion is free from gaudy toolbars. The journaling app has it all: password protection, entry formatting, and tagging with hashtags.
You can use several features of Day One for free. But you need to go for its premium version if you want to enable multiple journals, handwritten & audio entries, unlimited photos, and syncing in your entries.
---
Journey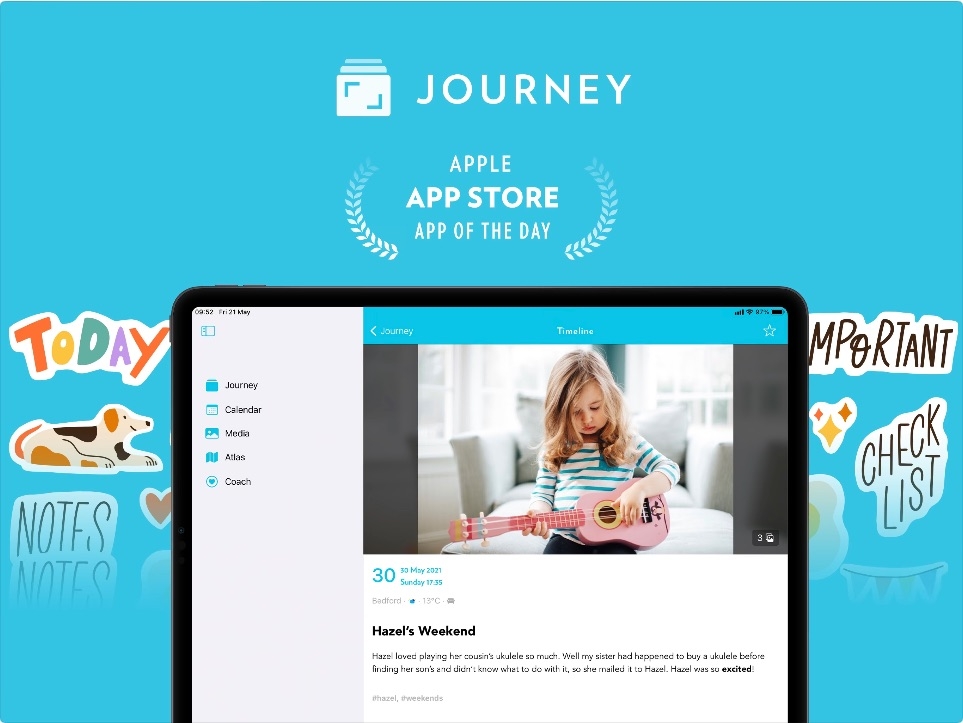 The journey app is much more than a diary or journal and can act similarly to a happiness trainer or motivational coach. This app is somewhat identical to Day One, but the good thing about it is its availability or accessibility on every platform.
This cross-platform app lets you add text, activity, location, photos, and video to your journal entries. You can even import your Day One entry into Journey through its seamless syncing with Google Drive.
This self-care journal app is almost free to download & use, but you can use its premium version to get the most out of it.
---
Penzu
Whether you need a tool to record your dreams in a dream journal, keep track of milestones in a 5-year journal, or even record your daily activities in a reflective journal, Penzu has got you covered. Trusted and admired by over 2 million writers, Penzu lets you start your journal for free. It offers all the essential tools you may need to recollect your cherishable ideas.
With Penzu's military-strength encryption and double password protection features, you can rest assured about the safety of your journals. It has advanced encryption technology: Military-level 256-bit AES encryption. Using tags, entries, and journals, you can execute intelligent searches.
In addition, you can set up custom email reminders; all entries are private by default. With custom fonts, backgrounds, and covers, this incredible app is available for Android phones, also. On switching to its premium version, you can get access to PDF export, reminders, and advanced encryption. Otherwise, you can enjoy its different other features for free.
---
Momento
Explore, relive, and share your life story by capturing and collecting moments with the Momento. From the people you meet, places you visit, and events you attend to the experiences you grab, you can save them all in your private journal with this app.
Furthermore, it automatically collects and smartly organizes your social media and other app activities for an effortless update. Some of the best examples of journals you can create with Memento include a personal journal, pregnancy journal, work/project journal, and travel journal.
You can add multiple photos & videos, tag people and places, and take quicker actions with 3D Touch technology. Moreover, its feature allows you to search for memories from the entries and navigate through a calendar.
Apart from URL scheme support, you can also export your data or import activities from feeds. Above all, Momento offers TouchID/passcode locking system to keep your journal entries safe and protected. Plus, local and iCloud backup lets you have full-time access to your data.
---
Moodnotes
Moodnotes is an elegant iOS app that lets you track your mood and emotions and their reasons. Since keeping track of mental health and well-being is as essential as remembering memories, using Moodnotes can significantly benefit its users. The app lets you select a mood followed by an emote and color, which you can further customize as per your preferences.
In case of negative moods, Moodnotes help avoid the traps that have made you suffer. Further, the app tracks your mood patterns to help develop a healthier viewpoint.
By using this app regularly, you can notice its effectiveness in your life and journaling. It helps you track your current mood and identify its trigger points. Its AI automatically detects faces.
You can use media files to capture memories and cultivate healthier thinking patterns. Thus, it reduces your anxiety and boosts self-awareness. After getting a premium subscription to the app, you can make unlimited daily entries. Plus, you can also check your mood insights by monitoring personal statistics.
---
Five Minute Journal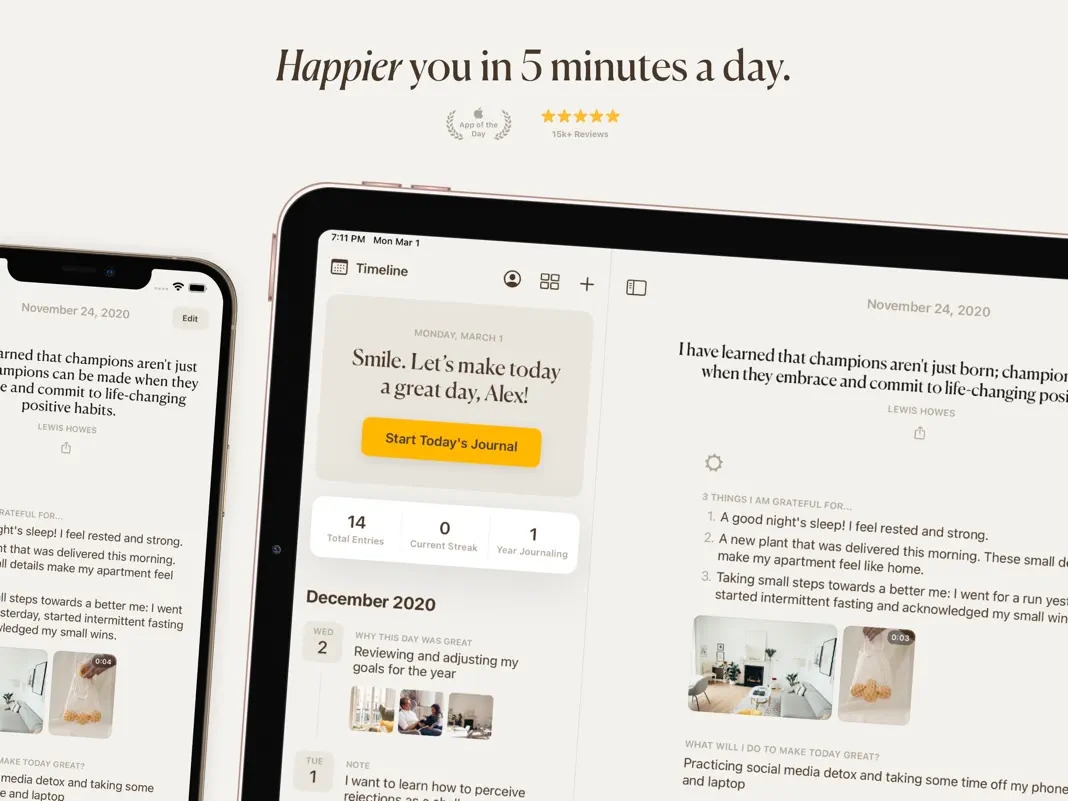 Five Minute Journal supports self-reflection and helps inculcate the habit of gratitude in its users. If you are new to journaling, you may find it challenging to take time out every day to write your thoughts and feelings. But the timed prompts of Five Minute Journal can make this task approachable and accessible.
The app asks you three meaningful questions to begin your day with a great purpose and to instill gratitude. In contrast, the two questions in the evening interrogate you for positive things about your day and ask about ways to improve you.
If you are a premium user of this journaling tool, you can add your prompts or use the available fonts to turn it into a free-form journal. Plus, you can also have the ability to add photos or videos, home screen widgets, and customizable questions.
---
GoodNotes
Do you want something more than a text journal? You can give it a try to GoodNotes, whose flexibility makes it stand out from its rivals. It lets you quickly take notes with different highlight colors and shapes, besides enjoying the freedom of handwriting. You can add photos to your day's events and create, move, or stretch shapes. GoodNotes also lets you customize your pen's flow.
GoodNotes is free for schools using Apple School Manager and is the choice of millions of students worldwide. You can make as many folders or subfolders to separate your notes as you want. Furthermore, you can secure your notes by backing them up to Dropbox, OneDrive, or Google Drive.
---
Diarium
Diarium is a beautiful journal app that provides numerous powerful features. Featuring smart integrations, it lets you connect to services you use for displaying fitness data, social media posts, calendar appointments, and your photos automatically. Your data with Diarium remains fully protected with biometrics, PIN code, or password.
You can use Diarium anytime on any device, as Cloud synching keeps your app updated everywhere. Moreover, viewing and scrolling past entries in the map lets you look back at your life.
You can give hands-free input whenever you feel tired. Cherish memories forever by adding locations and tags to the journal. You can stylize entries and format the texts. You can back up your diary and import and export the database. Apart from these, Diarium also lets you export diary entries as plain text (.txt), webpage (.html), RTF, and Word file (.docx).
---
The Conclusion
Journaling is an effective way of recollecting all the milestones and significant events in your life. Nowadays, the growing use of smartphones has increased the popularity of digital journaling. That said, Journal apps provide numerous benefits over notebook journals which considerably upgrade your journaling experience.
In the above write-up, we have shared some of the exemplary journal apps and their unique features. Therefore, you can easily choose the suitable one depending on your preferences. And if you have any further queries regarding digital journaling, feel free to comment below.
Leave a Comment