TechLatest is supported by readers. We may earn a commission for purchases using our links. Learn more.
Would you like to enable Twitch Prime on your account but are having trouble doing so? Here is how you can fix this problem if it happens to you. There's a lot you can do with Twitch Prime. Such as playing game content with a monthly subscription.
However, many Amazon Prime users have recently complained about a common issue. The problem is related to Twitch Prime not working or the Twitch Prime account not working. 
Usually, the error message looks like this: "oh no! we can't enable twitch prime on your account.".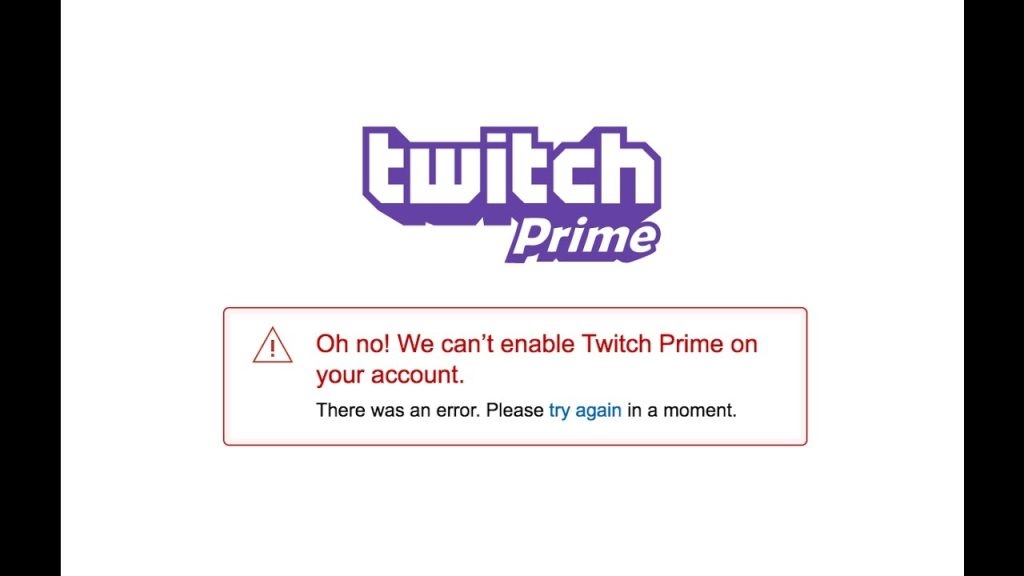 Typically, international customers have experienced problems with their Amazon Prime Twitch accounts. They tried to sign into the Twitch Prime account from a different region.
After researching the issue over the internet to find out the reason and fixing methods behind it, we've decided to share this guide so you can learn how to enable Twitch Prime.
What Is The Reason For The Twitch Prime Account Error?
Before we get into the fixing methods, let's first understand the reasons that can cause this error. Generally, there are five reasons for this error:
You are using the wrong Amazon market, depending on your location.
You have a problem with your credit card (your card might be invalid)
Your card information is no longer valid on Amazon Prime.
Your preferred payment method has not been filled out.
Perhaps you are using a virtual private network (VPN).
Troubleshooting Twitch Prime Account Issues
Now that you know why this error occurs, let's learn how to fix it. When dealing with the same error on Twitch Prime, the following solutions have worked wonders.
Ensure Your Amazon Marketplace Registration Is Correct.
You must cancel your Prime membership when using Amazon Marketplaces from other countries instead of your own.
According to Twitch, this solution is compatible with users in the United States, Canada, Mexico, the United Kingdom, Germany, Austria, Belgium, the Netherlands, Luxembourg, France, Italy, Spain, Singapore, and Japan.
First, you should disable auto-renewal membership on an incorrect region Prime account to prevent double billing.
Before you can access Amazon Marketplace, you must sign up in your region. We have provided a few links below to some Amazon prime regional marketplaces. From the list, choose only your country.
US — https://www.amazon.com/prime
United Kingdom — https://www.amazon.co.uk/prime
France — https://www.amazon.fr/prime
Italy — https://www.amazon.it/prime
Germany/Austria/Belgium/Netherlands/Luxembourg — https://www.amazon.de/prime
Singapore — https://www.amazon.com.sg/primenow
Canada — https://www.amazon.ca/prime
Japan — https://www.amazon.jp/prime
Spain — https://www.amazon.es/prime
Mexico — https://www.amazon.com.mx/prime
Go to the Twitch Prime option.
Now, choose the flag of your country.
Click on Enable Twitch Prime or Sign Up for Twitch Prime.
Fill out all the required login information.
Log in to Twitch.TV and click the crown in the top right corner to claim your Twitch Prime loot.
If still this message, "Oh no! "We can't enable Twitch Prime on your account" continues to appear on your device, then you should proceed to the next step.
Check Your Credit Card Information On Amazon Prime
Incorrect credit card information may also cause the error. Verify your credit card information in your Amazon Prime account settings to clear this up. Ensure that every detail in the record is valid.
Your Amazon Prime payment method must use the same credit card as your credit card details.
As soon as your credit card details and payment method have been verified, navigate to Manage Your Content and Devices to select your country.
It is also important for your credit card billing address to match your Prime account address, especially the zip code. If it is not, you'll need to update your information.
Contact Amazon Customer Support if you are still having trouble connecting your Amazon Prime account to Twitch.
Disable VPN
It has also been reported that even VPNs can cause errors on Twitch Prime in many cases. Make sure you don't use VPN in advance of using Twitch Prime, since it can conflict.
FAQs-
Is Twitch Prime Free With Amazon Prime?
Yes. A Twitch Prime account is free with Amazon Prime and gives users access to free games, in-game loot, and other benefits.
Is Twitch Prime available in India?
Twitch Prime isn't available in India, and many users and marketers are missing out on good promotions. However, you can access Twitch Prime through a VPN connection. 
VPNs are available for free online, but you need to choose one that is trustworthy. If you want a VPN, use ExpressVPN or NordVPN because they're the best and most secure VPN services. 
They offer fast speeds, security smarts, 24/7 customer support, and free cloud backup. They offer fast speeds, security smarts, an easy-to-use interface, 24/7 customer support, and even free cloud backup.
What Is The Difference Between Amazon Prime And Twitch Prime?
While both services offer free shipping, access to digital content, and other benefits, there are some key differences. Amazon Prime is a subscription service that gives users access to free two-day shipping, Prime Video, and other benefits.
Twitch Prime is a subscription service that gives users access to free in-game content, ad-free viewing on Twitch, and other benefits.
Conclusion
As you can see above, these are a couple of ways to fix Twitch Prime not enabling on your account issue. Make sure your country is set correctly in your account settings first. You should also verify that your credit card information is correct and up to date.
Amazon customer support can help you if you are still having trouble. Also, it's best not to use a VPN with Twitch Prime, as this can sometimes cause problems. We hope this article has helped you fix the "Oh no! Your Twitch Prime account cannot be enabled." error.
If you have any other questions or suggestions, please leave a comment below.
Leave a Comment