TechLatest is supported by readers. We may earn a commission for purchases using our links. Learn more.
Cell phones are now an indispensable tool in our lives. The high frequency of use also makes it necessary for most people to change to a new device now and then.
After buying a new iPhone, the first problem you face is how to quickly transfer the data from the original device to the new iPhone.
When no professional tools help, people must manually transfer information, which consumes much mental energy and time. As a result, all major cell phone businesses have now developed quick cell phone transfer ways.
In this article, we will mainly introduce six common transfer methods, and we believe you can find the right solution among them.
How to Transfer Data to New iPhone
Method 1- Try the Best Transfer Assistant
Apeaksoft MobieTrans is a full-featured conversion tool. Whether your original device is Android or iPhone, it can transfer your data to the new iPhone without hassle.
In addition to helping you transfer data safely and efficiently, it also manages files. If you need a tool that can help you back up files between your iOS devices, Android phone, and computer, it will also be your best choice.
MobileTrans also offers the features to make phone ringtones and convert images to a format. Try using it. You will get surprises.
Here are the details of how it is used,
Step 1. Download and install Apeaksoft MobieTrans on your computer. Open it, and connect your old phone and the new iPhone to the computer. Set up on your phone to trust the computer.
Step 2. Choose the type of files on the left sidebar, and you can view the files on the interface. Select those you want to transfer.
Step 3. Choose the device that will receive them on the interface. Following this process, you can upload files, including pictures, videos, audio, and messages, and transfer contacts from Android to iPhone.
---
Method 2- Transfer Data to New iPhone via Quick Start
This way applies to cases where your old phone is also an iPhone. Apple's Quick Start feature helps you directly transfer data between old and new iPhones.
Here are the detailed steps,
Step 1. Open your old iPhone, and connect it to the Wi-Fi. Turn on the Bluetooth of it.
Step 2. Open your new iPhone, and put it next to the old iPhone. You will be asked to allow the new iPhone to use your ID. Tap Continue on the old iPhone.
Step 3. Finish the security verification on the new iPhone, and choose Transfer from iPhone.
---
Method 3- Use iCloud to Upload Data to New iPhone
You can back up the data on your old iPhone to iCloud first, then download the data to the new iPhone. This method requires you to have a stable WiFi network connection.
Here are the steps you need to do,
Step 1. Open your new iPhone, and connect it to stable Wi-Fi.
Step 2. Tap Restore from iCloud Backup when the Apps & Data screen appears. Then log into your Apple ID account.
---
Method 4- Transfer Your Data Through iTunes
If you need to transfer data from your old phone to the new one, iTunes will be a good choice. For Apple users, iTunes is the most reliable and commonly used tool for backup and transfer. The steps of this method are quite simple. But you have to ensure your iTunes has been updated to the latest version and the data on your old phone has been backed up to iTunes.
Here we offer all-around guidance to you.
Step 1. Download and install iTunes, and ensure you use the latest version. Open it.
Step 2. Connect your new iPhone to the computer via a USB cable. Remember to let your device trust your computer.
Step 3. When the Apps & Data page pops up on your new iPhone, choose Restore from Mac or PC.
Step 4. Locate your new device in the top left corner of the iTunes window. Choose Restore Backup, and choose the backup you need to restore.
---
Method 5- Insert a SIM or SD Card to Upload Data to iPhone
If you use SD or SIM cards to store your data, then you can set up the transfer of important video, audio, picture, message, contact, etc., to SD and SIM cards directly on your old phone and then insert the cards into your new iPhone. Your new device will automatically detect these files stored in it. Thus, you can open them normally.
---
Method 6- Use Move to iOS App
If you have used an Android device before, you can apply Move to iOS to transfer your data to the new iPhone. You can get this tool directly from Google Play and apply the transfer with the help of it.
The following are detailed instructions for use.
Step 1. Turn on your new iPhone, and put it next to your Android phone. Tap Set Up Manually when the Quick Start screen comes out. After the Apps & Data page appears, choose Move Data from Android.
Step 2. Download and install Move to iOS on your device, then open it. Tap Continue.
Step 3. When the Move from Android screen appears, tap Continue on your iOS device. Wait for a code to appear. Enter the code on your Android device.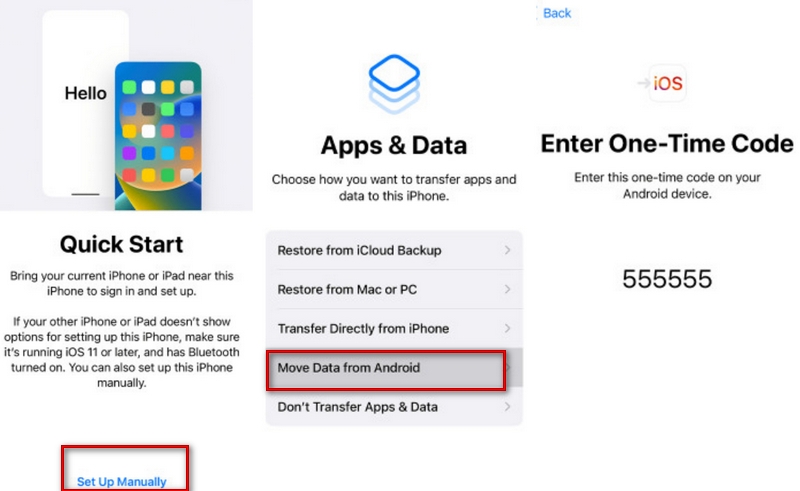 Step 4. Your new iPhone will create a temporary Wi-Fi network. Tap Continue to join it on your Android phone.
Step 5. After the Transfer Data screen appears, select the data you need to transfer and tap Continue.
---
Conclusion
The above six methods include transferring data from an old iPhone or Android device to a new iPhone. Choose the solution that suits you best according to your needs. If you have a better way or other opinions, welcome to leave your comments.
Further Reading:
Leave a Comment