TechLatest is supported by readers. We may earn a commission for purchases using our links. Learn more.
Have you been unable to share emails from your iPhone and have repeatedly seen the "cannot verify server identity" error on your iPhone? Well, there are a bunch of solutions that will help you in solving this issue. 
But before starting with the solutions, you need to understand why this error message pops up. The error message appears when your iPhone cannot connect to your mail server.
This generally happens when the server you are trying to relate to has an expired SSL certificate, or the domain doesn't match the domain name for the email address, etc. During these circumstances, iPhone flags these as unreliable, and thus the error message pops up. 
How To Fix The "Cannot Verify Server Identity" Issue on iPhone?
Here are a few solutions that will help you eliminate this error message.
Restart Your iPhone
The first and easiest solution to getting rid of this issue is to Restart your iPhone. Restarting occasionally fixes minor glitches that might cause this error message to the surface. Your whole device would load afresh and fix the issue with ease.
This could be a great option before your start fidgeting around with the other solutions provided down below. To restart your iPhone hold down the power button for a few seconds and comply with the appropriate prompts on the screen. Wait a minute, and then press the same button to start your device.
---
Update Your iOS Carrier Settings
iOS carrier settings are something that needs to be updated regularly. It is best to leave the automatic updates for settings such as these. Any issue related to carrier settings can cause problems when syncing with email. The best course of action here would be to update it.
To update it, you need to go to settings, then general, and then Software update. Follow all the necessary instructions and update the settings. If this doesn't solve your issue, choose the next solution.
---
Refresh Your Mail App
Refreshing the mail app refers to closing it, even from the app tray, and then unlinking it from your device. This will reset the syncing process and has a huge possibility of solving your error message issue.
To remove or unlink your email account from your device, you can follow the steps mentioned below.
Go to Settings and find the Mail app by scrolling down.
Now, find the Accounts tab and tap on it.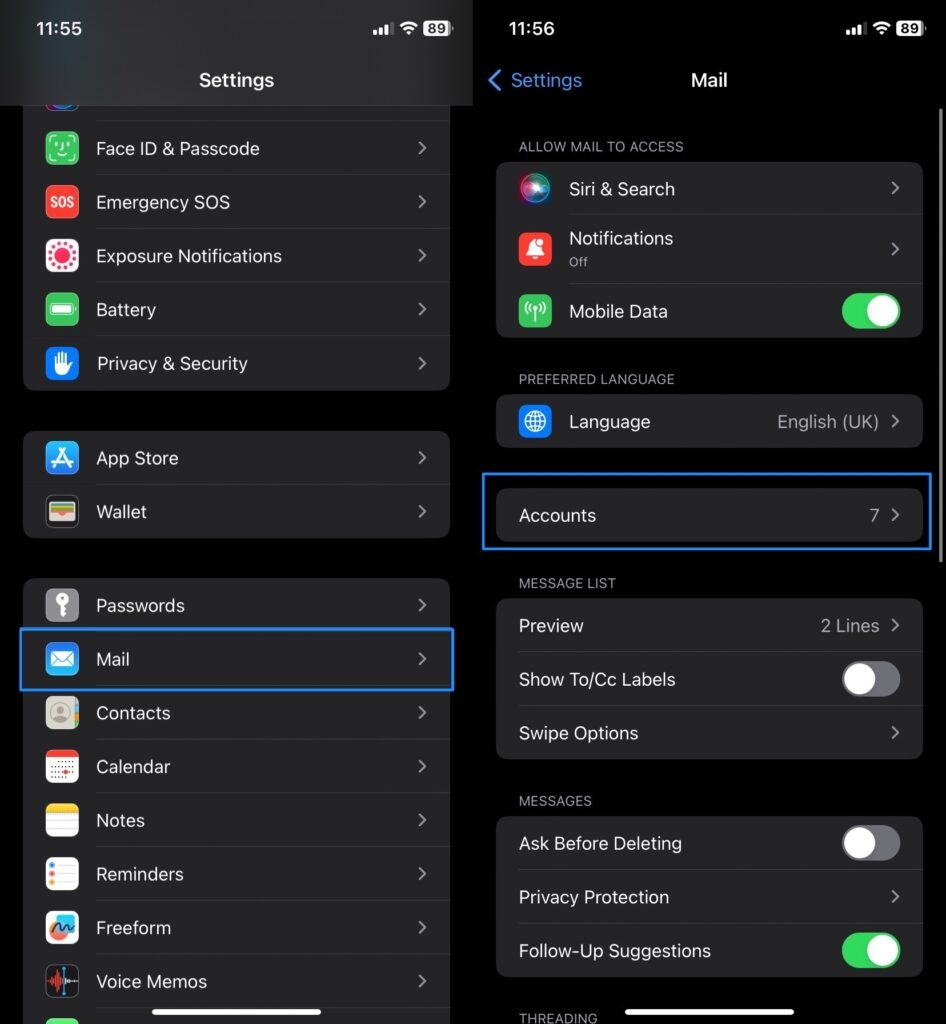 Choose the email account that you want to unlink or remove.
Tap on the Delete button and provide the necessary confirmations.
Now comes the part of adding the email account back again. Here are the steps by following which can add the email back again.
Find the Mail app in Settings, followed by Account.
Now, tap on Add Account.
Choose your email provider and provide all the necessary details.
Follow all the instructions on your device, and that would be all.
---
Reset the Networks Settings of Your Device
Network settings can get rearranged, and it leads to this issue. You can follow the steps mentioned below to reset your settings. Doing this will reset everything related to your network settings, and that includes Wi-Fi passwords as well.
Go to Settings and then find General.
Scroll down to find Transfer or Reset iPhone followed by Reset.
Choose Reset Network Settings.
And that is it. With this, there is a huge possibility that your issue will be resolved. If it is not, then go to the solution provided below.
---
Reset your iPhone
You may need to reset your entire device if the issue persists after trying all the solutions offered here. Resetting your phone could feel horrible, but it is the last resort. Here is how you can reset your iPhone.
Open Settings and choose General. 
Go to Transfer or Reset iPhone. 
Choose Erase All Content and provide the Passcode.
Follow all the instructions on the screen, and that's about it. After that, you are required to set up your device from scratch. Set up your mail as well and check whether it is working correctly or not. If it doesn't, you need to take your device to the Apple center as that would be the only way to remove the error message.
Leave a Comment