TechLatest is supported by readers. We may earn a commission for purchases using our links. Learn more.
Seeing multiple different icons on your iPhone status bar often seems annoying. One such issue is seeing the Hollow arrow on your iPhone. While trying to assess its cause or remove it, you cannot do so.
Moreover, there are many such icons for different notifications so that you might get all the essential ones. When you are searching for how to get rid of the hollow arrow on iPhone, we have got you covered!
What Does Hollow Arrow Mean On iPhone?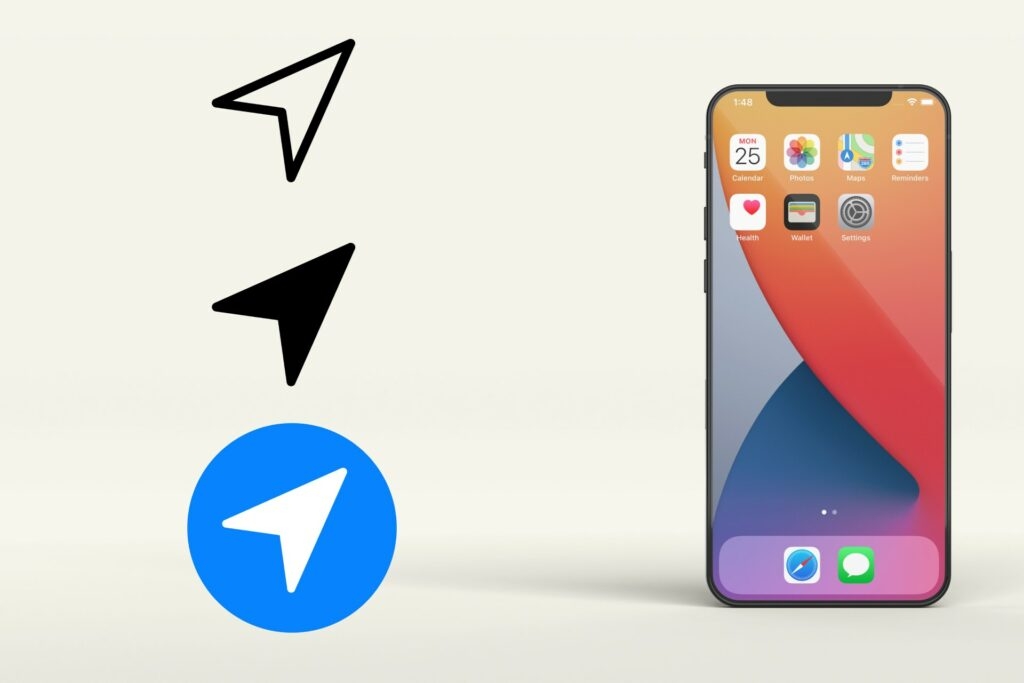 The Hollow Arrow icon in your iPhone status bar indicates that an app or service is using your device location. These can be for numerous reasons, or an app may be geofencing. The fixes will differ accordingly because the issue is related to location services.
You can either disable the Arrow to appear in the status bar or, if security is your concern, disabling the location would help. There are more colored arrows also for location services. A detailed indication of every color would be listed in your iPhone's location services. Let's learn how you can do so! 
How To Get Rid Of Hollow Arrow On iPhone?
A constant Hollow Arrow On your iPhone's notification bar can sometimes be annoying. You might think of removing the root cause. Otherwise, you would think of avoiding the Arrow occurrence without evaluating the root cause.
Method 1: Disable Location Services
When you want to know the root cause of the Arrow, then it is because an app or app is using your location. To get rid of it, you can turn off location services for every app, thus saving your iPhone battery simultaneously.
Follow the steps given below to disable location services on iPhone:
Open iPhone Settings and go to Privacy. 
Navigate to Location Services. 
Toggle off the Location Services.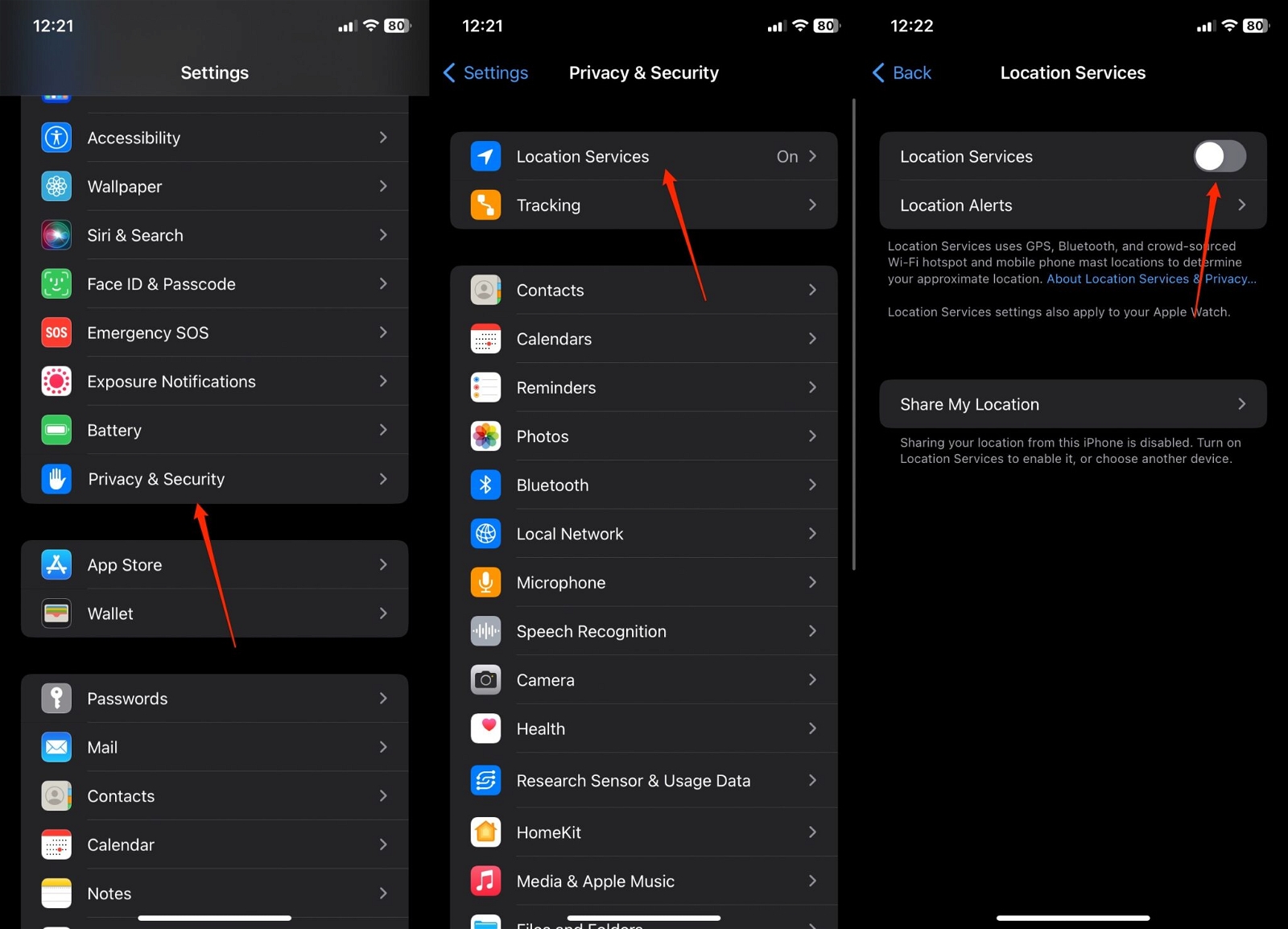 This might interfere with the performance of certain apps. So, you will have to reconfigure location settings for the apps you want to access.
In such a scenario, you can avoid turning off location services and switching its icon from the Status bar. Besides, if you have already turned off location services, and then it appears, you can also avoid it. 
Why Won't iPhone Hollow Arrow Go Away?
You switch off location services on your iPhone and would also encounter the hollow arrow. It happens because your iPhone has not reflected the changes.
Thus, you can restart your device for it to register the changes. If that does not help or you don't want to disable location services, then the solution below will help. 
---
Method 2: Turn Off Status Bar Icon for Location Services
When you don't want to turn off location services, you can disable its indication from the Status on your iPhone.
Follow the steps given below to turn off Status Bar Icon for Location Services:
Go to iPhone Settings and select open Privacy.
Select System Services and scroll to the bottom.
Toggle off the button for Status Bar Icon.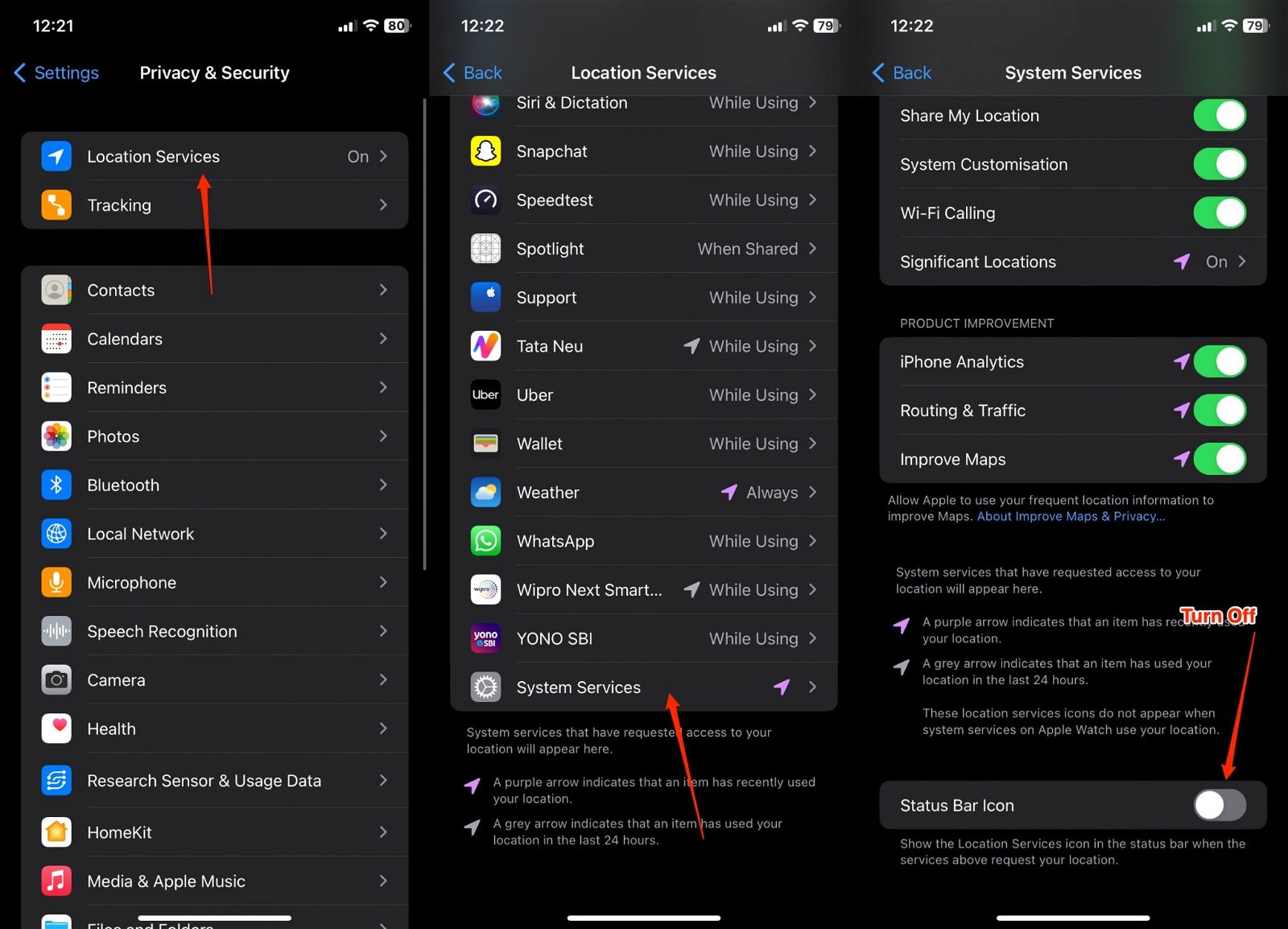 Thus, you will successfully get rid of the Hollow Arrow on your iPhone. Besides, it's noteworthy that you should not allow all the apps to use your location, specifically those that don't require it. Scroll to know more.
---
Why Should You Restrict Location Services For Specific Apps On iPhone?
You would have installed multiple apps on your iPhone. Some of them access your device's location for suitable purposes or convenience.
On the other hand, third-party apps like media players, binge-watching platforms, or others don't need it. Yet if they track your location can cause security breaches or serious issues. Then you can restrict certain apps from doing so.
How To Restrict Location Services For Specific Apps on iPhone?
For restricting location services for specific apps on iPhone, you should ensure that your Location Services should be on for all apps.
Further, here's how you can restrict Location Services for specific apps on iPhone:
Open your iPhone Settings and go to Privacy. 
Tap on Location Services. 
In it, a list of apps opens; select any app whose location services you want to restrict. 
Choose your preferred location restriction settings from Never, Ask Next Time or When I Share, Allow Once, Allow while using the app, or Always.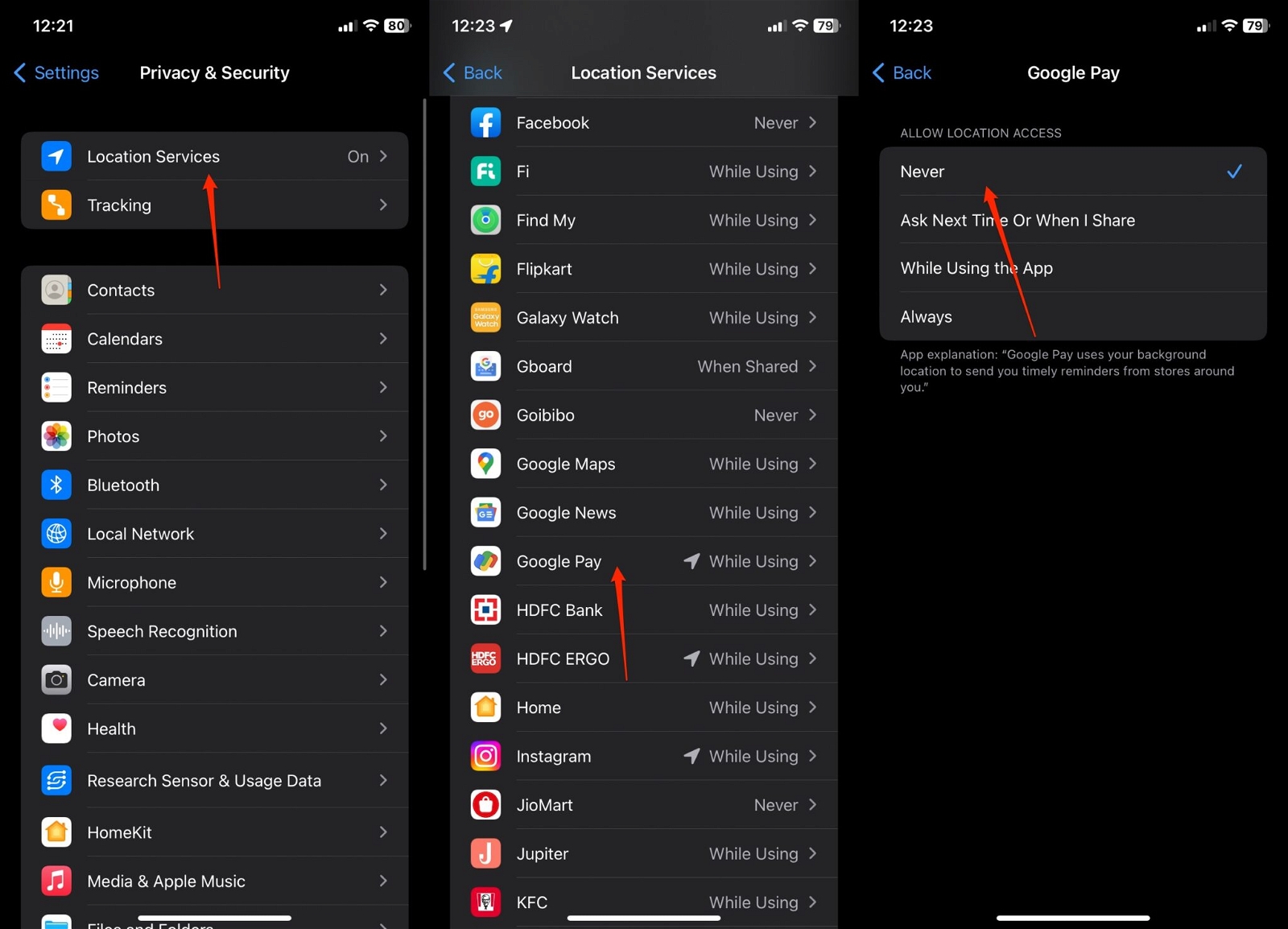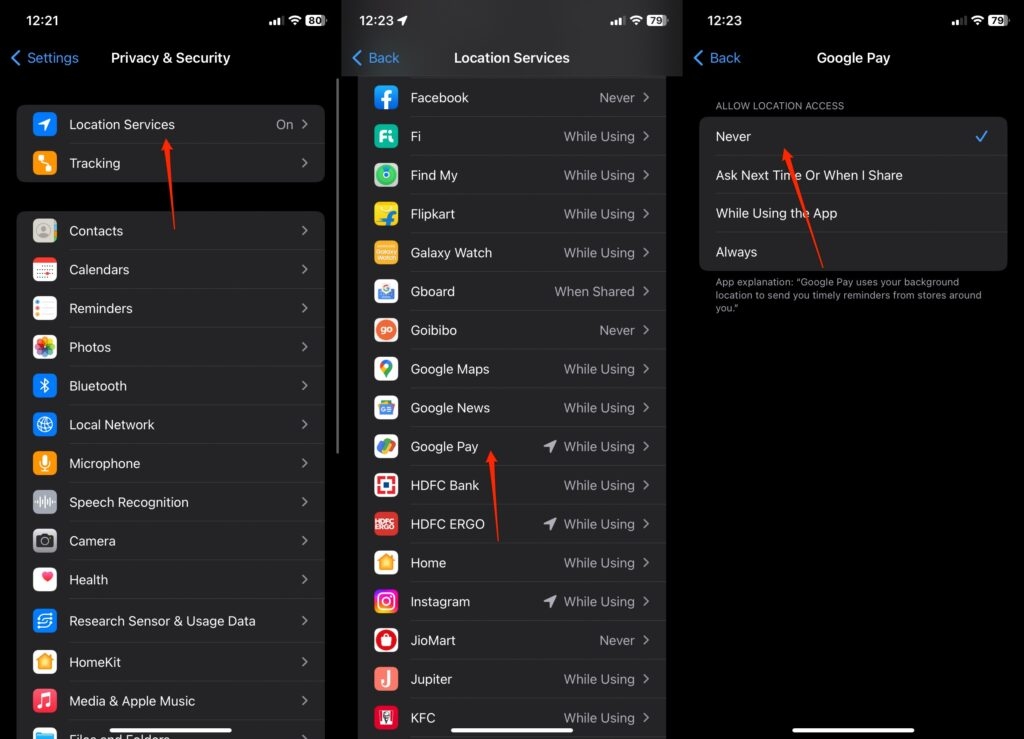 When you Never choose, that particular app will not access the app unless you manually change the setting. Ask Next Time enables the app to seek permission before accessing your location. Besides, when you choose to Allow Once then, the app accesses your location online for that one instance.
Moreover, allowing while using the app is the most preferred option, which does not cause many issues. If not, then you should go with Ask Every Time. Always might be vulnerable to go with.
---
Frequently Asked Questions
How do I get rid of the arrows on my iPhone?
When you see arrows in your iPhone status bar, these are different indicators for location services. Hence, disabling them to appear in the status bar would resolve the issue. Head to iPhone Settings, open the Privacy menu, go to Location Services, then System Services, and Toggle off the Status bar icon.
What is the arrow circle on my phone?
An arrow circle on your phone indicates that the orientation of your phone is locked. Thus, whether it's in portrait or landscape mode, you won't be able to change it until you disable the orientation lock.
---
From Author's Desk
You would be looking for how to get rid of hollow arrows on your iPhone and would have gotten your answer. It implies that any of your phone's apps are using your location.
This tracking may or may not be for geofencing. So, you can disable location services or turn off the icon from the Status bar to tackle the issue.
Further, we recommend you should restrict Location for specific apps. If that seems a hassle, you can switch off location services and turn on location whenever required.
Leave a Comment